Lifeshield Downlights Family

Surgical • MRI & Scanning • Vandal Resistant / Behavioral • Cleanroom / Food Processing
Complex Environment Downlights
Lifeshield downlights ensure safety, reliability, and compliance. We have combined continued improvements in LED efficacy, materials, and optical design into high performance, high quality, complex environment downlighting solutions.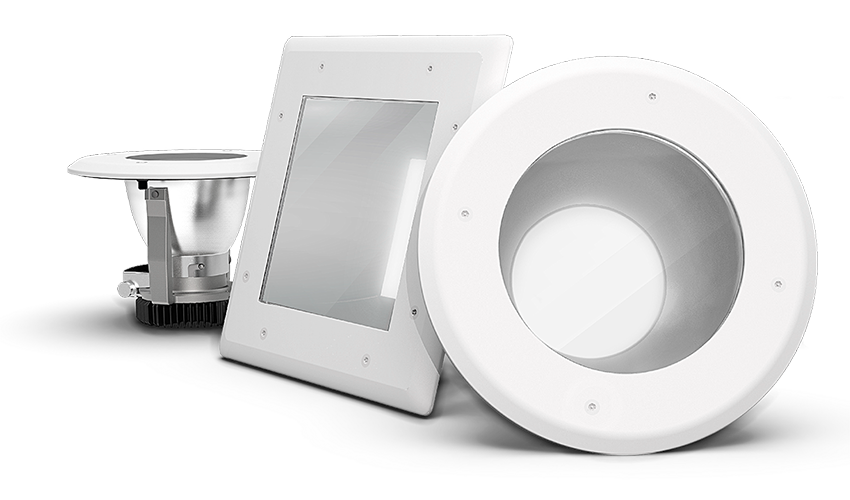 Meet strict standards with reliable and efficient Lifeshield downlights.
Lifeshield Product Categories
---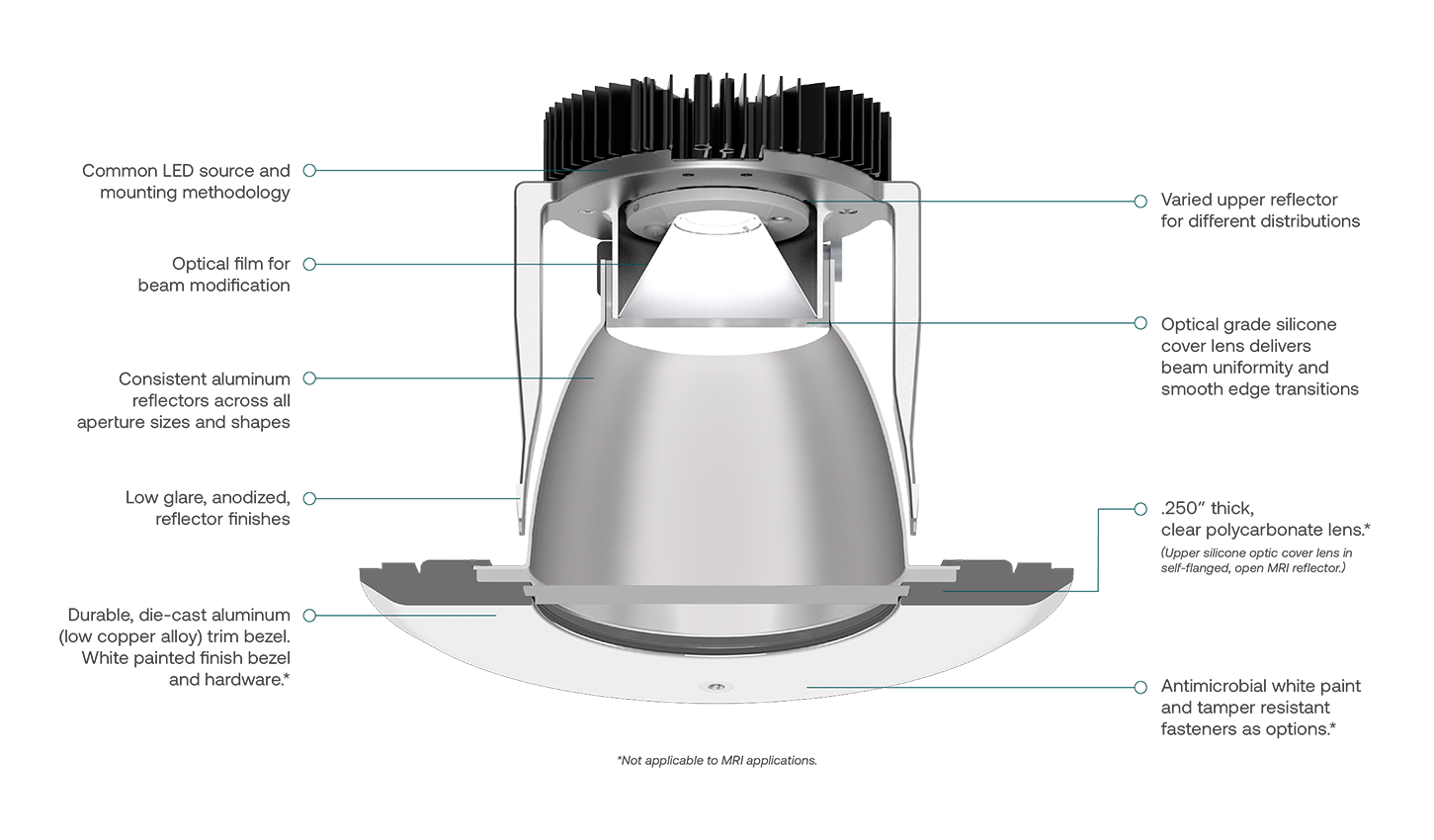 Visual Comfort, Quiet Ceiling
---
Through common optical construction and consistent materials, Lifeshield downlights deliver a 50° visual cutoff to source and source image for excellent glare control and visual comfort to maintain the focus on the task – not the ceiling.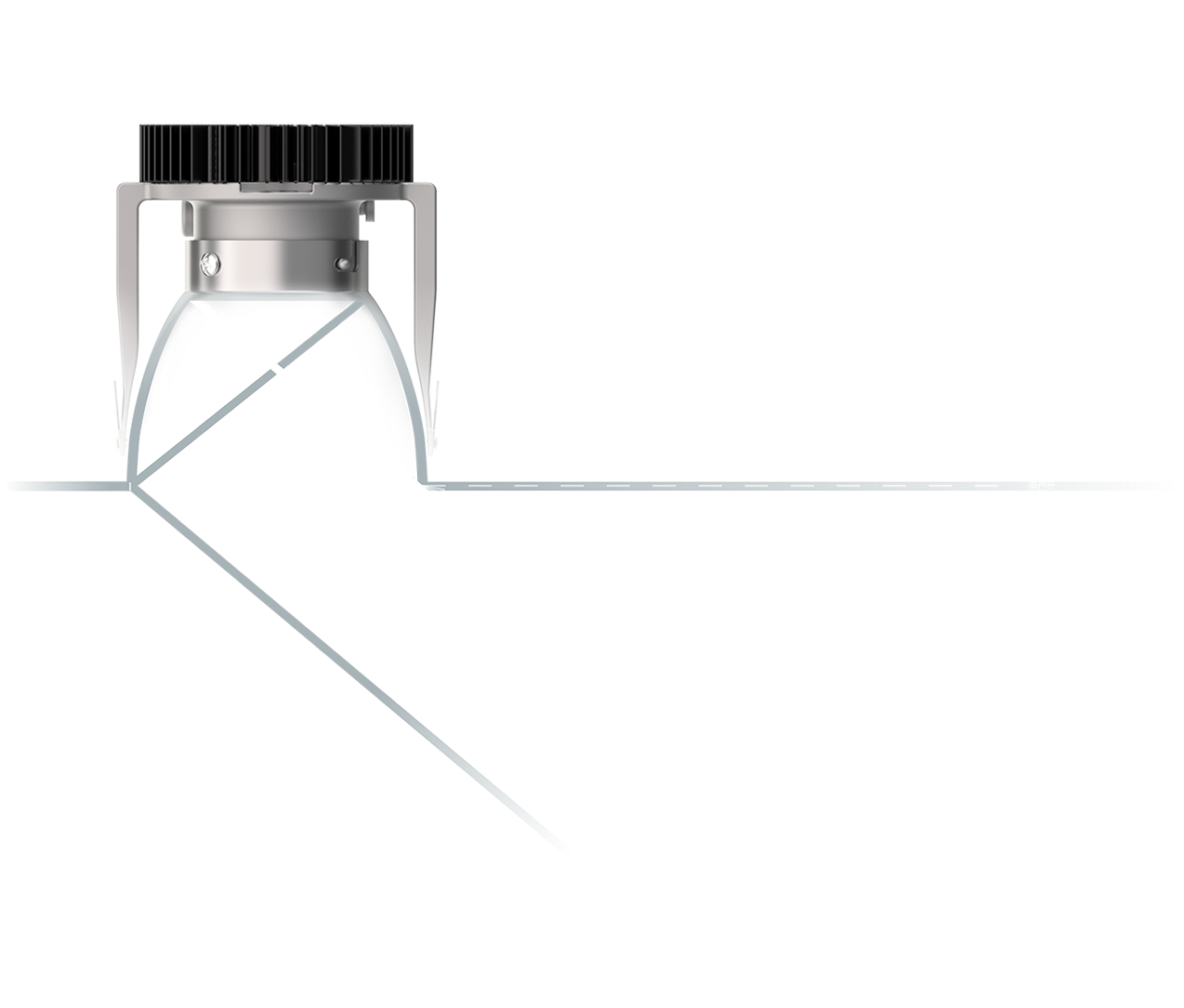 Alternative shallow aperture solutions create greater ceiling glare
Lifeshield with 50° cutoff for a quiet ceiling
This is a critical feature when placed in challenging complex environments that require proper light levels with good uniformity. In addition, the fixtures must work around the mechanical obstructions of medical or industrial equipment to provide a comfortable and task safe work environment.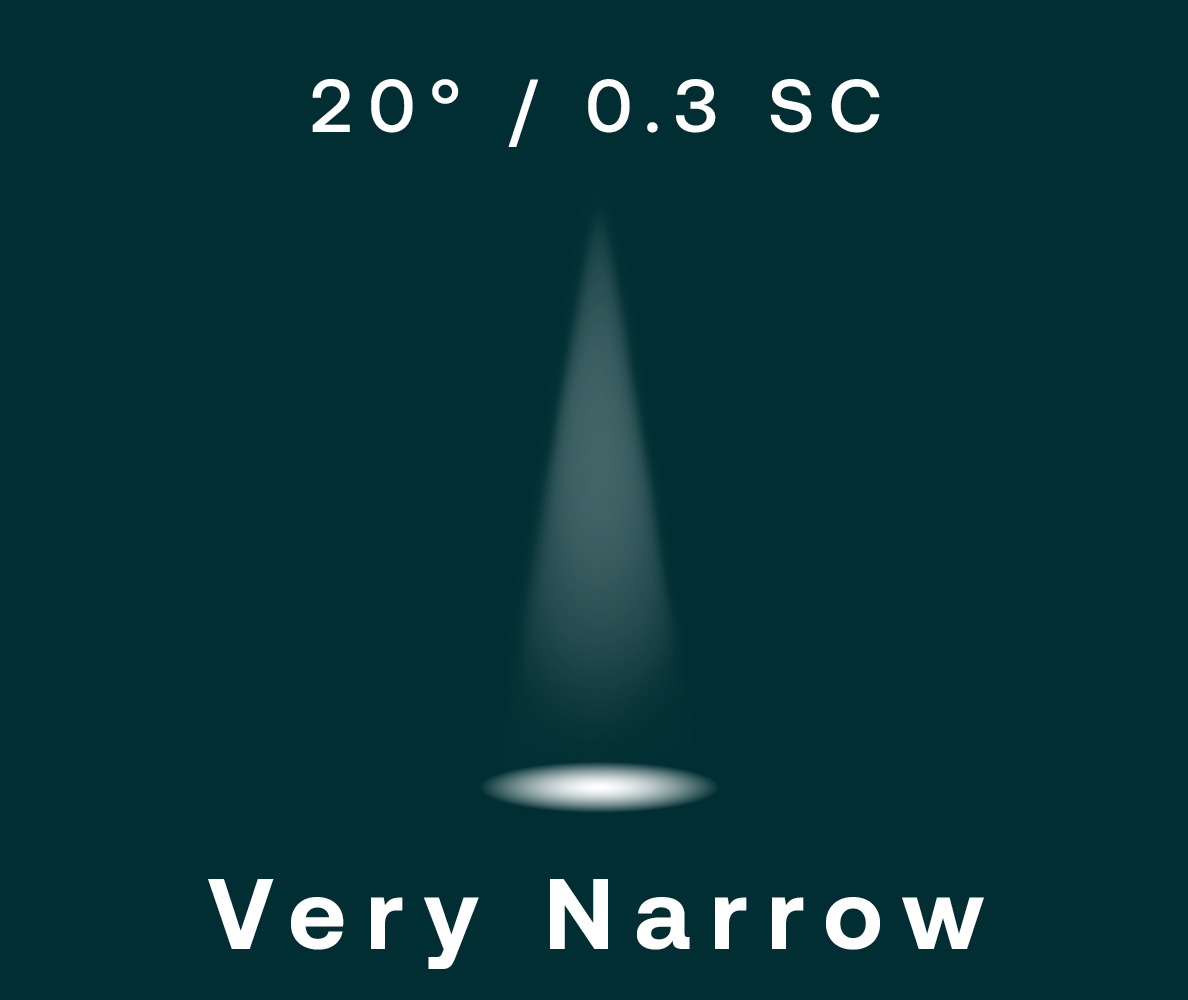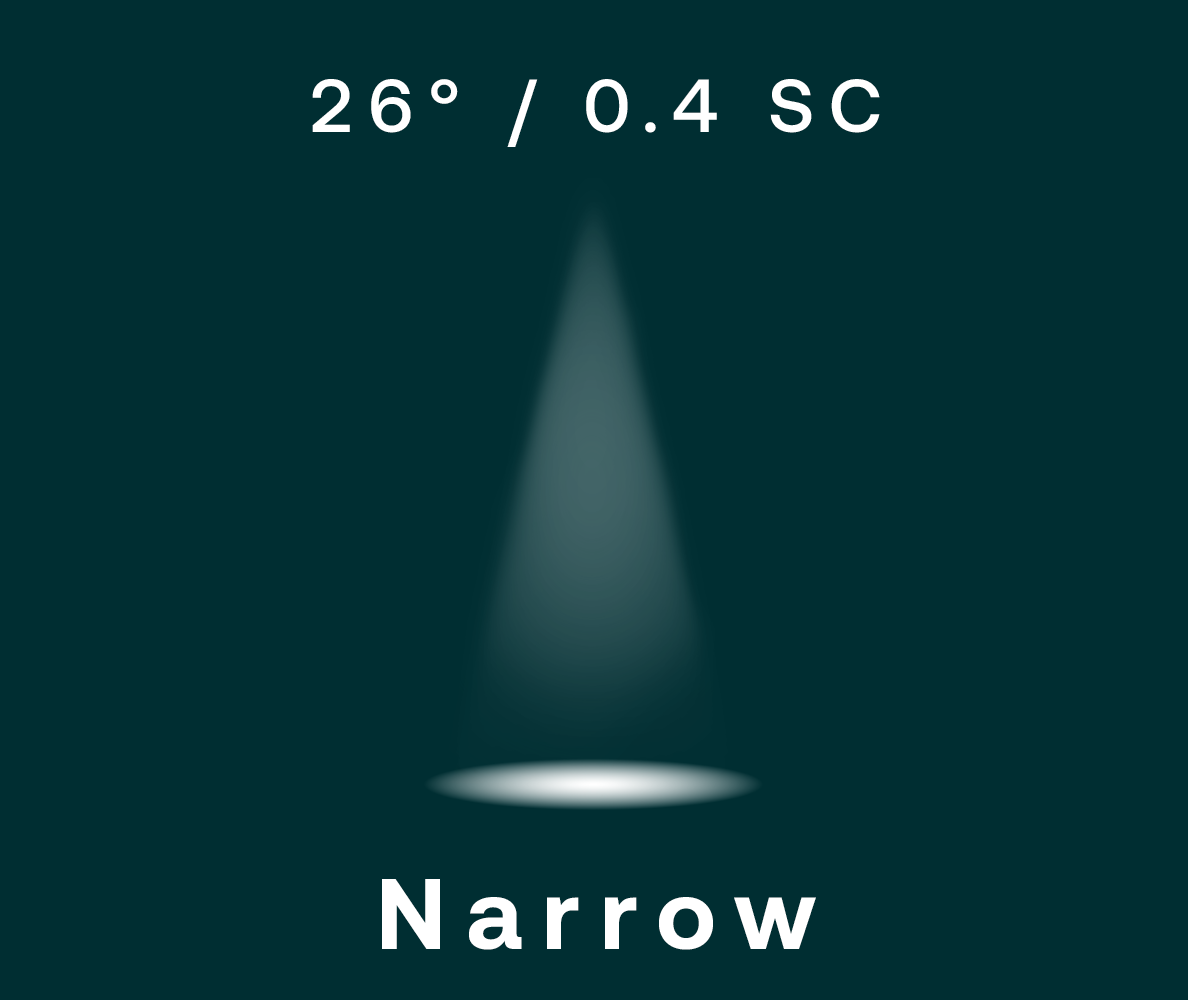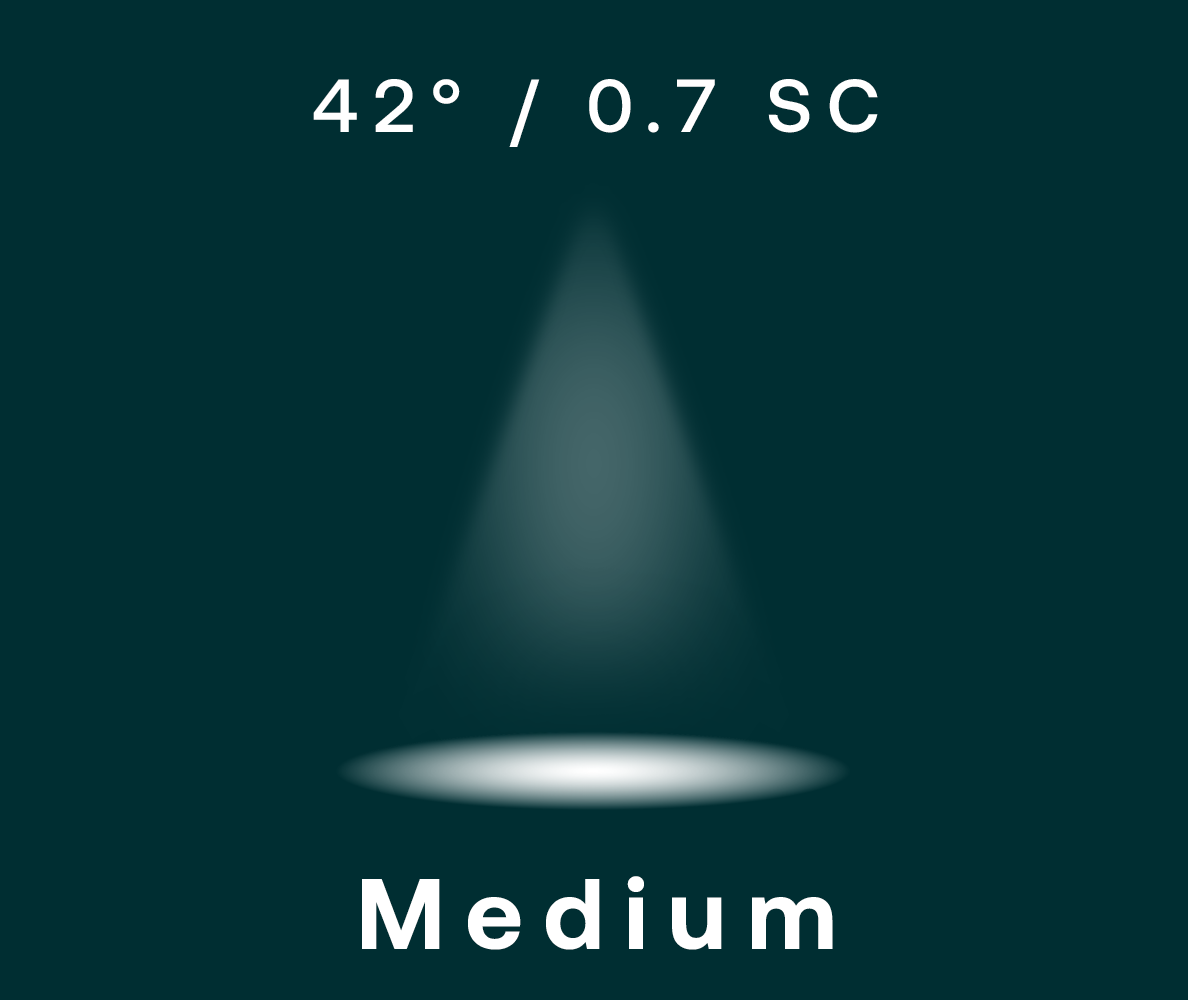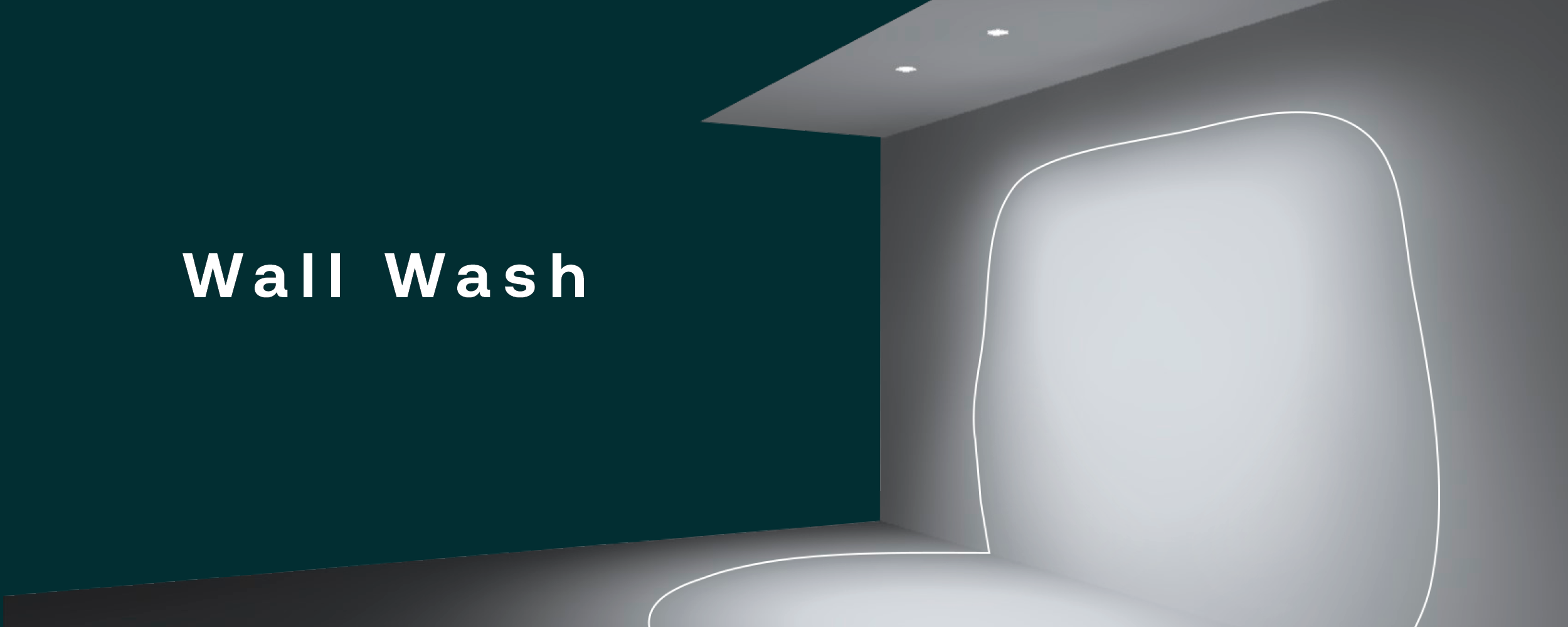 While providing vertical illumination on wall surfaces, Wall Wash luminaires (available for round aperture) also contribute to the ambient illumination - complementing other downlighting in the space.
TM-30 Data
2 Step MacAdam Ellipse
Color quality is important for true color rendition of critical tasks. Surgeries and medical diagnostics require high CRI for true assessment of organs and tissue during medical procedures. Pharmaceutical labs require proper color rendition for detailed analysis and food processing requires high CRI to spot mold, discoloration and other deficiencies during food prep.
Controls
One Lighting Platform for a Connected World. The NX Lighting Controls platform delivers seamless interior and exterior lighting control.
Reflector Finish Options
Lifeshield offers a wide variety of finish options that allow fine-tuning of the ceiling aesthetics.
Reflector Color Options
Lifeshield Downlights offer an array of anodized and painted cone colors that, with the finish options, will enhance the tone and color within the space.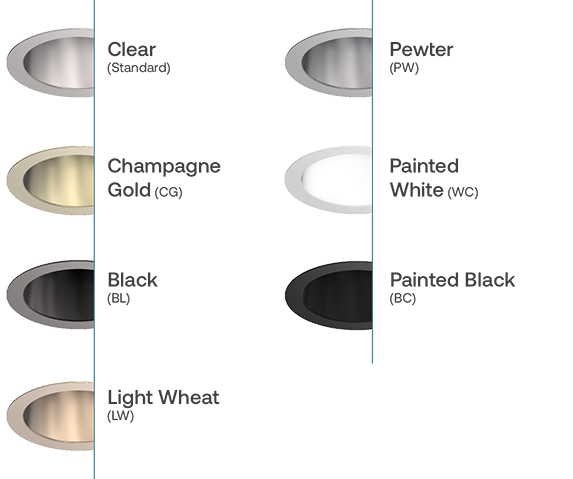 Reflector Flange Options
Varied flange options allow choices for how the reflector trim will integrate with the ceiling surface. Selection only available for MRI.
Lifeshield Downlights use the same platform as the LITEISTRY family, ideal for coordinated use in common spaces.

Certifications & Standards
---
CSA: Product tested by a certified lab via an agreement with UL, insuring it meets all Canadian and American National Standards for security and performance. The cCSAus listing qualifies that a product is certified for use in the U.S. and Canada.
ISO 3: Fixtures tested to the International Standards Organization (ISO) standard 14644-1 that are rated as ISO 3 (Federal Std. 209E, Class 1.) ISO ratings (1 through 9) are used for qualifying cleanrooms and enclosures (fixtures) for use in cleanrooms. ISO 3 rated fixtures meet the requirements of ISO ratings 3 through 9.

IC RATED: Products with an Insulation Contact (IC) rating are approved for direct contact with insulation. Tested and approved by a Nationally Recognized Testing Laboratory such as UL.

MIL461 G: A United States Military Standard that describes how to test equipment for electromagnetic compatibility. The standard covers both conducted and radiated emissions and ensures that sensitive electronic equipment is less likely to be affected by electromagnetic interference (EMI).
IEC: Meets requirements of IEC/EN 60601-1-2:2020 for basic safety and performance with regard to electromagnetic disruption applicable to medical electrical equipment and systems.
NSF: NSF/ANSI Standard 2 (NSF2) establishes minimum requirements for food equipment, including lighting. Construction requirements are designed to prevent food contamination, including corrosion resistance, cleanability and the ability of exposed material to withstand normal wear.
IP66: Ingress Protection (IP) 66 fixtures are rated as sealed from dust and particulates, water (other liquids) and from high pressure water jets (12.5 mm.) IP66 rated fixtures also meet the requirements for IP65 and IP64
ANSI / UL 924: The Standard for Safety of Emergency Lighting and Power Equipment published by Underwriters Laboratories. UL Listed Emergency Lights feature reliable battery backup systems that will operate for at least 90 minutes when power fails.
IP69K: Ingress Protection (IP) 69K fixtures are rated to the same particulate and water (other liquids) standards as IP66, but also include protection against prolonged exposure to high pressure water jets including those used at high temperatures for cleaning and sanitizing.
WET Location: Meets UL requirements for recessed fixtures that are mounted in a covered ceiling and are suitable for contact with water (liquid) from the room side.
IK10: An international numeric classification for the degree of protection provided by an electrical enclosure (fixture) against external mechanical impacts. The highest level of protection rating is IK10.
CCEA: City of Chicago Environmental Air (CCEA) approved fixtures feature airtight construction to limit airflow from the room side to the plenum. Electrical wiring and conductors are enclosed in metal wireway compartments and sealed from the plenum.