LIFESHIELD
MRI Suite Downlights
MRI downlights offer 4" and 6" round and square apertures, non-ferromagnetic construction and proper EMI shielding, ensuring compatibility with sensitive equipment.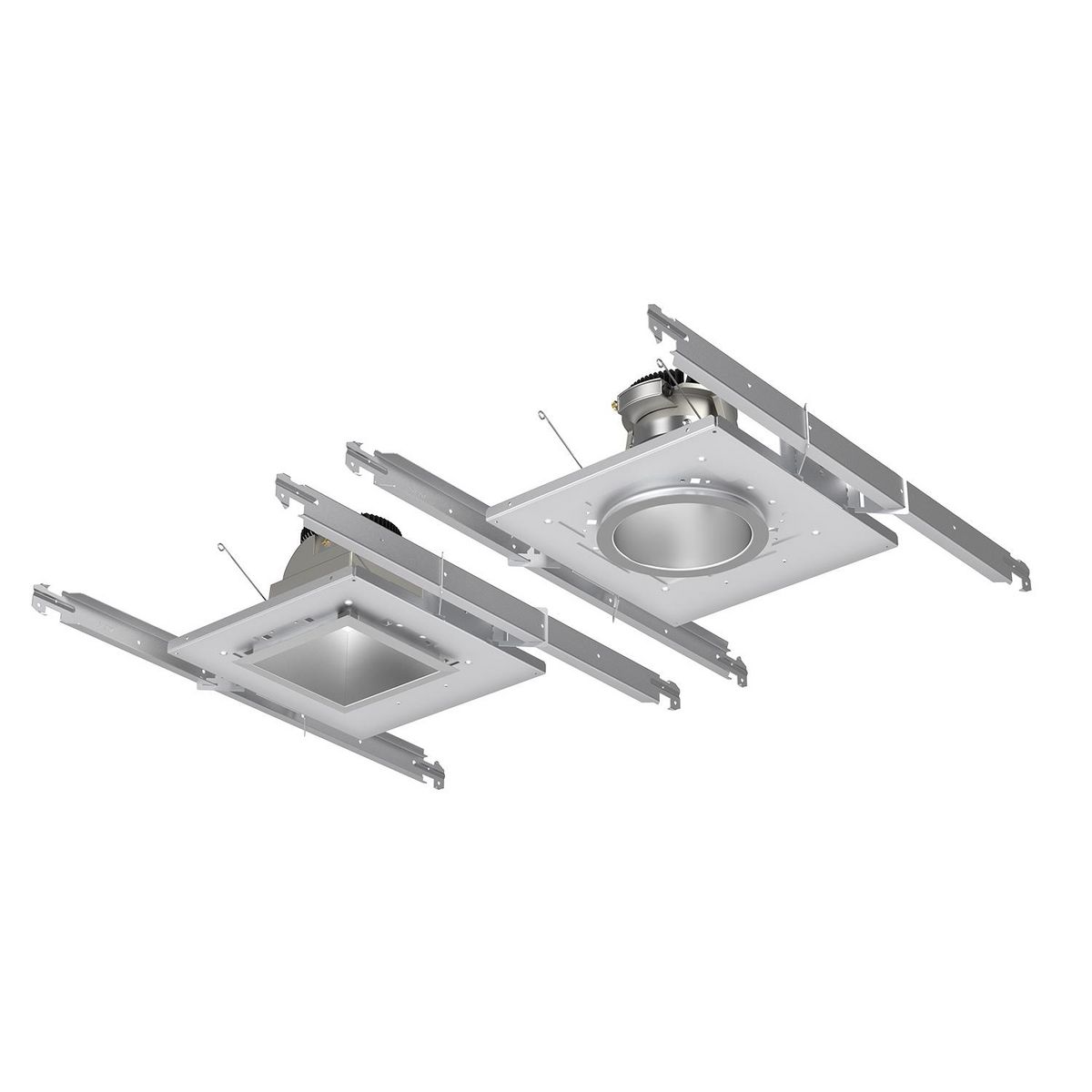 Features & Benefits
Standard with non-ferromagnetic construction, options/accessories and remote power supply as required for MRI applications.
Five beam distributions and wall wash assist in targeted illumination of patient, equipment and diagnostic related tasks.
50° cutoff to source and source image provides a low glare, calming environment for patients with enhanced visual acuity necessary for clinical staff.
Options for color temperature range from 2700K– 5000K in 80+ or 90+ CRI support a wide array of procedural related tasks.
Aluminum anodized reflectors are available in a wide array of colors and finishes.
Specifications
Aperture Shape
Round;Square
Dimming Protocol
0-10V Dimming
Mounting Options
Recessed
Housing Options
New Construction
Material - Housing
Non-ferromagnetic
Optics & Distributions
Very Narrow, Medium, Wide, Extra Wide, Wall Wash
Ratings
cCSAus, MIL461G, IEC/EN 60601-1-2:2020, Wet
Lumen Maintenance Rating
L90 @ 55,000 hours
Specifications
Aperture
4, 6
Aperture Shape
Round;Square
Lumen Range
600-6,000
Dimming Protocol
0-10V Dimming
CRI Offering
80, 90
Mounting Options
Recessed
Housing Options
New Construction
Material - Housing
Non-ferromagnetic
Wattage Range
8-61
Efficacy Range
80-119
Optics & Distributions
Very Narrow, Medium, Wide, Extra Wide, Wall Wash
Certifications
cCSAus
Ratings
cCSAus, MIL461G, IEC/EN 60601-1-2:2020, Wet
Operating Temp
25
Lumen Maintenance Rating
L90 @ 55,000 hours
Photometry(
0

) Clear Filters
| Product Name | Color Temp | CRI | Lumens | LM/W | Watts | Dist. Type | Resources |
| --- | --- | --- | --- | --- | --- | --- | --- |
| LTR-6SQD-H-MRI_LTR-6SQD-T-MRI-ML35K8NRSS_RDE-LTR-ML30-DM1-1 | 3500 K | 80 CRI | 3460 lm | 101 | 34.3 W | Narrow, 36° FWHM, (0.6 SC) | |
| LTR-6SQD-H-MRI_LTR-6SQD-T-MRI-ML35K8VNRSS_RDE-LTR-ML20-DM1-1 | 3500 K | 80 CRI | 2282 lm | 101 | 22.7 W | Very Narrow, 25° FWHM, (0.4 SC) | |
| LTR-6SQD-H-MRI_LTR-6SQD-T-MRI-ML35K8VNRSS_RDE-LTR-ML25-DM1-1 | 3500 K | 80 CRI | 2774 lm | 100 | 27.7 W | Very Narrow, 25° FWHM, (0.4 SC) | |
| LTR-6SQD-H-MRI_LTR-6SQD-T-MRI-ML35K8VNRSS_RDE-LTR-ML30-DM1-1 | 3500 K | 80 CRI | 3305 lm | 96 | 34.3 W | Very Narrow, 25° FWHM, (0.4 SC) | |
| LTR-6SQD-H-MRI_LTR-6SQD-T-MRI-ML35K8WDSS_RDE-LTR-ML20-DM1-1 | 3500 K | 80 CRI | 2031 lm | 89 | 22.8 W | Wide, 65° FWHM, (1.0 SC) | |
| LTR-6SQD-H-MRI_LTR-6SQD-T-MRI-ML35K8WDSS_RDE-LTR-ML25-DM1-1 | 3500 K | 80 CRI | 2300 lm | 83 | 27.7 W | Wide, 65° FWHM, (1.0 SC) | |
| LTR-6SQD-H-MRI_LTR-6SQD-T-MRI-ML35K8WDSS_RDE-LTR-ML30-DM1-1 | 3500 K | 80 CRI | 2741 lm | 80 | 34.3 W | Wide, 65° FWHM, (1.0 SC) | |
| LTR-6SQD-H-MRI_LTR-6SQD-T-MRI-ML35K8XWSS_RDE-LTR-ML20-DM1-1 | 3500 K | 80 CRI | 1975 lm | 87 | 22.8 W | Extra Wide, 69° FWHM, (1.1 SC) | |
| LTR-6SQD-H-MRI_LTR-6SQD-T-MRI-ML35K8XWSS_RDE-LTR-ML25-DM1-1 | 3500 K | 80 CRI | 2176 lm | 79 | 27.7 W | Extra Wide, 69° FWHM, (1.1 SC) | |
| LTR-6SQD-H-MRI_LTR-6SQD-T-MRI-ML35K8XWSS_RDE-LTR-ML30-DM1-1 | 3500 K | 80 CRI | 2593 lm | 76 | 34.3 W | Extra Wide, 69° FWHM, (1.1 SC) | |
| LTR-6SQD-H-MRI_LTR-6SQD-T-MRI-SL35K8MDSS_RDE-LTR-SL06-DM1-1 | 3500 K | 80 CRI | 708 lm | 91 | 7.8 W | Medium, 43° FWHM, (0.7 SC) | |
| LTR-6SQD-H-MRI_LTR-6SQD-T-MRI-SL35K8MDSS_RDE-LTR-SL10-DM1-1 | 3500 K | 80 CRI | 1131 lm | 94 | 12 W | Medium, 43° FWHM, (0.7 SC) | |
| LTR-6SQD-H-MRI_LTR-6SQD-T-MRI-SL35K8MDSS_RDE-LTR-SL15-DM1-1 | 3500 K | 80 CRI | 1624 lm | 87 | 18.7 W | Medium, 43° FWHM, (0.7 SC) | |
| LTR-6SQD-H-MRI_LTR-6SQD-T-MRI-SL35K8NRSS_RDE-LTR-SL06-DM1-1 | 3500 K | 80 CRI | 757 lm | 97 | 7.8 W | Narrow, 36° FWHM, (0.6 SC) | |
| LTR-6SQD-H-MRI_LTR-6SQD-T-MRI-SL35K8NRSS_RDE-LTR-SL10-DM1-1 | 3500 K | 80 CRI | 1210 lm | 101 | 12 W | Narrow, 36° FWHM, (0.6 SC) | |
| LTR-6SQD-H-MRI_LTR-6SQD-T-MRI-SL35K8NRSS_RDE-LTR-SL15-DM1-1 | 3500 K | 80 CRI | 1738 lm | 93 | 18.7 W | Narrow, 36° FWHM, (0.6 SC) | |
| LTR-6SQD-H-MRI_LTR-6SQD-T-MRI-SL35K8VNRSS_RDE-LTR-SL06-DM1-1 | 3500 K | 80 CRI | 723 lm | 93 | 7.8 W | Very Narrow, 25° FWHM, (0.4 SC) | |
| LTR-6SQD-H-MRI_LTR-6SQD-T-MRI-SL35K8VNRSS_RDE-LTR-SL10-DM1-1 | 3500 K | 80 CRI | 1155 lm | 96 | 12 W | Very Narrow, 25° FWHM, (0.4 SC) | |
| LTR-6SQD-H-MRI_LTR-6SQD-T-MRI-SL35K8VNRSS_RDE-LTR-SL15-DM1-1 | 3500 K | 80 CRI | 1660 lm | 89 | 18.7 W | Very Narrow, 25° FWHM, (0.4 SC) | |
| LTR-6SQD-H-MRI_LTR-6SQD-T-MRI-SL35K8WDSS_RDE-LTR-SL06-DM1-1 | 3500 K | 80 CRI | 600 lm | 77 | 7.8 W | Wide, 65° FWHM, (1.0 SC) | |
| LTR-6SQD-H-MRI_LTR-6SQD-T-MRI-SL35K8WDSS_RDE-LTR-SL10-DM1-1 | 3500 K | 80 CRI | 958 lm | 80 | 12 W | Wide, 65° FWHM, (1.0 SC) | |
| LTR-6SQD-H-MRI_LTR-6SQD-T-MRI-SL35K8WDSS_RDE-LTR-SL15-DM1-1 | 3500 K | 80 CRI | 1377 lm | 74 | 18.7 W | Wide, 65° FWHM, (1.0 SC) | |
| LTR-6SQD-H-MRI_LTR-6SQD-T-MRI-SL35K8XWSS_RDE-LTR-SL06-DM1-1 | 3500 K | 80 CRI | 567 lm | 73 | 7.8 W | Extra Wide, 69° FWHM, (1.1 SC) | |
| LTR-6SQD-H-MRI_LTR-6SQD-T-MRI-SL35K8XWSS_RDE-LTR-SL10-DM1-1 | 3500 K | 80 CRI | 906 lm | 76 | 12 W | Extra Wide, 69° FWHM, (1.1 SC) | |
| LTR-6SQD-H-MRI_LTR-6SQD-T-MRI-SL35K8XWSS_RDE-LTR-SL15-DM1-1 | 3500 K | 80 CRI | 1302 lm | 70 | 18.7 W | Extra Wide, 69° FWHM, (1.1 SC) | |
| LTR-6SQD-H-MRI_LTR-6SQD-T-MRI-VL35K8MDSS_RDE-LTR-VL50-DM1-1 | 3500 K | 80 CRI | 5037 lm | 103 | 48.7 W | Medium, 43° FWHM, (0.7 SC) | |
| LTR-6SQD-H-MRI_LTR-6SQD-T-MRI-VL35K8MDSS_RDE-LTR-VL55-DM1-1 | 3500 K | 80 CRI | 5585 lm | 104 | 53.9 W | Medium, 43° FWHM, (0.7 SC) | |
| LTR-6SQD-H-MRI_LTR-6SQD-T-MRI-VL35K8MDSS_RDE-LTR-VL60-DM1-1 | 3500 K | 80 CRI | 6221 lm | 103 | 60.7 W | Medium, 43° FWHM, (0.7 SC) | |
| LTR-6SQD-H-MRI_LTR-6SQD-T-MRI-VL35K8NRSS_RDE-LTR-VL50-DM1-1 | 3500 K | 80 CRI | 5388 lm | 111 | 48.7 W | Narrow, 36° FWHM, (0.6 SC) | |
| LTR-6SQD-H-MRI_LTR-6SQD-T-MRI-VL35K8NRSS_RDE-LTR-VL55-DM1-1 | 3500 K | 80 CRI | 5975 lm | 111 | 53.9 W | Narrow, 36° FWHM, (0.6 SC) | |
| LTR-6SQD-H-MRI_LTR-6SQD-T-MRI-VL35K8NRSS_RDE-LTR-VL60-DM1-1 | 3500 K | 80 CRI | 6656 lm | 110 | 60.7 W | Narrow, 36° FWHM, (0.6 SC) | |
| LTR-6SQD-H-MRI_LTR-6SQD-T-MRI-VL35K8VNRSS_RDE-LTR-VL50-DM1-1 | 3500 K | 80 CRI | 5147 lm | 106 | 48.7 W | Very Narrow, 25° FWHM, (0.4 SC) | |
| LTR-6SQD-H-MRI_LTR-6SQD-T-MRI-VL35K8VNRSS_RDE-LTR-VL55-DM1-1 | 3500 K | 80 CRI | 5708 lm | 106 | 53.9 W | Very Narrow, 25° FWHM, (0.4 SC) | |
| LTR-6SQD-H-MRI_LTR-6SQD-T-MRI-VL35K8VNRSS_RDE-LTR-VL60-DM1-1 | 3500 K | 80 CRI | 6358 lm | 105 | 60.7 W | Very Narrow, 25° FWHM, (0.4 SC) | |
| LTR-6SQD-H-MRI_LTR-6SQD-T-MRI-VL35K8WDSS_RDE-LTR-VL50-DM1-1 | 3500 K | 80 CRI | 4268 lm | 88 | 48.7 W | Wide, 65° FWHM, (1.0 SC) | |
| LTR-6SQD-H-MRI_LTR-6SQD-T-MRI-VL35K8WDSS_RDE-LTR-VL55-DM1-1 | 3500 K | 80 CRI | 4734 lm | 88 | 53.9 W | Wide, 65° FWHM, (1.0 SC) | |
| LTR-6SQD-H-MRI_LTR-6SQD-T-MRI-VL35K8WDSS_RDE-LTR-VL60-DM1-1 | 3500 K | 80 CRI | 5273 lm | 87 | 60.7 W | Wide, 65° FWHM, (1.0 SC) | |
| LTR-6SQD-H-MRI_LTR-6SQD-T-MRI-VL35K8XWSS_RDE-LTR-VL50-DM1-1 | 3500 K | 80 CRI | 4038 lm | 83 | 48.7 W | Extra Wide, 69° FWHM, (1.1 SC) | |
| LTR-6SQD-H-MRI_LTR-6SQD-T-MRI-VL35K8XWSS_RDE-LTR-VL55-DM1-1 | 3500 K | 80 CRI | 4478 lm | 83 | 53.9 W | Extra Wide, 69° FWHM, (1.1 SC) | |
| LTR-6SQD-H-MRI_LTR-6SQD-T-MRI-VL35K8XWSS_RDE-LTR-VL60-DM1-1 | 3500 K | 80 CRI | 4987 lm | 82 | 60.7 W | Extra Wide, 69° FWHM, (1.1 SC) | |
| LTR-4RD-H-MRI_LTR-4RD-T-MRI-HL35K8MDSS_RDE-LTR-HL35-DM1-1 | 3500 K | 80 CRI | 3957 lm | 92 | 42.9 W | Medium, 44° FWHM, (0.7 SC) | |
| LTR-4RD-H-MRI_LTR-4RD-T-MRI-HL35K8MDSS_RDE-LTR-HL40-DM1-1 | 3500 K | 80 CRI | 4517 lm | 88 | 51.5 W | Medium, 44° FWHM, (0.7 SC) | |
| LTR-4RD-H-MRI_LTR-4RD-T-MRI-HL35K8NRSS_RDE-LTR-HL35-DM1-1 | 3500 K | 80 CRI | 4280 lm | 100 | 42.9 W | Narrow, 29° FWHM, (0.5 SC) | |
| LTR-4RD-H-MRI_LTR-4RD-T-MRI-HL35K8NRSS_RDE-LTR-HL40-DM1-1 | 3500 K | 80 CRI | 4885 lm | 95 | 51.5 W | Narrow, 29° FWHM, (0.5 SC) | |
| LTR-4RD-H-MRI_LTR-4RD-T-MRI-HL35K8WDSS_RDE-LTR-HL35-DM1-1 | 3500 K | 80 CRI | 3622 lm | 84 | 42.9 W | Wide, 61° FWHM, (0.9 SC) | |
| LTR-4RD-H-MRI_LTR-4RD-T-MRI-HL35K8WDSS_RDE-LTR-HL40-DM1-1 | 3500 K | 80 CRI | 4134 lm | 80 | 51.5 W | Wide, 61° FWHM, (0.9 SC) | |
| LTR-4RD-H-MRI_LTR-4RD-T-MRI-HL35K8XWSS_RDE-LTR-HL35-DM1-1 | 3500 K | 80 CRI | 3514 lm | 82 | 42.9 W | Extra Wide, 78° FWHM, (1.2 SC) | |
| LTR-4RD-H-MRI_LTR-4RD-T-MRI-HL35K8XWSS_RDE-LTR-HL40-DM1-1 | 3500 K | 80 CRI | 4011 lm | 78 | 51.5 W | Extra Wide, 78° FWHM, (1.2 SC) | |
| LTR-4RD-H-MRI_LTR-4RD-T-MRI-ML35K8MDSS_RDE-LTR-ML20-DM1-1 | 3500 K | 80 CRI | 2152 lm | 96 | 22.5 W | Medium, 44° FWHM, (0.7 SC) | |
| LTR-4RD-H-MRI_LTR-4RD-T-MRI-ML35K8MDSS_RDE-LTR-ML25-DM1-1 | 3500 K | 80 CRI | 2760 lm | 99 | 27.8 W | Medium, 44° FWHM, (0.7 SC) | |
| LTR-4RD-H-MRI_LTR-4RD-T-MRI-ML35K8MDSS_RDE-LTR-ML30-DM1-1 | 3500 K | 80 CRI | 3313 lm | 96 | 34.6 W | Medium, 44° FWHM, (0.7 SC) | |
| LTR-4RD-H-MRI_LTR-4RD-T-MRI-ML35K8NRSS_RDE-LTR-ML20-DM1-1 | 3500 K | 80 CRI | 2238 lm | 99 | 22.5 W | Narrow, 29° FWHM, (0.5 SC) | |
| LTR-4RD-H-MRI_LTR-4RD-T-MRI-ML35K8NRSS_RDE-LTR-ML25-DM1-1 | 3500 K | 80 CRI | 2985 lm | 107 | 27.8 W | Narrow, 29° FWHM, (0.5 SC) | |
| LTR-4RD-H-MRI_LTR-4RD-T-MRI-ML35K8NRSS_RDE-LTR-ML30-DM1-1 | 3500 K | 80 CRI | 3583 lm | 104 | 34.6 W | Narrow, 29° FWHM, (0.5 SC) | |
| LTR-4RD-H-MRI_LTR-4RD-T-MRI-ML35K8VNRSS_RDE-LTR-ML20-DM1-1 | 3500 K | 80 CRI | 2032 lm | 91 | 22.4 W | Very Narrow, 20° FWHM, (0.3 SC) | |
| LTR-4RD-H-MRI_LTR-4RD-T-MRI-ML35K8VNRSS_RDE-LTR-ML25-DM1-1 | 3500 K | 80 CRI | 2447 lm | 86 | 28.6 W | Very Narrow, 20° FWHM, (0.3 SC) | |
| LTR-4RD-H-MRI_LTR-4RD-T-MRI-ML35K8VNRSS_RDE-LTR-ML30-DM1-1 | 3500 K | 80 CRI | 2855 lm | 80 | 35.9 W | Very Narrow, 20° FWHM, (0.3 SC) | |
| LTR-4RD-H-MRI_LTR-4RD-T-MRI-ML35K8WDSS_RDE-LTR-ML20-DM1-1 | 3500 K | 80 CRI | 2059 lm | 92 | 22.5 W | Wide, 61° FWHM, (0.9 SC) | |
| LTR-4RD-H-MRI_LTR-4RD-T-MRI-ML35K8WDSS_RDE-LTR-ML25-DM1-1 | 3500 K | 80 CRI | 2526 lm | 91 | 27.8 W | Wide, 61° FWHM, (0.9 SC) | |
| LTR-4RD-H-MRI_LTR-4RD-T-MRI-ML35K8WDSS_RDE-LTR-ML30-DM1-1 | 3500 K | 80 CRI | 3032 lm | 88 | 34.6 W | Wide, 61° FWHM, (0.9 SC) | |
| LTR-4RD-H-MRI_LTR-4RD-T-MRI-ML35K8XWSS_RDE-LTR-ML20-DM1-1 | 3500 K | 80 CRI | 2028 lm | 90 | 22.5 W | Extra Wide, 78° FWHM, (1.2 SC) | |
| LTR-4RD-H-MRI_LTR-4RD-T-MRI-ML35K8XWSS_RDE-LTR-ML25-DM1-1 | 3500 K | 80 CRI | 2451 lm | 88 | 27.8 W | Extra Wide, 78° FWHM, (1.2 SC) | |
| LTR-4RD-H-MRI_LTR-4RD-T-MRI-ML35K8XWSS_RDE-LTR-ML30-DM1-1 | 3500 K | 80 CRI | 2941 lm | 85 | 34.6 W | Extra Wide, 78° FWHM, (1.2 SC) | |
| LTR-4RD-H-MRI_LTR-4RD-T-MRI-SL35K8MDSS_RDE-LTR-SL06-DM1-1 | 3500 K | 80 CRI | 726 lm | 93 | 7.8 W | Medium, 44° FWHM, (0.7 SC) | |
| LTR-4RD-H-MRI_LTR-4RD-T-MRI-SL35K8MDSS_RDE-LTR-SL10-DM1-1 | 3500 K | 80 CRI | 1160 lm | 97 | 12 W | Medium, 44° FWHM, (0.7 SC) | |
| LTR-4RD-H-MRI_LTR-4RD-T-MRI-SL35K8MDSS_RDE-LTR-SL15-DM1-1 | 3500 K | 80 CRI | 1660 lm | 89 | 18.6 W | Medium, 44° FWHM, (0.7 SC) | |
| LTR-4RD-H-MRI_LTR-4RD-T-MRI-SL35K8NRSS_RDE-LTR-SL06-DM1-1 | 3500 K | 80 CRI | 785 lm | 101 | 7.8 W | Narrow, 29° FWHM, (0.5 SC) | |
| LTR-4RD-H-MRI_LTR-4RD-T-MRI-SL35K8NRSS_RDE-LTR-SL10-DM1-1 | 3500 K | 80 CRI | 1255 lm | 105 | 12 W | Narrow, 29° FWHM, (0.5 SC) | |
| LTR-4RD-H-MRI_LTR-4RD-T-MRI-SL35K8NRSS_RDE-LTR-SL15-DM1-1 | 3500 K | 80 CRI | 1795 lm | 97 | 18.6 W | Narrow, 29° FWHM, (0.5 SC) | |
| LTR-4RD-H-MRI_LTR-4RD-T-MRI-SL35K8VNRSS_RDE-LTR-SL06-DM1-1 | 3500 K | 80 CRI | 691 lm | 91 | 7.6 W | Very Narrow, 20° FWHM, (0.3 SC) | |
| LTR-4RD-H-MRI_LTR-4RD-T-MRI-SL35K8VNRSS_RDE-LTR-SL10-DM1-1 | 3500 K | 80 CRI | 1132 lm | 96 | 11.8 W | Very Narrow, 20° FWHM, (0.3 SC) | |
| LTR-4RD-H-MRI_LTR-4RD-T-MRI-SL35K8VNRSS_RDE-LTR-SL15-DM1-1 | 3500 K | 80 CRI | 1623 lm | 94 | 17.2 W | Very Narrow, 20° FWHM, (0.3 SC) | |
| LTR-4RD-H-MRI_LTR-4RD-T-MRI-SL35K8WDSS_RDE-LTR-SL06-DM1-1 | 3500 K | 80 CRI | 664 lm | 85 | 7.8 W | Wide, 61° FWHM, (0.9 SC) | |
| LTR-4RD-H-MRI_LTR-4RD-T-MRI-SL35K8WDSS_RDE-LTR-SL10-DM1-1 | 3500 K | 80 CRI | 1062 lm | 89 | 12 W | Wide, 61° FWHM, (0.9 SC) | |
| LTR-4RD-H-MRI_LTR-4RD-T-MRI-SL35K8WDSS_RDE-LTR-SL15-DM1-1 | 3500 K | 80 CRI | 1519 lm | 82 | 18.6 W | Wide, 61° FWHM, (0.9 SC) | |
| LTR-4RD-H-MRI_LTR-4RD-T-MRI-SL35K8XWSS_RDE-LTR-SL06-DM1-1 | 3500 K | 80 CRI | 644 lm | 83 | 7.8 W | Extra Wide, 78° FWHM, (1.2 SC) | |
| LTR-4RD-H-MRI_LTR-4RD-T-MRI-SL35K8XWSS_RDE-LTR-SL10-DM1-1 | 3500 K | 80 CRI | 1030 lm | 86 | 12 W | Extra Wide, 78° FWHM, (1.2 SC) | |
| LTR-4RD-H-MRI_LTR-4RD-T-MRI-SL35K8XWSS_RDE-LTR-SL15-DM1-1 | 3500 K | 80 CRI | 1474 lm | 79 | 18.6 W | Extra Wide, 78° FWHM, (1.2 SC) | |
| LTR-4RD-H-MRI_LTR-4RW-T-MRI-HL35K8WWSS_RDE-LTR-HL35-DM1-1 | 3500 K | 80 CRI | 3380 lm | 79 | 42.9 W | Open Single Wall Wash | |
| LTR-4RD-H-MRI_LTR-4RW-T-MRI-HL35K8WWSS_RDE-LTR-HL40-DM1-1 | 3500 K | 80 CRI | 3858 lm | 75 | 51.5 W | Open Single Wall Wash | |
| LTR-4RD-H-MRI_LTR-4RW-T-MRI-ML35K8WWSS_RDE-LTR-ML20-DM1-1 | 3500 K | 80 CRI | 1989 lm | 88 | 22.7 W | Open Single Wall Wash | |
| LTR-4RD-H-MRI_LTR-4RW-T-MRI-ML35K8WWSS_RDE-LTR-ML25-DM1-1 | 3500 K | 80 CRI | 2357 lm | 85 | 27.8 W | Open Single Wall Wash | |
| LTR-4RD-H-MRI_LTR-4RW-T-MRI-ML35K8WWSS_RDE-LTR-ML30-DM1-1 | 3500 K | 80 CRI | 2829 lm | 82 | 34.6 W | Open Single Wall Wash | |
| LTR-4RD-H-MRI_LTR-4RW-T-MRI-SL35K8WWSS_RDE-LTR-SL06-DM1-1 | 3500 K | 80 CRI | 620 lm | 79 | 7.8 W | Open Single Wall Wash | |
| LTR-4RD-H-MRI_LTR-4RW-T-MRI-SL35K8WWSS_RDE-LTR-SL10-DM1-1 | 3500 K | 80 CRI | 991 lm | 83 | 12 W | Open Single Wall Wash | |
| LTR-4RD-H-MRI_LTR-4RW-T-MRI-SL35K8WWSS_RDE-LTR-SL15-DM1-1 | 3500 K | 80 CRI | 1418 lm | 76 | 18.6 W | Open Single Wall Wash | |
| LTR-4SQD-H-MRI_LTR-4SQD-T-MRI-HL35K8MDSS_RDE-LTR-HL35-DM1-1 | 3500 K | 80 CRI | 4169 lm | 97 | 42.9 W | Medium, 45° FWHM, (0.7 SC) | |
| LTR-4SQD-H-MRI_LTR-4SQD-T-MRI-HL35K8MDSS_RDE-LTR-HL40-DM1-1 | 3500 K | 80 CRI | 4758 lm | 92 | 51.5 W | Medium, 45° FWHM, (0.7 SC) | |
| LTR-4SQD-H-MRI_LTR-4SQD-T-MRI-HL35K8NRSS_RDE-LTR-HL35-DM1-1 | 3500 K | 80 CRI | 4343 lm | 101 | 42.9 W | Narrow, 37° FWHM, (0.6 SC) | |
| LTR-4SQD-H-MRI_LTR-4SQD-T-MRI-HL35K8NRSS_RDE-LTR-HL40-DM1-1 | 3500 K | 80 CRI | 4957 lm | 96 | 51.5 W | Narrow, 37° FWHM, (0.6 SC) | |
| LTR-4SQD-H-MRI_LTR-4SQD-T-MRI-HL35K8WDSS_RDE-LTR-HL35-DM1-1 | 3500 K | 80 CRI | 3700 lm | 86 | 42.9 W | Wide, 60° FWHM, (1.0 SC) | |
| LTR-4SQD-H-MRI_LTR-4SQD-T-MRI-HL35K8WDSS_RDE-LTR-HL40-DM1-1 | 3500 K | 80 CRI | 4222 lm | 82 | 51.5 W | Wide, 60° FWHM, (1.0 SC) | |
| LTR-4SQD-H-MRI_LTR-4SQD-T-MRI-HL35K8XWSS_RDE-LTR-HL35-DM1-1 | 3500 K | 80 CRI | 3507 lm | 82 | 42.9 W | Extra Wide, 68° FWHM, (1.1 SC) | |
| LTR-4SQD-H-MRI_LTR-4SQD-T-MRI-HL35K8XWSS_RDE-LTR-HL40-DM1-1 | 3500 K | 80 CRI | 4003 lm | 78 | 51.5 W | Extra Wide, 68° FWHM, (1.1 SC) | |
| LTR-4SQD-H-MRI_LTR-4SQD-T-MRI-ML35K8MDSS_RDE-LTR-ML20-DM1-1 | 3500 K | 80 CRI | 2209 lm | 97 | 22.7 W | Medium, 45° FWHM, (0.7 SC) | |
| LTR-4SQD-H-MRI_LTR-4SQD-T-MRI-ML35K8MDSS_RDE-LTR-ML25-DM1-1 | 3500 K | 80 CRI | 2907 lm | 105 | 27.8 W | Medium, 45° FWHM, (0.7 SC) | |
| LTR-4SQD-H-MRI_LTR-4SQD-T-MRI-ML35K8MDSS_RDE-LTR-ML30-DM1-1 | 3500 K | 80 CRI | 3490 lm | 101 | 34.6 W | Medium, 45° FWHM, (0.7 SC) | |
| LTR-4SQD-H-MRI_LTR-4SQD-T-MRI-ML35K8NRSS_RDE-LTR-ML20-DM1-1 | 3500 K | 80 CRI | 2237 lm | 99 | 22.7 W | Narrow, 37° FWHM, (0.6 SC) | |
| LTR-4SQD-H-MRI_LTR-4SQD-T-MRI-ML35K8NRSS_RDE-LTR-ML25-DM1-1 | 3500 K | 80 CRI | 3029 lm | 109 | 27.8 W | Narrow, 37° FWHM, (0.6 SC) | |
| LTR-4SQD-H-MRI_LTR-4SQD-T-MRI-ML35K8NRSS_RDE-LTR-ML30-DM1-1 | 3500 K | 80 CRI | 3636 lm | 105 | 34.6 W | Narrow, 37° FWHM, (0.6 SC) | |
| LTR-4SQD-H-MRI_LTR-4SQD-T-MRI-ML35K8VNRSS_RDE-LTR-ML20-DM1-1 | 3500 K | 80 CRI | 2090 lm | 90 | 23.3 W | Very Narrow, 23° FWHM, (0.4 SC) | |
| LTR-4SQD-H-MRI_LTR-4SQD-T-MRI-ML35K8VNRSS_RDE-LTR-ML25-DM1-1 | 3500 K | 80 CRI | 2520 lm | 85 | 29.6 W | Very Narrow, 23° FWHM, (0.4 SC) | |
| LTR-4SQD-H-MRI_LTR-4SQD-T-MRI-ML35K8VNRSS_RDE-LTR-ML30-DM1-1 | 3500 K | 80 CRI | 2944 lm | 80 | 37 W | Very Narrow, 23° FWHM, (0.4 SC) | |
| LTR-4SQD-H-MRI_LTR-4SQD-T-MRI-ML35K8WDSS_RDE-LTR-ML20-DM1-1 | 3500 K | 80 CRI | 2081 lm | 92 | 22.7 W | Wide, 60° FWHM, (1.0 SC) | |
| LTR-4SQD-H-MRI_LTR-4SQD-T-MRI-ML35K8WDSS_RDE-LTR-ML25-DM1-1 | 3500 K | 80 CRI | 2580 lm | 93 | 27.8 W | Wide, 60° FWHM, (1.0 SC) | |
| LTR-4SQD-H-MRI_LTR-4SQD-T-MRI-ML35K8WDSS_RDE-LTR-ML30-DM1-1 | 3500 K | 80 CRI | 3097 lm | 90 | 34.6 W | Wide, 60° FWHM, (1.0 SC) | |
| LTR-4SQD-H-MRI_LTR-4SQD-T-MRI-ML35K8XWSS_RDE-LTR-ML20-DM1-1 | 3500 K | 80 CRI | 2026 lm | 89 | 22.7 W | Extra Wide, 68° FWHM, (1.1 SC) | |
| LTR-4SQD-H-MRI_LTR-4SQD-T-MRI-ML35K8XWSS_RDE-LTR-ML25-DM1-1 | 3500 K | 80 CRI | 2446 lm | 88 | 27.8 W | Extra Wide, 68° FWHM, (1.1 SC) | |
| LTR-4SQD-H-MRI_LTR-4SQD-T-MRI-ML35K8XWSS_RDE-LTR-ML30-DM1-1 | 3500 K | 80 CRI | 2936 lm | 85 | 34.6 W | Extra Wide, 68° FWHM, (1.1 SC) | |
| LTR-4SQD-H-MRI_LTR-4SQD-T-MRI-SL35K8MDSS_RDE-LTR-SL06-DM1-1 | 3500 K | 80 CRI | 764 lm | 98 | 7.8 W | Medium, 45° FWHM, (0.7 SC) | |
| LTR-4SQD-H-MRI_LTR-4SQD-T-MRI-SL35K8MDSS_RDE-LTR-SL10-DM1-1 | 3500 K | 80 CRI | 1222 lm | 102 | 12 W | Medium, 45° FWHM, (0.7 SC) | |
| LTR-4SQD-H-MRI_LTR-4SQD-T-MRI-SL35K8MDSS_RDE-LTR-SL15-DM1-1 | 3500 K | 80 CRI | 1748 lm | 94 | 18.6 W | Medium, 45° FWHM, (0.7 SC) | |
| LTR-4SQD-H-MRI_LTR-4SQD-T-MRI-SL35K8NRSS_RDE-LTR-SL06-DM1-1 | 3500 K | 80 CRI | 796 lm | 102 | 7.8 W | Narrow, 37° FWHM, (0.6 SC) | |
| LTR-4SQD-H-MRI_LTR-4SQD-T-MRI-SL35K8NRSS_RDE-LTR-SL10-DM1-1 | 3500 K | 80 CRI | 1273 lm | 106 | 12 W | Narrow, 37° FWHM, (0.6 SC) | |
| LTR-4SQD-H-MRI_LTR-4SQD-T-MRI-SL35K8NRSS_RDE-LTR-SL15-DM1-1 | 3500 K | 80 CRI | 1821 lm | 98 | 18.6 W | Narrow, 37° FWHM, (0.6 SC) | |
| LTR-4SQD-H-MRI_LTR-4SQD-T-MRI-SL35K8VNRSS_RDE-LTR-SL06-DM1-1 | 3500 K | 80 CRI | 705 lm | 86 | 8.2 W | Very Narrow, 23° FWHM, (0.4 SC) | |
| LTR-4SQD-H-MRI_LTR-4SQD-T-MRI-SL35K8VNRSS_RDE-LTR-SL10-DM1-1 | 3500 K | 80 CRI | 1158 lm | 92 | 12.5 W | Very Narrow, 23° FWHM, (0.4 SC) | |
| LTR-4SQD-H-MRI_LTR-4SQD-T-MRI-SL35K8VNRSS_RDE-LTR-SL15-DM1-1 | 3500 K | 80 CRI | 1663 lm | 92 | 18 W | Very Narrow, 23° FWHM, (0.4 SC) | |
| LTR-4SQD-H-MRI_LTR-4SQD-T-MRI-SL35K8WDSS_RDE-LTR-SL06-DM1-1 | 3500 K | 80 CRI | 678 lm | 87 | 7.8 W | Wide, 60° FWHM, (1.0 SC) | |
| LTR-4SQD-H-MRI_LTR-4SQD-T-MRI-SL35K8WDSS_RDE-LTR-SL10-DM1-1 | 3500 K | 80 CRI | 1085 lm | 90 | 12 W | Wide, 60° FWHM, (1.0 SC) | |
| LTR-4SQD-H-MRI_LTR-4SQD-T-MRI-SL35K8WDSS_RDE-LTR-SL15-DM1-1 | 3500 K | 80 CRI | 1552 lm | 83 | 18.6 W | Wide, 60° FWHM, (1.0 SC) | |
| LTR-4SQD-H-MRI_LTR-4SQD-T-MRI-SL35K8XWSS_RDE-LTR-SL06-DM1-1 | 3500 K | 80 CRI | 643 lm | 82 | 7.8 W | Extra Wide, 68° FWHM, (1.1 SC) | |
| LTR-4SQD-H-MRI_LTR-4SQD-T-MRI-SL35K8XWSS_RDE-LTR-SL10-DM1-1 | 3500 K | 80 CRI | 1028 lm | 86 | 12 W | Extra Wide, 68° FWHM, (1.1 SC) | |
| LTR-4SQD-H-MRI_LTR-4SQD-T-MRI-SL35K8XWSS_RDE-LTR-SL15-DM1-1 | 3500 K | 80 CRI | 1471 lm | 79 | 18.6 W | Extra Wide, 68° FWHM, (1.1 SC) | |
| LTR-6RD-H-MRI_LTR-6RD-T-MRI-HL35K8MDSS_RDE-LTR-HL35-DM1-1 | 3500 K | 80 CRI | 4140 lm | 96 | 43 W | Medium, 37° FWHM, (0.7 SC) | |
| LTR-6RD-H-MRI_LTR-6RD-T-MRI-HL35K8MDSS_RDE-LTR-HL40-DM1-1 | 3500 K | 80 CRI | 4733 lm | 92 | 51.6 W | Medium, 37° FWHM, (0.7 SC) | |
| LTR-6RD-H-MRI_LTR-6RD-T-MRI-HL35K8MDSS_RDE-LTR-HL45-DM1-1 | 3500 K | 80 CRI | 4967 lm | 90 | 55.1 W | Medium, 37° FWHM, (0.7 SC) | |
| LTR-6RD-H-MRI_LTR-6RD-T-MRI-HL35K8NRSS_RDE-LTR-HL35-DM1-1 | 3500 K | 80 CRI | 3942 lm | 93 | 43 W | Narrow, 28° FWHM, (0.5 SC) | |
| LTR-6RD-H-MRI_LTR-6RD-T-MRI-HL35K8NRSS_RDE-LTR-HL40-DM1-1 | 3500 K | 80 CRI | 4552 lm | 88 | 51.6 W | Narrow, 28° FWHM, (0.5 SC) | |
| LTR-6RD-H-MRI_LTR-6RD-T-MRI-HL35K8NRSS_RDE-LTR-HL45-DM1-1 | 3500 K | 80 CRI | 4775 lm | 87 | 55.1 W | Narrow, 28° FWHM, (0.5 SC) | |
| LTR-6RD-H-MRI_LTR-6RD-T-MRI-HL35K8VNRSS_RDE-LTR-HL35-DM1-1 | 3500 K | 80 CRI | 4477 lm | 104 | 43 W | Very Narrow,18° FWHM, (0.3 SC) | |
| LTR-6RD-H-MRI_LTR-6RD-T-MRI-HL35K8VNRSS_RDE-LTR-HL40-DM1-1 | 3500 K | 80 CRI | 5117 lm | 99 | 51.6 W | Very Narrow,18° FWHM, (0.3 SC) | |
| LTR-6RD-H-MRI_LTR-6RD-T-MRI-HL35K8VNRSS_RDE-LTR-HL45-DM1-1 | 3500 K | 80 CRI | 5371 lm | 98 | 55.1 W | Very Narrow,18° FWHM, (0.3 SC) | |
| LTR-6RD-H-MRI_LTR-6RD-T-MRI-HL35K8WDSS_RDE-LTR-HL35-DM1-1 | 3500 K | 80 CRI | 3836 lm | 89 | 43 W | Wide, 59° FWHM, (0.9 SC) | |
| LTR-6RD-H-MRI_LTR-6RD-T-MRI-HL35K8WDSS_RDE-LTR-HL40-DM1-1 | 3500 K | 80 CRI | 4385 lm | 85 | 51.6 W | Wide, 59° FWHM, (0.9 SC) | |
| LTR-6RD-H-MRI_LTR-6RD-T-MRI-HL35K8WDSS_RDE-LTR-HL45-DM1-1 | 3500 K | 80 CRI | 4602 lm | 84 | 55.1 W | Wide, 59° FWHM, (0.9 SC) | |
| LTR-6RD-H-MRI_LTR-6RD-T-MRI-HL35K8XWSS_RDE-LTR-HL35-DM1-1 | 3500 K | 80 CRI | 3693 lm | 86 | 43 W | Extra Wide, 76° FWHM, (1.1 SC) | |
| LTR-6RD-H-MRI_LTR-6RD-T-MRI-HL35K8XWSS_RDE-LTR-HL40-DM1-1 | 3500 K | 80 CRI | 4221 lm | 82 | 51.6 W | Extra Wide, 76° FWHM, (1.1 SC) | |
| LTR-6RD-H-MRI_LTR-6RD-T-MRI-HL35K8XWSS_RDE-LTR-HL45-DM1-1 | 3500 K | 80 CRI | 4430 lm | 80 | 55.1 W | Extra Wide, 76° FWHM, (1.1 SC) | |
| LTR-6RD-H-MRI_LTR-6RD-T-MRI-ML35K8MDSS_RDE-LTR-ML20-DM1-1 | 3500 K | 80 CRI | 2265 lm | 100 | 22.6 W | Medium, 37° FWHM, (0.7 SC) | |
| LTR-6RD-H-MRI_LTR-6RD-T-MRI-ML35K8MDSS_RDE-LTR-ML25-DM1-1 | 3500 K | 80 CRI | 2860 lm | 103 | 27.7 W | Medium, 37° FWHM, (0.7 SC) | |
| LTR-6RD-H-MRI_LTR-6RD-T-MRI-ML35K8MDSS_RDE-LTR-ML30-DM1-1 | 3500 K | 80 CRI | 3409 lm | 99 | 34.3 W | Medium, 37° FWHM, (0.7 SC) | |
| LTR-6RD-H-MRI_LTR-6RD-T-MRI-ML35K8NRSS_RDE-LTR-ML20-DM1-1 | 3500 K | 80 CRI | 2263 lm | 100 | 22.7 W | Narrow, 28° FWHM, (0.5 SC) | |
| LTR-6RD-H-MRI_LTR-6RD-T-MRI-ML35K8NRSS_RDE-LTR-ML25-DM1-1 | 3500 K | 80 CRI | 2751 lm | 99 | 27.7 W | Narrow, 28° FWHM, (0.5 SC) | |
| LTR-6RD-H-MRI_LTR-6RD-T-MRI-ML35K8NRSS_RDE-LTR-ML30-DM1-1 | 3500 K | 80 CRI | 3278 lm | 96 | 34.3 W | Narrow, 28° FWHM, (0.5 SC) | |
| LTR-6RD-H-MRI_LTR-6RD-T-MRI-ML35K8VNRSS_RDE-LTR-ML20-DM1-1 | 3500 K | 80 CRI | 2355 lm | 104 | 22.6 W | Very Narrow,18° FWHM, (0.3 SC) | |
| LTR-6RD-H-MRI_LTR-6RD-T-MRI-ML35K8VNRSS_RDE-LTR-ML25-DM1-1 | 3500 K | 80 CRI | 3093 lm | 112 | 27.7 W | Very Narrow,18° FWHM, (0.3 SC) | |
| LTR-6RD-H-MRI_LTR-6RD-T-MRI-ML35K8VNRSS_RDE-LTR-ML30-DM1-1 | 3500 K | 80 CRI | 3686 lm | 107 | 34.3 W | Very Narrow,18° FWHM, (0.3 SC) | |
| LTR-6RD-H-MRI_LTR-6RD-T-MRI-ML35K8WDSS_RDE-LTR-ML20-DM1-1 | 3500 K | 80 CRI | 2180 lm | 96 | 22.7 W | Wide, 59° FWHM, (0.9 SC) | |
| LTR-6RD-H-MRI_LTR-6RD-T-MRI-ML35K8WDSS_RDE-LTR-ML25-DM1-1 | 3500 K | 80 CRI | 2650 lm | 96 | 27.7 W | Wide, 59° FWHM, (0.9 SC) | |
| LTR-6RD-H-MRI_LTR-6RD-T-MRI-ML35K8WDSS_RDE-LTR-ML30-DM1-1 | 3500 K | 80 CRI | 3158 lm | 92 | 34.3 W | Wide, 59° FWHM, (0.9 SC) | |
| LTR-6RD-H-MRI_LTR-6RD-T-MRI-ML35K8XWSS_RDE-LTR-ML20-DM1-1 | 3500 K | 80 CRI | 2139 lm | 94 | 22.7 W | Extra Wide, 76° FWHM, (1.1 SC) | |
| LTR-6RD-H-MRI_LTR-6RD-T-MRI-ML35K8XWSS_RDE-LTR-ML25-DM1-1 | 3500 K | 80 CRI | 2551 lm | 92 | 27.7 W | Extra Wide, 76° FWHM, (1.1 SC) | |
| LTR-6RD-H-MRI_LTR-6RD-T-MRI-ML35K8XWSS_RDE-LTR-ML30-DM1-1 | 3500 K | 80 CRI | 3040 lm | 89 | 34.3 W | Extra Wide, 76° FWHM, (1.1 SC) | |
| LTR-6RD-H-MRI_LTR-6RD-T-MRI-SL35K8MDSS_RDE-LTR-SL06-DM1-1 | 3500 K | 80 CRI | 746 lm | 96 | 7.8 W | Medium, 37° FWHM, (0.7 SC) | |
| LTR-6RD-H-MRI_LTR-6RD-T-MRI-SL35K8MDSS_RDE-LTR-SL10-DM1-1 | 3500 K | 80 CRI | 1192 lm | 99 | 12 W | Medium, 37° FWHM, (0.7 SC) | |
| LTR-6RD-H-MRI_LTR-6RD-T-MRI-SL35K8MDSS_RDE-LTR-SL15-DM1-1 | 3500 K | 80 CRI | 1712 lm | 92 | 18.7 W | Medium, 37° FWHM, (0.7 SC) | |
| LTR-6RD-H-MRI_LTR-6RD-T-MRI-SL35K8NRSS_RDE-LTR-SL06-DM1-1 | 3500 K | 80 CRI | 717 lm | 92 | 7.8 W | Narrow, 28° FWHM, (0.5 SC) | |
| LTR-6RD-H-MRI_LTR-6RD-T-MRI-SL35K8NRSS_RDE-LTR-SL10-DM1-1 | 3500 K | 80 CRI | 1146 lm | 96 | 12 W | Narrow, 28° FWHM, (0.5 SC) | |
| LTR-6RD-H-MRI_LTR-6RD-T-MRI-SL35K8NRSS_RDE-LTR-SL15-DM1-1 | 3500 K | 80 CRI | 1623 lm | 87 | 18.7 W | Narrow, 28° FWHM, (0.5 SC) | |
| LTR-6RD-H-MRI_LTR-6RD-T-MRI-SL35K8VNRSS_RDE-LTR-SL06-DM1-1 | 3500 K | 80 CRI | 806 lm | 103 | 7.8 W | Very Narrow,18° FWHM, (0.3 SC) | |
| LTR-6RD-H-MRI_LTR-6RD-T-MRI-SL35K8VNRSS_RDE-LTR-SL10-DM1-1 | 3500 K | 80 CRI | 1288 lm | 107 | 12 W | Very Narrow,18° FWHM, (0.3 SC) | |
| LTR-6RD-H-MRI_LTR-6RD-T-MRI-SL35K8VNRSS_RDE-LTR-SL15-DM1-1 | 3500 K | 80 CRI | 1851 lm | 99 | 18.7 W | Very Narrow,18° FWHM, (0.3 SC) | |
| LTR-6RD-H-MRI_LTR-6RD-T-MRI-SL35K8WDSS_RDE-LTR-SL06-DM1-1 | 3500 K | 80 CRI | 691 lm | 89 | 7.8 W | Wide, 59° FWHM, (0.9 SC) | |
| LTR-6RD-H-MRI_LTR-6RD-T-MRI-SL35K8WDSS_RDE-LTR-SL10-DM1-1 | 3500 K | 80 CRI | 1104 lm | 92 | 12 W | Wide, 59° FWHM, (0.9 SC) | |
| LTR-6RD-H-MRI_LTR-6RD-T-MRI-SL35K8WDSS_RDE-LTR-SL15-DM1-1 | 3500 K | 80 CRI | 1586 lm | 85 | 18.7 W | Wide, 59° FWHM, (0.9 SC) | |
| LTR-6RD-H-MRI_LTR-6RD-T-MRI-SL35K8XWSS_RDE-LTR-SL06-DM1-1 | 3500 K | 80 CRI | 665 lm | 85 | 7.8 W | Extra Wide, 76° FWHM, (1.1 SC) | |
| LTR-6RD-H-MRI_LTR-6RD-T-MRI-SL35K8XWSS_RDE-LTR-SL10-DM1-1 | 3500 K | 80 CRI | 1063 lm | 89 | 12 W | Extra Wide, 76° FWHM, (1.1 SC) | |
| LTR-6RD-H-MRI_LTR-6RD-T-MRI-SL35K8XWSS_RDE-LTR-SL15-DM1-1 | 3500 K | 80 CRI | 1527 lm | 82 | 18.7 W | Extra Wide, 76° FWHM, (1.1 SC) | |
| LTR-6RD-H-MRI_LTR-6RD-T-MRI-VL35K8MDSS_RDE-LTR-VL50-DM1-1 | 3500 K | 80 CRI | 5308 lm | 109 | 48.7 W | Medium, 37° FWHM, (0.7 SC) | |
| LTR-6RD-H-MRI_LTR-6RD-T-MRI-VL35K8MDSS_RDE-LTR-VL55-DM1-1 | 3500 K | 80 CRI | 5887 lm | 109 | 53.9 W | Medium, 37° FWHM, (0.7 SC) | |
| LTR-6RD-H-MRI_LTR-6RD-T-MRI-VL35K8MDSS_RDE-LTR-VL60-DM1-1 | 3500 K | 80 CRI | 6557 lm | 108 | 60.7 W | Medium, 37° FWHM, (0.7 SC) | |
| LTR-6RD-H-MRI_LTR-6RD-T-MRI-VL35K8NRSS_RDE-LTR-VL50-DM1-1 | 3500 K | 80 CRI | 5105 lm | 105 | 48.7 W | Narrow, 28° FWHM, (0.5 SC) | |
| LTR-6RD-H-MRI_LTR-6RD-T-MRI-VL35K8NRSS_RDE-LTR-VL55-DM1-1 | 3500 K | 80 CRI | 5662 lm | 105 | 53.9 W | Narrow, 28° FWHM, (0.5 SC) | |
| LTR-6RD-H-MRI_LTR-6RD-T-MRI-VL35K8NRSS_RDE-LTR-VL60-DM1-1 | 3500 K | 80 CRI | 6299 lm | 104 | 60.7 W | Narrow, 28° FWHM, (0.5 SC) | |
| LTR-6RD-H-MRI_LTR-6RD-T-MRI-VL35K8VNRSS_RDE-LTR-VL50-DM1-1 | 3500 K | 80 CRI | 5740 lm | 118 | 48.7 W | Very Narrow,18° FWHM, (0.3 SC) | |
| LTR-6RD-H-MRI_LTR-6RD-T-MRI-VL35K8VNRSS_RDE-LTR-VL55-DM1-1 | 3500 K | 80 CRI | 6365 lm | 119 | 53.9 W | Very Narrow,18° FWHM, (0.3 SC) | |
| LTR-6RD-H-MRI_LTR-6RD-T-MRI-VL35K8VNRSS_RDE-LTR-VL60-DM1-1 | 3500 K | 80 CRI | 7090 lm | 117 | 60.7 W | Very Narrow,18° FWHM, (0.3 SC) | |
| LTR-6RD-H-MRI_LTR-6RD-T-MRI-VL35K8WDSS_RDE-LTR-VL50-DM1-1 | 3500 K | 80 CRI | 4918 lm | 101 | 48.7 W | Wide, 59° FWHM, (0.9 SC) | |
| LTR-6RD-H-MRI_LTR-6RD-T-MRI-VL35K8WDSS_RDE-LTR-VL55-DM1-1 | 3500 K | 80 CRI | 5454 lm | 101 | 53.9 W | Wide, 59° FWHM, (0.9 SC) | |
| LTR-6RD-H-MRI_LTR-6RD-T-MRI-VL35K8WDSS_RDE-LTR-VL60-DM1-1 | 3500 K | 80 CRI | 6075 lm | 100 | 60.7 W | Wide, 59° FWHM, (0.9 SC) | |
| LTR-6RD-H-MRI_LTR-6RD-T-MRI-VL35K8XWSS_RDE-LTR-VL50-DM1-1 | 3500 K | 80 CRI | 4734 lm | 97 | 48.7 W | Extra Wide, 76° FWHM, (1.1 SC) | |
| LTR-6RD-H-MRI_LTR-6RD-T-MRI-VL35K8XWSS_RDE-LTR-VL55-DM1-1 | 3500 K | 80 CRI | 5250 lm | 97 | 53.9 W | Extra Wide, 76° FWHM, (1.1 SC) | |
| LTR-6RD-H-MRI_LTR-6RD-T-MRI-VL35K8XWSS_RDE-LTR-VL60-DM1-1 | 3500 K | 80 CRI | 5848 lm | 96 | 60.7 W | Extra Wide, 76° FWHM, (1.1 SC) | |
| LTR-6RD-H-MRI_LTR-6RW-T-MRI-HL35K8WWSS_RDE-LTR-HL35-DM1-1 | 3500 K | 80 CRI | 3946 lm | 92 | 43 W | Open Single Wall Wash | |
| LTR-6RD-H-MRI_LTR-6RW-T-MRI-HL35K8WWSS_RDE-LTR-HL40-DM1-1 | 3500 K | 80 CRI | 4510 lm | 87 | 51.6 W | Open Single Wall Wash | |
| LTR-6RD-H-MRI_LTR-6RW-T-MRI-HL35K8WWSS_RDE-LTR-HL45-DM1-1 | 3500 K | 80 CRI | 4734 lm | 86 | 55.1 W | Open Single Wall Wash | |
| LTR-6RD-H-MRI_LTR-6RW-T-MRI-ML35K8WWSS_RDE-LTR-ML20-DM1-1 | 3500 K | 80 CRI | 2211 lm | 97 | 22.8 W | Open Single Wall Wash | |
| LTR-6RD-H-MRI_LTR-6RW-T-MRI-ML35K8WWSS_RDE-LTR-ML25-DM1-1 | 3500 K | 80 CRI | 2726 lm | 98 | 27.7 W | Open Single Wall Wash | |
| LTR-6RD-H-MRI_LTR-6RW-T-MRI-ML35K8WWSS_RDE-LTR-ML30-DM1-1 | 3500 K | 80 CRI | 3248 lm | 95 | 34.3 W | Open Single Wall Wash | |
| LTR-6RD-H-MRI_LTR-6RW-T-MRI-SL35K8WWSS_RDE-LTR-SL06-DM1-1 | 3500 K | 80 CRI | 711 lm | 91 | 7.8 W | Open Single Wall Wash | |
| LTR-6RD-H-MRI_LTR-6RW-T-MRI-SL35K8WWSS_RDE-LTR-SL10-DM1-1 | 3500 K | 80 CRI | 1136 lm | 95 | 12 W | Open Single Wall Wash | |
| LTR-6RD-H-MRI_LTR-6RW-T-MRI-SL35K8WWSS_RDE-LTR-SL15-DM1-1 | 3500 K | 80 CRI | 1631 lm | 87 | 18.7 W | Open Single Wall Wash | |
| LTR-6RD-H-MRI_LTR-6RW-T-MRI-VL35K8WWSS_RDE-LTR-VL50-DM1-1 | 3500 K | 80 CRI | 5059 lm | 104 | 48.7 W | Open Single Wall Wash | |
| LTR-6RD-H-MRI_LTR-6RW-T-MRI-VL35K8WWSS_RDE-LTR-VL55-DM1-1 | 3500 K | 80 CRI | 5610 lm | 104 | 53.9 W | Open Single Wall Wash | |
| LTR-6RD-H-MRI_LTR-6RW-T-MRI-VL35K8WWSS_RDE-LTR-VL60-DM1-1 | 3500 K | 80 CRI | 6249 lm | 103 | 60.7 W | Open Single Wall Wash | |
| LTR-6SQD-H-MRI_LTR-6SQD-T-MRI-HL35K8MDSS_RDE-LTR-HL35-DM1-1 | 3500 K | 80 CRI | 3928 lm | 91 | 43 W | Medium, 43° FWHM, (0.7 SC) | |
| LTR-6SQD-H-MRI_LTR-6SQD-T-MRI-HL35K8MDSS_RDE-LTR-HL40-DM1-1 | 3500 K | 80 CRI | 4491 lm | 87 | 51.6 W | Medium, 43° FWHM, (0.7 SC) | |
| LTR-6SQD-H-MRI_LTR-6SQD-T-MRI-HL35K8MDSS_RDE-LTR-HL45-DM1-1 | 3500 K | 80 CRI | 4713 lm | 86 | 55.1 W | Medium, 43° FWHM, (0.7 SC) | |
| LTR-6SQD-H-MRI_LTR-6SQD-T-MRI-HL35K8NRSS_RDE-LTR-HL35-DM1-1 | 3500 K | 80 CRI | 4203 lm | 98 | 43 W | Narrow, 36° FWHM, (0.6 SC) | |
| LTR-6SQD-H-MRI_LTR-6SQD-T-MRI-HL35K8NRSS_RDE-LTR-HL40-DM1-1 | 3500 K | 80 CRI | 4804 lm | 93 | 51.6 W | Narrow, 36° FWHM, (0.6 SC) | |
| LTR-6SQD-H-MRI_LTR-6SQD-T-MRI-HL35K8NRSS_RDE-LTR-HL45-DM1-1 | 3500 K | 80 CRI | 5042 lm | 92 | 55.1 W | Narrow, 36° FWHM, (0.6 SC) | |
| LTR-6SQD-H-MRI_LTR-6SQD-T-MRI-HL35K8VNRSS_RDE-LTR-HL35-DM1-1 | 3500 K | 80 CRI | 4015 lm | 93 | 43 W | Very Narrow, 25° FWHM, (0.4 SC) | |
| LTR-6SQD-H-MRI_LTR-6SQD-T-MRI-HL35K8VNRSS_RDE-LTR-HL40-DM1-1 | 3500 K | 80 CRI | 4589 lm | 89 | 51.6 W | Very Narrow, 25° FWHM, (0.4 SC) | |
| LTR-6SQD-H-MRI_LTR-6SQD-T-MRI-HL35K8VNRSS_RDE-LTR-HL45-DM1-1 | 3500 K | 80 CRI | 4817 lm | 87 | 55.1 W | Very Narrow, 25° FWHM, (0.4 SC) | |
| LTR-6SQD-H-MRI_LTR-6SQD-T-MRI-HL35K8WDSS_RDE-LTR-HL35-DM1-1 | 3500 K | 80 CRI | 3329 lm | 77 | 43 W | Wide, 65° FWHM, (1.0 SC) | |
| LTR-6SQD-H-MRI_LTR-6SQD-T-MRI-HL35K8WDSS_RDE-LTR-HL40-DM1-1 | 3500 K | 80 CRI | 3806 lm | 74 | 51.6 W | Wide, 65° FWHM, (1.0 SC) | |
| LTR-6SQD-H-MRI_LTR-6SQD-T-MRI-HL35K8WDSS_RDE-LTR-HL45-DM1-1 | 3500 K | 80 CRI | 3994 lm | 72 | 55.1 W | Wide, 65° FWHM, (1.0 SC) | |
| LTR-6SQD-H-MRI_LTR-6SQD-T-MRI-HL35K8XWSS_RDE-LTR-HL35-DM1-1 | 3500 K | 80 CRI | 3149 lm | 73 | 43 W | Extra Wide, 69° FWHM, (1.1 SC) | |
| LTR-6SQD-H-MRI_LTR-6SQD-T-MRI-HL35K8XWSS_RDE-LTR-HL40-DM1-1 | 3500 K | 80 CRI | 3600 lm | 70 | 51.6 W | Extra Wide, 69° FWHM, (1.1 SC) | |
| LTR-6SQD-H-MRI_LTR-6SQD-T-MRI-HL35K8XWSS_RDE-LTR-HL45-DM1-1 | 3500 K | 80 CRI | 3778 lm | 69 | 55.1 W | Extra Wide, 69° FWHM, (1.1 SC) | |
| LTR-6SQD-H-MRI_LTR-6SQD-T-MRI-ML35K8MDSS_RDE-LTR-ML20-DM1-1 | 3500 K | 80 CRI | 2206 lm | 97 | 22.8 W | Medium, 43° FWHM, (0.7 SC) | |
| LTR-6SQD-H-MRI_LTR-6SQD-T-MRI-ML35K8MDSS_RDE-LTR-ML25-DM1-1 | 3500 K | 80 CRI | 2714 lm | 98 | 27.7 W | Medium, 43° FWHM, (0.7 SC) | |
| LTR-6SQD-H-MRI_LTR-6SQD-T-MRI-ML35K8MDSS_RDE-LTR-ML30-DM1-1 | 3500 K | 80 CRI | 3234 lm | 94 | 34.3 W | Medium, 43° FWHM, (0.7 SC) | |
| LTR-6SQD-H-MRI_LTR-6SQD-T-MRI-ML35K8NRSS_RDE-LTR-ML20-DM1-1 | 3500 K | 80 CRI | 2282 lm | 100 | 22.8 W | Narrow, 36° FWHM, (0.6 SC) | |
| LTR-6SQD-H-MRI_LTR-6SQD-T-MRI-ML35K8NRSS_RDE-LTR-ML25-DM1-1 | 3500 K | 80 CRI | 2903 lm | 105 | 27.7 W | Narrow, 36° FWHM, (0.6 SC) | |
Show All