LIFESHIELD
Surgical Suite Downlights
Surgical downlights, 4" and 6" round and square apertures. Designed to industry certifications to protect patients and staff during routine and life-saving procedures.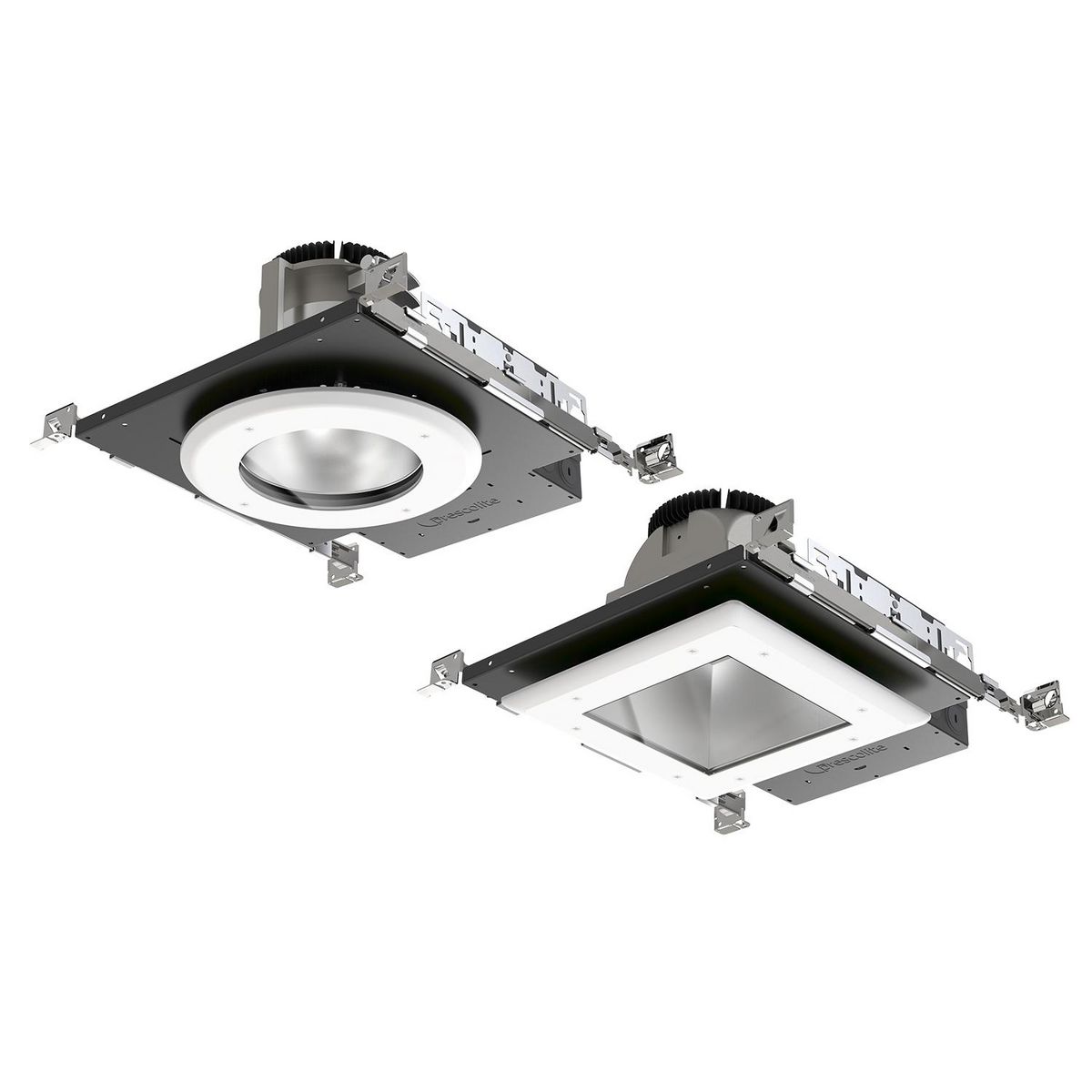 Features & Benefits
Durable, marine grade, die cast aluminum bezel trim (low-copper alloy) and flush polycarbonate lens are available with optional antimicrobial paint finish and rated for NSF2 non-food zone.
Closed cell silicone gasket protects against dust and water ingress.
Supports the fixture's ISO 3 cleanroom rating.
Suitable for wet location under covered ceiling and rated IP66 / IP69K (room side), making the product ideal for intense cleaning and sanitation.
Standard (through 30L) for MIL 461G and IEC/EN 60601-1-2:2020, complies with safety and performance for EMI and medical electrical equipment and systems.
50° cutoff to source and source image provides a low glare, distraction free environment with enhanced visual acuity necessary for intricate tasks.
Five beam distributions and wall wash allow for controlled illumination for medical suites.
Aluminum anodized reflectors available in a wide array of colors and finishes.
Specifications
Aperture Shape
Round;Square
Dimming Protocol
0-10V Dimming
Mounting Options
Recessed
Housing Options
New Construction
Optics & Distributions
Very Narrow, Medium, Wide, Extra Wide, Wall Wash
Certifications
cCSAus, NSF
Ratings
cCSAus, UL924, IP66, IP69K, IK10, MIL461G, IEC/EN 60601-1-2:2020, ISO 3, Non-IC, IC, Chicago Plenum (CCEA), Damp, Wet, NSF2 Non-Food Zone
Lumen Maintenance Rating
L90 @ 55,000 hours
Specifications
Aperture
4, 6
Aperture Shape
Round;Square
Lumen Range
600-4,000
Dimming Protocol
0-10V Dimming
CRI Offering
80, 90
Mounting Options
Recessed
Housing Options
New Construction
Wattage Range
8-52
Efficacy Range
62-89
Optics & Distributions
Very Narrow, Medium, Wide, Extra Wide, Wall Wash
Certifications
cCSAus, NSF
Ratings
cCSAus, UL924, IP66, IP69K, IK10, MIL461G, IEC/EN 60601-1-2:2020, ISO 3, Non-IC, IC, Chicago Plenum (CCEA), Damp, Wet, NSF2 Non-Food Zone
Operating Temp
25
Lumen Maintenance Rating
L90 @ 55,000 hours
Photometry(
0

) Clear Filters
| Product Name | Color Temp | CRI | Lumens | LM/W | Watts | Dist. Type | Resources |
| --- | --- | --- | --- | --- | --- | --- | --- |
| LTR-6SQD-H-SUR-HL35L-DM1_LTR-6SQD-T-SUR-HL35K8MDSS_LTR-6SQD-CE-WT | 3500 K | 80 CRI | 3261 lm | 76 | 43 W | Medium, 45° FWHM, (0.7 SC) | |
| LTR-6SQD-H-SUR-HL35L-DM1_LTR-6SQD-T-SUR-HL35K8NRSS_LTR-6SQD-CE-WT | 3500 K | 80 CRI | 3391 lm | 79 | 43 W | Narrow, 37° FWHM, (0.6 SC) | |
| LTR-6SQD-H-SUR-HL35L-DM1_LTR-6SQD-T-SUR-HL35K8VNRSS_LTR-6SQD-CE-WT | 3500 K | 80 CRI | 3327 lm | 77 | 43 W | Very Narrow, 26° FWHM, (0.4 SC) | |
| LTR-6SQD-H-SUR-HL35L-DM1_LTR-6SQD-T-SUR-HL35K8WDSS_LTR-6SQD-CE-WT | 3500 K | 80 CRI | 3046 lm | 71 | 43 W | Wide, 57° FWHM, (0.9 SC) | |
| LTR-6SQD-H-SUR-HL35L-DM1_LTR-6SQD-T-SUR-HL35K8XWSS_LTR-6SQD-CE-WT | 3500 K | 80 CRI | 2821 lm | 66 | 43 W | Extra Wide, 68° FWHM, (1.1 SC) | |
| LTR-6SQD-H-SUR-HL40L-DM1_LTR-6SQD-T-SUR-HL35K8MDSS_LTR-6SQD-CE-WT | 3500 K | 80 CRI | 3727 lm | 72 | 51.6 W | Medium, 45° FWHM, (0.7 SC) | |
| LTR-6SQD-H-SUR-HL40L-DM1_LTR-6SQD-T-SUR-HL35K8NRSS_LTR-6SQD-CE-WT | 3500 K | 80 CRI | 3876 lm | 75 | 51.6 W | Narrow, 37° FWHM, (0.6 SC) | |
| LTR-6SQD-H-SUR-HL40L-DM1_LTR-6SQD-T-SUR-HL35K8VNRSS_LTR-6SQD-CE-WT | 3500 K | 80 CRI | 3804 lm | 74 | 51.6 W | Very Narrow, 26° FWHM, (0.4 SC) | |
| LTR-6SQD-H-SUR-HL40L-DM1_LTR-6SQD-T-SUR-HL35K8WDSS_LTR-6SQD-CE-WT | 3500 K | 80 CRI | 3482 lm | 67 | 51.6 W | Wide, 57° FWHM, (0.9 SC) | |
| LTR-6SQD-H-SUR-HL40L-DM1_LTR-6SQD-T-SUR-HL35K8XWSS_LTR-6SQD-CE-WT | 3500 K | 80 CRI | 3224 lm | 62 | 51.6 W | Extra Wide, 68° FWHM, (1.1 SC) | |
| LTR-6SQD-H-SUR-ML20L-DM1_LTR-6SQD-T-SUR-ML35K8MDSS_LTR-6SQD-CE-WT | 3500 K | 80 CRI | 1853 lm | 84 | 22.2 W | Medium, 45° FWHM, (0.7 SC) | |
| LTR-6SQD-H-SUR-ML20L-DM1_LTR-6SQD-T-SUR-ML35K8NRSS_LTR-6SQD-CE-WT | 3500 K | 80 CRI | 1927 lm | 87 | 22.2 W | Narrow, 37° FWHM, (0.6 SC) | |
| LTR-6SQD-H-SUR-ML20L-DM1_LTR-6SQD-T-SUR-ML35K8VNRSS_LTR-6SQD-CE-WT | 3500 K | 80 CRI | 1891 lm | 85 | 22.2 W | Very Narrow, 26° FWHM, (0.4 SC) | |
| LTR-6SQD-H-SUR-ML20L-DM1_LTR-6SQD-T-SUR-ML35K8WDSS_LTR-6SQD-CE-WT | 3500 K | 80 CRI | 1731 lm | 78 | 22.2 W | Wide, 57° FWHM, (0.9 SC) | |
| LTR-6SQD-H-SUR-ML20L-DM1_LTR-6SQD-T-SUR-ML35K8XWSS_LTR-6SQD-CE-WT | 3500 K | 80 CRI | 1603 lm | 73 | 22.1 W | Extra Wide, 68° FWHM, (1.1 SC) | |
| LTR-6SQD-H-SUR-ML25L-DM1_LTR-6SQD-T-SUR-ML35K8MDSS_LTR-6SQD-CE-WT | 3500 K | 80 CRI | 2253 lm | 81 | 27.7 W | Medium, 45° FWHM, (0.7 SC) | |
| LTR-6SQD-H-SUR-ML25L-DM1_LTR-6SQD-T-SUR-ML35K8NRSS_LTR-6SQD-CE-WT | 3500 K | 80 CRI | 2342 lm | 85 | 27.7 W | Narrow, 37° FWHM, (0.6 SC) | |
| LTR-6SQD-H-SUR-ML25L-DM1_LTR-6SQD-T-SUR-ML35K8VNRSS_LTR-6SQD-CE-WT | 3500 K | 80 CRI | 2299 lm | 83 | 27.7 W | Very Narrow, 26° FWHM, (0.4 SC) | |
| LTR-6SQD-H-SUR-ML25L-DM1_LTR-6SQD-T-SUR-ML35K8WDSS_LTR-6SQD-CE-WT | 3500 K | 80 CRI | 2104 lm | 76 | 27.7 W | Wide, 57° FWHM, (0.9 SC) | |
| LTR-6SQD-H-SUR-ML25L-DM1_LTR-6SQD-T-SUR-ML35K8XWSS_LTR-6SQD-CE-WT | 3500 K | 80 CRI | 1949 lm | 70 | 27.7 W | Extra Wide, 68° FWHM, (1.1 SC) | |
| LTR-6SQD-H-SUR-ML30L-DM1_LTR-6SQD-T-SUR-ML35K8MDSS_LTR-6SQD-CE-WT | 3500 K | 80 CRI | 2684 lm | 78 | 34.3 W | Medium, 45° FWHM, (0.7 SC) | |
| LTR-6SQD-H-SUR-ML30L-DM1_LTR-6SQD-T-SUR-ML35K8NRSS_LTR-6SQD-CE-WT | 3500 K | 80 CRI | 2791 lm | 81 | 34.3 W | Narrow, 37° FWHM, (0.6 SC) | |
| LTR-6SQD-H-SUR-ML30L-DM1_LTR-6SQD-T-SUR-ML35K8VNRSS_LTR-6SQD-CE-WT | 3500 K | 80 CRI | 2739 lm | 80 | 34.3 W | Very Narrow, 26° FWHM, (0.4 SC) | |
| LTR-6SQD-H-SUR-ML30L-DM1_LTR-6SQD-T-SUR-ML35K8WDSS_LTR-6SQD-CE-WT | 3500 K | 80 CRI | 2508 lm | 73 | 34.3 W | Wide, 57° FWHM, (0.9 SC) | |
| LTR-6SQD-H-SUR-ML30L-DM1_LTR-6SQD-T-SUR-ML35K8XWSS_LTR-6SQD-CE-WT | 3500 K | 80 CRI | 2322 lm | 68 | 34.3 W | Extra Wide, 68° FWHM, (1.1 SC) | |
| LTR-6SQD-H-SUR-SL06L-DM1_LTR-6SQD-T-SUR-SL35K8MDSS_LTR-6SQD-CE-WT | 3500 K | 80 CRI | 587 lm | 75 | 7.8 W | Medium, 45° FWHM, (0.7 SC) | |
| LTR-6SQD-H-SUR-SL06L-DM1_LTR-6SQD-T-SUR-SL35K8NRSS_LTR-6SQD-CE-WT | 3500 K | 80 CRI | 611 lm | 78 | 7.8 W | Narrow, 37° FWHM, (0.6 SC) | |
| LTR-6SQD-H-SUR-SL06L-DM1_LTR-6SQD-T-SUR-SL35K8VNRSS_LTR-6SQD-CE-WT | 3500 K | 80 CRI | 599 lm | 77 | 7.8 W | Very Narrow, 26° FWHM, (0.4 SC) | |
| LTR-6SQD-H-SUR-SL06L-DM1_LTR-6SQD-T-SUR-SL35K8WDSS_LTR-6SQD-CE-WT | 3500 K | 80 CRI | 549 lm | 70 | 7.8 W | Wide, 57° FWHM, (0.9 SC) | |
| LTR-6SQD-H-SUR-SL06L-DM1_LTR-6SQD-T-SUR-SL35K8XWSS_LTR-6SQD-CE-WT | 3500 K | 80 CRI | 508 lm | 65 | 7.8 W | Extra Wide, 68° FWHM, (1.1 SC) | |
| LTR-6SQD-H-SUR-SL10L-DM1_LTR-6SQD-T-SUR-SL35K8MDSS_LTR-6SQD-CE-WT | 3500 K | 80 CRI | 938 lm | 78 | 12 W | Medium, 45° FWHM, (0.7 SC) | |
| LTR-6SQD-H-SUR-SL10L-DM1_LTR-6SQD-T-SUR-SL35K8NRSS_LTR-6SQD-CE-WT | 3500 K | 80 CRI | 976 lm | 81 | 12 W | Narrow, 37° FWHM, (0.6 SC) | |
| LTR-6SQD-H-SUR-SL10L-DM1_LTR-6SQD-T-SUR-SL35K8VNRSS_LTR-6SQD-CE-WT | 3500 K | 80 CRI | 958 lm | 80 | 12 W | Very Narrow, 26° FWHM, (0.4 SC) | |
| LTR-6SQD-H-SUR-SL10L-DM1_LTR-6SQD-T-SUR-SL35K8WDSS_LTR-6SQD-CE-WT | 3500 K | 80 CRI | 877 lm | 73 | 12 W | Wide, 57° FWHM, (0.9 SC) | |
| LTR-6SQD-H-SUR-SL10L-DM1_LTR-6SQD-T-SUR-SL35K8XWSS_LTR-6SQD-CE-WT | 3500 K | 80 CRI | 812 lm | 68 | 12 W | Extra Wide, 68° FWHM, (1.1 SC) | |
| LTR-6SQD-H-SUR-SL15L-DM1_LTR-6SQD-T-SUR-SL35K8MDSS_LTR-6SQD-CE-WT | 3500 K | 80 CRI | 1348 lm | 72 | 18.7 W | Medium, 45° FWHM, (0.7 SC) | |
| LTR-6SQD-H-SUR-SL15L-DM1_LTR-6SQD-T-SUR-SL35K8NRSS_LTR-6SQD-CE-WT | 3500 K | 80 CRI | 1402 lm | 75 | 18.7 W | Narrow, 37° FWHM, (0.6 SC) | |
| LTR-6SQD-H-SUR-SL15L-DM1_LTR-6SQD-T-SUR-SL35K8VNRSS_LTR-6SQD-CE-WT | 3500 K | 80 CRI | 1376 lm | 74 | 18.7 W | Very Narrow, 26° FWHM, (0.4 SC) | |
| LTR-6SQD-H-SUR-SL15L-DM1_LTR-6SQD-T-SUR-SL35K8WDSS_LTR-6SQD-CE-WT | 3500 K | 80 CRI | 1259 lm | 67 | 18.7 W | Wide, 57° FWHM, (0.9 SC) | |
| LTR-6SQD-H-SUR-SL15L-DM1_LTR-6SQD-T-SUR-SL35K8XWSS_LTR-6SQD-CE-WT | 3500 K | 80 CRI | 1166 lm | 62 | 18.7 W | Extra Wide, 68° FWHM, (1.1 SC) | |
| LTR-4RD-H-SUR-HL35L-DM1_LTR-4RD-T-SUR-HL35K8MDSS_LTR-4RD-CE-WT | 3500 K | 80 CRI | 2954 lm | 69 | 42.9 W | Medium, 43° FWHM, (0.7 SC) | |
| LTR-4RD-H-SUR-HL35L-DM1_LTR-4RD-T-SUR-HL35K8NRSS_LTR-4RD-CE-WT | 3500 K | 80 CRI | 3070 lm | 72 | 42.9 W | Narrow, 30° FWHM, (0..50 SC) | |
| LTR-4RD-H-SUR-HL35L-DM1_LTR-4RD-T-SUR-HL35K8WDSS_LTR-4RD-CE-WT | 3500 K | 80 CRI | 2637 lm | 61 | 42.9 W | Wide, 58° FWHM, (0.9 SC) | |
| LTR-4RD-H-SUR-HL35L-DM1_LTR-4RD-T-SUR-HL35K8XWSS_LTR-4RD-CE-WT | 3500 K | 80 CRI | 2734 lm | 64 | 42.9 W | Extra Wide, 74° FWHM, (1.1 SC) | |
| LTR-4RD-H-SUR-HL35L-DM1_LTR-4RW-T-SUR-HL35K8WWSS_LTR-4RD-CE-WT | 3500 K | 80 CRI | 2327 lm | 54 | 42.9 W | Open Single Wall Wash | |
| LTR-4RD-H-SUR-HL40L-DM1_LTR-4RD-T-SUR-HL35K8MDSS_LTR-4RD-CE-WT | 3500 K | 80 CRI | 3504 lm | 68 | 51.5 W | Medium, 43° FWHM, (0.7 SC) | |
| LTR-4RD-H-SUR-HL40L-DM1_LTR-4RD-T-SUR-HL35K8NRSS_LTR-4RD-CE-WT | 3500 K | 80 CRI | 3369 lm | 65 | 51.5 W | Narrow, 30° FWHM, (0..50 SC) | |
| LTR-4RD-H-SUR-HL40L-DM1_LTR-4RD-T-SUR-HL35K8WDSS_LTR-4RD-CE-WT | 3500 K | 80 CRI | 3371 lm | 65 | 51.5 W | Wide, 58° FWHM, (0.9 SC) | |
| LTR-4RD-H-SUR-HL40L-DM1_LTR-4RD-T-SUR-HL35K8XWSS_LTR-4RD-CE-WT | 3500 K | 80 CRI | 3010 lm | 58 | 51.5 W | Extra Wide, 74° FWHM, (1.1 SC) | |
| LTR-4RD-H-SUR-HL40L-DM1_LTR-4RW-T-SUR-HL35K8WWSS_LTR-4RD-CE-WT | 3500 K | 80 CRI | 2656 lm | 52 | 51.5 W | Open Single Wall Wash | |
| LTR-4RD-H-SUR-ML20L-DM1_LTR-4RD-T-SUR-ML35K8MDSS_LTR-4RD-CE-WT | 3500 K | 80 CRI | 1679 lm | 75 | 22.3 W | Medium, 43° FWHM, (0.7 SC) | |
| LTR-4RD-H-SUR-ML20L-DM1_LTR-4RD-T-SUR-ML35K8NRSS_LTR-4RD-CE-WT | 3500 K | 80 CRI | 1745 lm | 79 | 22 W | Narrow, 30° FWHM, (0..50 SC) | |
| LTR-4RD-H-SUR-ML20L-DM1_LTR-4RD-T-SUR-ML35K8VNRSS_LTR-4RD-CE-WT | 3500 K | 80 CRI | 1678 lm | 74 | 22.8 W | Very Narrow, 20° FWHM, (0.3 SC) | |
| LTR-4RD-H-SUR-ML20L-DM1_LTR-4RD-T-SUR-ML35K8WDSS_LTR-4RD-CE-WT | 3500 K | 80 CRI | 1499 lm | 68 | 22.2 W | Wide, 58° FWHM, (0.9 SC) | |
| LTR-4RD-H-SUR-ML20L-DM1_LTR-4RD-T-SUR-ML35K8XWSS_LTR-4RD-CE-WT | 3500 K | 80 CRI | 1554 lm | 70 | 22.2 W | Extra Wide, 74° FWHM, (1.1 SC) | |
| LTR-4RD-H-SUR-ML20L-DM1_LTR-4RW-T-SUR-ML35K8WWSS_LTR-4RD-CE-WT | 3500 K | 80 CRI | 1323 lm | 60 | 22 W | Open Single Wall Wash | |
| LTR-4RD-H-SUR-ML25L-DM1_LTR-4RD-T-SUR-ML35K8MDSS_LTR-4RD-CE-WT | 3500 K | 80 CRI | 2060 lm | 74 | 27.8 W | Medium, 43° FWHM, (0.7 SC) | |
| LTR-4RD-H-SUR-ML25L-DM1_LTR-4RD-T-SUR-ML35K8NRSS_LTR-4RD-CE-WT | 3500 K | 80 CRI | 2141 lm | 77 | 27.8 W | Narrow, 30° FWHM, (0..50 SC) | |
| LTR-4RD-H-SUR-ML25L-DM1_LTR-4RD-T-SUR-ML35K8VNRSS_LTR-4RD-CE-WT | 3500 K | 80 CRI | 2021 lm | 71 | 28.6 W | Very Narrow, 20° FWHM, (0.3 SC) | |
| LTR-4RD-H-SUR-ML25L-DM1_LTR-4RD-T-SUR-ML35K8WDSS_LTR-4RD-CE-WT | 3500 K | 80 CRI | 1839 lm | 66 | 27.8 W | Wide, 58° FWHM, (0.9 SC) | |
| LTR-4RD-H-SUR-ML25L-DM1_LTR-4RD-T-SUR-ML35K8XWSS_LTR-4RD-CE-WT | 3500 K | 80 CRI | 1906 lm | 69 | 27.8 W | Extra Wide, 74° FWHM, (1.1 SC) | |
| LTR-4RD-H-SUR-ML25L-DM1_LTR-4RW-T-SUR-ML35K8WWSS_LTR-4RD-CE-WT | 3500 K | 80 CRI | 1623 lm | 58 | 27.8 W | Open Single Wall Wash | |
| LTR-4RD-H-SUR-ML30L-DM1_LTR-4RD-T-SUR-ML35K8MDSS_LTR-4RD-CE-WT | 3500 K | 80 CRI | 2472 lm | 71 | 34.6 W | Medium, 43° FWHM, (0.7 SC) | |
| LTR-4RD-H-SUR-ML30L-DM1_LTR-4RD-T-SUR-ML35K8NRSS_LTR-4RD-CE-WT | 3500 K | 80 CRI | 2570 lm | 74 | 34.6 W | Narrow, 30° FWHM, (0..50 SC) | |
| LTR-4RD-H-SUR-ML30L-DM1_LTR-4RD-T-SUR-ML35K8VNRSS_LTR-4RD-CE-WT | 3500 K | 80 CRI | 2358 lm | 66 | 36 W | Very Narrow, 20° FWHM, (0.3 SC) | |
| LTR-4RD-H-SUR-ML30L-DM1_LTR-4RD-T-SUR-ML35K8WDSS_LTR-4RD-CE-WT | 3500 K | 80 CRI | 2207 lm | 64 | 34.6 W | Wide, 58° FWHM, (0.9 SC) | |
| LTR-4RD-H-SUR-ML30L-DM1_LTR-4RD-T-SUR-ML35K8XWSS_LTR-4RD-CE-WT | 3500 K | 80 CRI | 2288 lm | 66 | 34.6 W | Extra Wide, 74° FWHM, (1.1 SC) | |
| LTR-4RD-H-SUR-ML30L-DM1_LTR-4RW-T-SUR-ML35K8WWSS_LTR-4RD-CE-WT | 3500 K | 80 CRI | 1948 lm | 56 | 34.6 W | Open Single Wall Wash | |
| LTR-4RD-H-SUR-SL06L-DM1_LTR-4RD-T-SUR-SL35K8MDSS_LTR-4RD-CE-WT | 3500 K | 80 CRI | 541 lm | 69 | 7.8 W | Medium, 43° FWHM, (0.7 SC) | |
| LTR-4RD-H-SUR-SL06L-DM1_LTR-4RD-T-SUR-SL35K8NRSS_LTR-4RD-CE-WT | 3500 K | 80 CRI | 563 lm | 72 | 7.8 W | Narrow, 30° FWHM, (0..50 SC) | |
| LTR-4RD-H-SUR-SL06L-DM1_LTR-4RD-T-SUR-SL35K8VNRSS_LTR-4RD-CE-WT | 3500 K | 80 CRI | 571 lm | 75 | 7.6 W | Very Narrow, 20° FWHM, (0.3 SC) | |
| LTR-4RD-H-SUR-SL06L-DM1_LTR-4RD-T-SUR-SL35K8WDSS_LTR-4RD-CE-WT | 3500 K | 80 CRI | 483 lm | 62 | 7.8 W | Wide, 58° FWHM, (0.9 SC) | |
| LTR-4RD-H-SUR-SL06L-DM1_LTR-4RD-T-SUR-SL35K8XWSS_LTR-4RD-CE-WT | 3500 K | 80 CRI | 501 lm | 64 | 7.8 W | Extra Wide, 74° FWHM, (1.1 SC) | |
| LTR-4RD-H-SUR-SL06L-DM1_LTR-4RW-T-SUR-SL35K8WWSS_LTR-4RD-CE-WT | 3500 K | 80 CRI | 427 lm | 55 | 7.8 W | Open Single Wall Wash | |
| LTR-4RD-H-SUR-SL10L-DM1_LTR-4RD-T-SUR-SL35K8MDSS_LTR-4RD-CE-WT | 3500 K | 80 CRI | 866 lm | 72 | 12 W | Medium, 43° FWHM, (0.7 SC) | |
| LTR-4RD-H-SUR-SL10L-DM1_LTR-4RD-T-SUR-SL35K8NRSS_LTR-4RD-CE-WT | 3500 K | 80 CRI | 900 lm | 75 | 12 W | Narrow, 30° FWHM, (0..50 SC) | |
| LTR-4RD-H-SUR-SL10L-DM1_LTR-4RD-T-SUR-SL35K8VNRSS_LTR-4RD-CE-WT | 3500 K | 80 CRI | 935 lm | 83 | 11.3 W | Very Narrow, 20° FWHM, (0.3 SC) | |
| LTR-4RD-H-SUR-SL10L-DM1_LTR-4RD-T-SUR-SL35K8WDSS_LTR-4RD-CE-WT | 3500 K | 80 CRI | 773 lm | 64 | 12 W | Wide, 58° FWHM, (0.9 SC) | |
| LTR-4RD-H-SUR-SL10L-DM1_LTR-4RD-T-SUR-SL35K8XWSS_LTR-4RD-CE-WT | 3500 K | 80 CRI | 802 lm | 67 | 12 W | Extra Wide, 74° FWHM, (1.1 SC) | |
| LTR-4RD-H-SUR-SL10L-DM1_LTR-4RW-T-SUR-SL35K8WWSS_LTR-4RD-CE-WT | 3500 K | 80 CRI | 682 lm | 57 | 12 W | Open Single Wall Wash | |
| LTR-4RD-H-SUR-SL15L-DM1_LTR-4RD-T-SUR-SL35K8MDSS_LTR-4RD-CE-WT | 3500 K | 80 CRI | 1239 lm | 67 | 18.6 W | Medium, 43° FWHM, (0.7 SC) | |
| LTR-4RD-H-SUR-SL15L-DM1_LTR-4RD-T-SUR-SL35K8NRSS_LTR-4RD-CE-WT | 3500 K | 80 CRI | 1287 lm | 69 | 18.6 W | Narrow, 30° FWHM, (0..50 SC) | |
| LTR-4RD-H-SUR-SL15L-DM1_LTR-4RD-T-SUR-SL35K8VNRSS_LTR-4RD-CE-WT | 3500 K | 80 CRI | 1340 lm | 77 | 17.3 W | Very Narrow, 20° FWHM, (0.3 SC) | |
| LTR-4RD-H-SUR-SL15L-DM1_LTR-4RD-T-SUR-SL35K8WDSS_LTR-4RD-CE-WT | 3500 K | 80 CRI | 1106 lm | 59 | 18.6 W | Wide, 58° FWHM, (0.9 SC) | |
| LTR-4RD-H-SUR-SL15L-DM1_LTR-4RD-T-SUR-SL35K8XWSS_LTR-4RD-CE-WT | 3500 K | 80 CRI | 1146 lm | 62 | 18.6 W | Extra Wide, 74° FWHM, (1.1 SC) | |
| LTR-4RD-H-SUR-SL15L-DM1_LTR-4RW-T-SUR-SL35K8WWSS_LTR-4RD-CE-WT | 3500 K | 80 CRI | 976 lm | 52 | 18.6 W | Open Single Wall Wash | |
| LTR-4SQD-H-SUR-HL35L-DM1_LTR-4SQD-T-SUR-HL35K8MDSS_LTR-4SQD-CE-WT | 3500 K | 80 CRI | 3068 lm | 72 | 42.9 W | Medium, 46° FWHM, (0.7 SC) | |
| LTR-4SQD-H-SUR-HL35L-DM1_LTR-4SQD-T-SUR-HL35K8NRSS_LTR-4SQD-CE-WT | 3500 K | 80 CRI | 3156 lm | 74 | 42.9 W | Narrow, 36° FWHM, (0.6 SC) | |
| LTR-4SQD-H-SUR-HL35L-DM1_LTR-4SQD-T-SUR-HL35K8WDSS_LTR-4SQD-CE-WT | 3500 K | 80 CRI | 2716 lm | 63 | 42.9 W | Wide, 58° FWHM, (1.0 SC) | |
| LTR-4SQD-H-SUR-HL35L-DM1_LTR-4SQD-T-SUR-HL35K8XWSS_LTR-4SQD-CE-WT | 3500 K | 80 CRI | 2711 lm | 63 | 42.9 W | Extra Wide, 67° FWHM, (1.1 SC) | |
| LTR-4SQD-H-SUR-HL40L-DM1_LTR-4SQD-T-SUR-HL35K8MDSS_LTR-4SQD-CE-WT | 3500 K | 80 CRI | 3502 lm | 68 | 51.5 W | Medium, 46° FWHM, (0.7 SC) | |
| LTR-4SQD-H-SUR-HL40L-DM1_LTR-4SQD-T-SUR-HL35K8NRSS_LTR-4SQD-CE-WT | 3500 K | 80 CRI | 3602 lm | 70 | 51.5 W | Narrow, 36° FWHM, (0.6 SC) | |
| LTR-4SQD-H-SUR-HL40L-DM1_LTR-4SQD-T-SUR-HL35K8WDSS_LTR-4SQD-CE-WT | 3500 K | 80 CRI | 3100 lm | 60 | 51.5 W | Wide, 58° FWHM, (1.0 SC) | |
| LTR-4SQD-H-SUR-HL40L-DM1_LTR-4SQD-T-SUR-HL35K8XWSS_LTR-4SQD-CE-WT | 3500 K | 80 CRI | 3094 lm | 60 | 51.5 W | Extra Wide, 67° FWHM, (1.1 SC) | |
| LTR-4SQD-H-SUR-ML20L-DM1_LTR-4SQD-T-SUR-ML35K8MDSS_LTR-4SQD-CE-WT | 3500 K | 80 CRI | 1744 lm | 79 | 22.1 W | Medium, 46° FWHM, (0.7 SC) | |
| LTR-4SQD-H-SUR-ML20L-DM1_LTR-4SQD-T-SUR-ML35K8NRSS_LTR-4SQD-CE-WT | 3500 K | 80 CRI | 1794 lm | 81 | 22.1 W | Narrow, 36° FWHM, (0.6 SC) | |
| LTR-4SQD-H-SUR-ML20L-DM1_LTR-4SQD-T-SUR-ML35K8VNRSS_LTR-4SQD-CE-WT | 3500 K | 80 CRI | 1771 lm | 77 | 22.8 W | Very Narrow, 23° FWHM, (0.4 SC) | |
| LTR-4SQD-H-SUR-ML20L-DM1_LTR-4SQD-T-SUR-ML35K8WDSS_LTR-4SQD-CE-WT | 3500 K | 80 CRI | 1544 lm | 70 | 22.1 W | Wide, 58° FWHM, (1.0 SC) | |
| LTR-4SQD-H-SUR-ML20L-DM1_LTR-4SQD-T-SUR-ML35K8XWSS_LTR-4SQD-CE-WT | 3500 K | 80 CRI | 1541 lm | 70 | 22.1 W | Extra Wide, 67° FWHM, (1.1 SC) | |
| LTR-4SQD-H-SUR-ML25L-DM1_LTR-4SQD-T-SUR-ML35K8MDSS_LTR-4SQD-CE-WT | 3500 K | 80 CRI | 2140 lm | 77 | 27.8 W | Medium, 46° FWHM, (0.7 SC) | |
| LTR-4SQD-H-SUR-ML25L-DM1_LTR-4SQD-T-SUR-ML35K8NRSS_LTR-4SQD-CE-WT | 3500 K | 80 CRI | 2201 lm | 79 | 27.8 W | Narrow, 36° FWHM, (0.6 SC) | |
| LTR-4SQD-H-SUR-ML25L-DM1_LTR-4SQD-T-SUR-ML35K8VNRSS_LTR-4SQD-CE-WT | 3500 K | 80 CRI | 2135 lm | 72 | 29.6 W | Very Narrow, 23° FWHM, (0.4 SC) | |
| LTR-4SQD-H-SUR-ML25L-DM1_LTR-4SQD-T-SUR-ML35K8WDSS_LTR-4SQD-CE-WT | 3500 K | 80 CRI | 1894 lm | 68 | 27.8 W | Wide, 58° FWHM, (1.0 SC) | |
| LTR-4SQD-H-SUR-ML25L-DM1_LTR-4SQD-T-SUR-ML35K8XWSS_LTR-4SQD-CE-WT | 3500 K | 80 CRI | 1891 lm | 68 | 27.8 W | Extra Wide, 67° FWHM, (1.1 SC) | |
| LTR-4SQD-H-SUR-ML30L-DM1_LTR-4SQD-T-SUR-ML35K8MDSS_LTR-4SQD-CE-WT | 3500 K | 80 CRI | 2568 lm | 74 | 34.6 W | Medium, 46° FWHM, (0.7 SC) | |
| LTR-4SQD-H-SUR-ML30L-DM1_LTR-4SQD-T-SUR-ML35K8NRSS_LTR-4SQD-CE-WT | 3500 K | 80 CRI | 2642 lm | 76 | 34.6 W | Narrow, 36° FWHM, (0.6 SC) | |
| LTR-4SQD-H-SUR-ML30L-DM1_LTR-4SQD-T-SUR-ML35K8VNRSS_LTR-4SQD-CE-WT | 3500 K | 80 CRI | 2495 lm | 67 | 37 W | Very Narrow, 23° FWHM, (0.4 SC) | |
| LTR-4SQD-H-SUR-ML30L-DM1_LTR-4SQD-T-SUR-ML35K8WDSS_LTR-4SQD-CE-WT | 3500 K | 80 CRI | 2274 lm | 66 | 34.6 W | Wide, 58° FWHM, (1.0 SC) | |
| LTR-4SQD-H-SUR-ML30L-DM1_LTR-4SQD-T-SUR-ML35K8XWSS_LTR-4SQD-CE-WT | 3500 K | 80 CRI | 2269 lm | 66 | 34.6 W | Extra Wide, 67° FWHM, (1.1 SC) | |
| LTR-4SQD-H-SUR-SL06L-DM1_LTR-4SQD-T-SUR-SL35K8MDSS_LTR-4SQD-CE-WT | 3500 K | 80 CRI | 562 lm | 72 | 7.8 W | Medium, 46° FWHM, (0.7 SC) | |
| LTR-4SQD-H-SUR-SL06L-DM1_LTR-4SQD-T-SUR-SL35K8NRSS_LTR-4SQD-CE-WT | 3500 K | 80 CRI | 579 lm | 74 | 7.8 W | Narrow, 36° FWHM, (0.6 SC) | |
| LTR-4SQD-H-SUR-SL06L-DM1_LTR-4SQD-T-SUR-SL35K8VNRSS_LTR-4SQD-CE-WT | 3500 K | 80 CRI | 597 lm | 73 | 8.2 W | Very Narrow, 23° FWHM, (0.4 SC) | |
| LTR-4SQD-H-SUR-SL06L-DM1_LTR-4SQD-T-SUR-SL35K8WDSS_LTR-4SQD-CE-WT | 3500 K | 80 CRI | 498 lm | 64 | 7.8 W | Wide, 58° FWHM, (1.0 SC) | |
| LTR-4SQD-H-SUR-SL06L-DM1_LTR-4SQD-T-SUR-SL35K8XWSS_LTR-4SQD-CE-WT | 3500 K | 80 CRI | 497 lm | 64 | 7.8 W | Extra Wide, 67° FWHM, (1.1 SC) | |
| LTR-4SQD-H-SUR-SL10L-DM1_LTR-4SQD-T-SUR-SL35K8MDSS_LTR-4SQD-CE-WT | 3500 K | 80 CRI | 900 lm | 75 | 12 W | Medium, 46° FWHM, (0.7 SC) | |
| LTR-4SQD-H-SUR-SL10L-DM1_LTR-4SQD-T-SUR-SL35K8NRSS_LTR-4SQD-CE-WT | 3500 K | 80 CRI | 925 lm | 77 | 12 W | Narrow, 36° FWHM, (0.6 SC) | |
| LTR-4SQD-H-SUR-SL10L-DM1_LTR-4SQD-T-SUR-SL35K8VNRSS_LTR-4SQD-CE-WT | 3500 K | 80 CRI | 981 lm | 78 | 12.5 W | Very Narrow, 23° FWHM, (0.4 SC) | |
| LTR-4SQD-H-SUR-SL10L-DM1_LTR-4SQD-T-SUR-SL35K8WDSS_LTR-4SQD-CE-WT | 3500 K | 80 CRI | 796 lm | 66 | 12 W | Wide, 58° FWHM, (1.0 SC) | |
| LTR-4SQD-H-SUR-SL10L-DM1_LTR-4SQD-T-SUR-SL35K8XWSS_LTR-4SQD-CE-WT | 3500 K | 80 CRI | 795 lm | 66 | 12 W | Extra Wide, 67° FWHM, (1.1 SC) | |
| LTR-4SQD-H-SUR-SL15L-DM1_LTR-4SQD-T-SUR-SL35K8MDSS_LTR-4SQD-CE-WT | 3500 K | 80 CRI | 1287 lm | 69 | 18.6 W | Medium, 46° FWHM, (0.7 SC) | |
| LTR-4SQD-H-SUR-SL15L-DM1_LTR-4SQD-T-SUR-SL35K8NRSS_LTR-4SQD-CE-WT | 3500 K | 80 CRI | 1323 lm | 71 | 18.6 W | Narrow, 36° FWHM, (0.6 SC) | |
| LTR-4SQD-H-SUR-SL15L-DM1_LTR-4SQD-T-SUR-SL35K8VNRSS_LTR-4SQD-CE-WT | 3500 K | 80 CRI | 1409 lm | 78 | 18 W | Very Narrow, 23° FWHM, (0.4 SC) | |
| LTR-4SQD-H-SUR-SL15L-DM1_LTR-4SQD-T-SUR-SL35K8WDSS_LTR-4SQD-CE-WT | 3500 K | 80 CRI | 1139 lm | 61 | 18.6 W | Wide, 58° FWHM, (1.0 SC) | |
| LTR-4SQD-H-SUR-SL15L-DM1_LTR-4SQD-T-SUR-SL35K8XWSS_LTR-4SQD-CE-WT | 3500 K | 80 CRI | 1137 lm | 61 | 18.6 W | Extra Wide, 67° FWHM, (1.1 SC) | |
| LTR-6RD-H-SUR-HL35L-DM1_LTR-6RD-T-SUR-HL35K8MDSS_LTR-6RD-CE-WT | 3500 K | 80 CRI | 3465 lm | 81 | 43 W | Medium, 40° FWHM, (0.7 SC) | |
| LTR-6RD-H-SUR-HL35L-DM1_LTR-6RD-T-SUR-HL35K8NRSS_LTR-6RD-CE-WT | 3500 K | 80 CRI | 3361 lm | 78 | 43 W | Narrow, 30° FWHM, (0..50 SC) | |
| LTR-6RD-H-SUR-HL35L-DM1_LTR-6RD-T-SUR-HL35K8VNRSS_LTR-6RD-CE-WT | 3500 K | 80 CRI | 3472 lm | 81 | 43 W | Very Narrow, 20° FWHM, (0.3 SC) | |
| LTR-6RD-H-SUR-HL35L-DM1_LTR-6RD-T-SUR-HL35K8WDSS_LTR-6RD-CE-WT | 3500 K | 80 CRI | 3027 lm | 70 | 43 W | Wide, 59° FWHM, (0.9 SC) | |
| LTR-6RD-H-SUR-HL35L-DM1_LTR-6RD-T-SUR-HL35K8XWSS_LTR-6RD-CE-WT | 3500 K | 80 CRI | 3275 lm | 76 | 43 W | Extra Wide, 74° FWHM, (1.1 SC) | |
| LTR-6RD-H-SUR-HL35L-DM1_LTR-6RW-T-SUR-HL35K8WWSS_LTR-6RD-CE-WT | 3500 K | 80 CRI | 2821 lm | 66 | 43 W | Open Single Wall Wash | |
| LTR-6RD-H-SUR-HL40L-DM1_LTR-6RD-T-SUR-HL35K8MDSS_LTR-6RD-CE-WT | 3500 K | 80 CRI | 3961 lm | 77 | 51.6 W | Medium, 40° FWHM, (0.7 SC) | |
| LTR-6RD-H-SUR-HL40L-DM1_LTR-6RD-T-SUR-HL35K8NRSS_LTR-6RD-CE-WT | 3500 K | 80 CRI | 3842 lm | 74 | 51.6 W | Narrow, 30° FWHM, (0..50 SC) | |
| LTR-6RD-H-SUR-HL40L-DM1_LTR-6RD-T-SUR-HL35K8VNRSS_LTR-6RD-CE-WT | 3500 K | 80 CRI | 3969 lm | 77 | 51.6 W | Very Narrow, 20° FWHM, (0.3 SC) | |
| LTR-6RD-H-SUR-HL40L-DM1_LTR-6RD-T-SUR-HL35K8WDSS_LTR-6RD-CE-WT | 3500 K | 80 CRI | 3460 lm | 67 | 51.6 W | Wide, 59° FWHM, (0.9 SC) | |
| LTR-6RD-H-SUR-HL40L-DM1_LTR-6RD-T-SUR-HL35K8XWSS_LTR-6RD-CE-WT | 3500 K | 80 CRI | 3743 lm | 73 | 51.6 W | Extra Wide, 74° FWHM, (1.1 SC) | |
| LTR-6RD-H-SUR-HL40L-DM1_LTR-6RW-T-SUR-HL35K8WWSS_LTR-6RD-CE-WT | 3500 K | 80 CRI | 3224 lm | 62 | 51.6 W | Open Single Wall Wash | |
| LTR-6RD-H-SUR-ML20L-DM1_LTR-6RD-T-SUR-ML35K8MDSS_LTR-6RD-CE-WT | 3500 K | 80 CRI | 1969 lm | 89 | 22.2 W | Medium, 40° FWHM, (0.7 SC) | |
| LTR-6RD-H-SUR-ML20L-DM1_LTR-6RD-T-SUR-ML35K8NRSS_LTR-6RD-CE-WT | 3500 K | 80 CRI | 1910 lm | 86 | 22.2 W | Narrow, 30° FWHM, (0..50 SC) | |
| LTR-6RD-H-SUR-ML20L-DM1_LTR-6RD-T-SUR-ML35K8VNRSS_LTR-6RD-CE-WT | 3500 K | 80 CRI | 1973 lm | 89 | 22.2 W | Very Narrow, 20° FWHM, (0.3 SC) | |
| LTR-6RD-H-SUR-ML20L-DM1_LTR-6RD-T-SUR-ML35K8WDSS_LTR-6RD-CE-WT | 3500 K | 80 CRI | 1720 lm | 77 | 22.2 W | Wide, 59° FWHM, (0.9 SC) | |
| LTR-6RD-H-SUR-ML20L-DM1_LTR-6RD-T-SUR-ML35K8XWSS_LTR-6RD-CE-WT | 3500 K | 80 CRI | 1861 lm | 84 | 22.2 W | Extra Wide, 74° FWHM, (1.1 SC) | |
| LTR-6RD-H-SUR-ML20L-DM1_LTR-6RW-T-SUR-ML35K8WWSS_LTR-6RD-CE-WT | 3500 K | 80 CRI | 1603 lm | 72 | 22.2 W | Open Single Wall Wash | |
| LTR-6RD-H-SUR-ML25L-DM1_LTR-6RD-T-SUR-ML35K8MDSS_LTR-6RD-CE-WT | 3500 K | 80 CRI | 2394 lm | 86 | 27.7 W | Medium, 40° FWHM, (0.7 SC) | |
| LTR-6RD-H-SUR-ML25L-DM1_LTR-6RD-T-SUR-ML35K8NRSS_LTR-6RD-CE-WT | 3500 K | 80 CRI | 2322 lm | 84 | 27.7 W | Narrow, 30° FWHM, (0..50 SC) | |
| LTR-6RD-H-SUR-ML25L-DM1_LTR-6RD-T-SUR-ML35K8VNRSS_LTR-6RD-CE-WT | 3500 K | 80 CRI | 2398 lm | 87 | 27.7 W | Very Narrow, 20° FWHM, (0.3 SC) | |
| LTR-6RD-H-SUR-ML25L-DM1_LTR-6RD-T-SUR-ML35K8WDSS_LTR-6RD-CE-WT | 3500 K | 80 CRI | 2091 lm | 75 | 27.7 W | Wide, 59° FWHM, (0.9 SC) | |
| LTR-6RD-H-SUR-ML25L-DM1_LTR-6RD-T-SUR-ML35K8XWSS_LTR-6RD-CE-WT | 3500 K | 80 CRI | 2262 lm | 82 | 27.7 W | Extra Wide, 74° FWHM, (1.1 SC) | |
| LTR-6RD-H-SUR-ML25L-DM1_LTR-6RW-T-SUR-ML35K8WWSS_LTR-6RD-CE-WT | 3500 K | 80 CRI | 1949 lm | 70 | 27.7 W | Open Single Wall Wash | |
| LTR-6RD-H-SUR-ML30L-DM1_LTR-6RD-T-SUR-ML35K8MDSS_LTR-6RD-CE-WT | 3500 K | 80 CRI | 2852 lm | 83 | 34.3 W | Medium, 40° FWHM, (0.7 SC) | |
| LTR-6RD-H-SUR-ML30L-DM1_LTR-6RD-T-SUR-ML35K8NRSS_LTR-6RD-CE-WT | 3500 K | 80 CRI | 2767 lm | 81 | 34.3 W | Narrow, 30° FWHM, (0..50 SC) | |
| LTR-6RD-H-SUR-ML30L-DM1_LTR-6RD-T-SUR-ML35K8VNRSS_LTR-6RD-CE-WT | 3500 K | 80 CRI | 2858 lm | 83 | 34.3 W | Very Narrow, 20° FWHM, (0.3 SC) | |
| LTR-6RD-H-SUR-ML30L-DM1_LTR-6RD-T-SUR-ML35K8WDSS_LTR-6RD-CE-WT | 3500 K | 80 CRI | 2492 lm | 73 | 34.3 W | Wide, 59° FWHM, (0.9 SC) | |
| LTR-6RD-H-SUR-ML30L-DM1_LTR-6RD-T-SUR-ML35K8XWSS_LTR-6RD-CE-WT | 3500 K | 80 CRI | 2696 lm | 79 | 34.3 W | Extra Wide, 74° FWHM, (1.1 SC) | |
| LTR-6RD-H-SUR-ML30L-DM1_LTR-6RW-T-SUR-ML35K8WWSS_LTR-6RD-CE-WT | 3500 K | 80 CRI | 2322 lm | 68 | 34.3 W | Open Single Wall Wash | |
| LTR-6RD-H-SUR-SL06L-DM1_LTR-6RD-T-SUR-SL35K8MDSS_LTR-6RD-CE-WT | 3500 K | 80 CRI | 624 lm | 80 | 7.8 W | Medium, 40° FWHM, (0.7 SC) | |
| LTR-6RD-H-SUR-SL06L-DM1_LTR-6RD-T-SUR-SL35K8NRSS_LTR-6RD-CE-WT | 3500 K | 80 CRI | 605 lm | 78 | 7.8 W | Narrow, 30° FWHM, (0..50 SC) | |
| LTR-6RD-H-SUR-SL06L-DM1_LTR-6RD-T-SUR-SL35K8VNRSS_LTR-6RD-CE-WT | 3500 K | 80 CRI | 625 lm | 80 | 7.8 W | Very Narrow, 20° FWHM, (0.3 SC) | |
| LTR-6RD-H-SUR-SL06L-DM1_LTR-6RD-T-SUR-SL35K8WDSS_LTR-6RD-CE-WT | 3500 K | 80 CRI | 545 lm | 70 | 7.8 W | Wide, 59° FWHM, (0.9 SC) | |
| LTR-6RD-H-SUR-SL06L-DM1_LTR-6RD-T-SUR-SL35K8XWSS_LTR-6RD-CE-WT | 3500 K | 80 CRI | 590 lm | 76 | 7.8 W | Extra Wide, 74° FWHM, (1.1 SC) | |
| LTR-6RD-H-SUR-SL06L-DM1_LTR-6RW-T-SUR-SL35K8WWSS_LTR-6RD-CE-WT | 3500 K | 80 CRI | 508 lm | 65 | 7.8 W | Open Single Wall Wash | |
| LTR-6RD-H-SUR-SL10L-DM1_LTR-6RD-T-SUR-SL35K8MDSS_LTR-6RD-CE-WT | 3500 K | 80 CRI | 997 lm | 83 | 12 W | Medium, 40° FWHM, (0.7 SC) | |
| LTR-6RD-H-SUR-SL10L-DM1_LTR-6RD-T-SUR-SL35K8NRSS_LTR-6RD-CE-WT | 3500 K | 80 CRI | 967 lm | 81 | 12 W | Narrow, 30° FWHM, (0..50 SC) | |
| LTR-6RD-H-SUR-SL10L-DM1_LTR-6RD-T-SUR-SL35K8VNRSS_LTR-6RD-CE-WT | 3500 K | 80 CRI | 999 lm | 83 | 12 W | Very Narrow, 20° FWHM, (0.3 SC) | |
| LTR-6RD-H-SUR-SL10L-DM1_LTR-6RD-T-SUR-SL35K8WDSS_LTR-6RD-CE-WT | 3500 K | 80 CRI | 871 lm | 73 | 12 W | Wide, 59° FWHM, (0.9 SC) | |
| LTR-6RD-H-SUR-SL10L-DM1_LTR-6RD-T-SUR-SL35K8XWSS_LTR-6RD-CE-WT | 3500 K | 80 CRI | 942 lm | 79 | 12 W | Extra Wide, 74° FWHM, (1.1 SC) | |
| LTR-6RD-H-SUR-SL10L-DM1_LTR-6RW-T-SUR-SL35K8WWSS_LTR-6RD-CE-WT | 3500 K | 80 CRI | 812 lm | 68 | 12 W | Open Single Wall Wash | |
| LTR-6RD-H-SUR-SL15L-DM1_LTR-6RD-T-SUR-SL35K8MDSS_LTR-6RD-CE-WT | 3500 K | 80 CRI | 1432 lm | 77 | 18.7 W | Medium, 40° FWHM, (0.7 SC) | |
| LTR-6RD-H-SUR-SL15L-DM1_LTR-6RD-T-SUR-SL35K8NRSS_LTR-6RD-CE-WT | 3500 K | 80 CRI | 1390 lm | 74 | 18.7 W | Narrow, 30° FWHM, (0..50 SC) | |
| LTR-6RD-H-SUR-SL15L-DM1_LTR-6RD-T-SUR-SL35K8VNRSS_LTR-6RD-CE-WT | 3500 K | 80 CRI | 1435 lm | 77 | 18.7 W | Very Narrow, 20° FWHM, (0.3 SC) | |
| LTR-6RD-H-SUR-SL15L-DM1_LTR-6RD-T-SUR-SL35K8WDSS_LTR-6RD-CE-WT | 3500 K | 80 CRI | 1251 lm | 67 | 18.7 W | Wide, 59° FWHM, (0.9 SC) | |
| LTR-6RD-H-SUR-SL15L-DM1_LTR-6RD-T-SUR-SL35K8XWSS_LTR-6RD-CE-WT | 3500 K | 80 CRI | 1354 lm | 72 | 18.7 W | Extra Wide, 74° FWHM, (1.1 SC) | |
| LTR-6RD-H-SUR-SL15L-DM1_LTR-6RW-T-SUR-SL35K8WWSS_LTR-6RD-CE-WT | 3500 K | 80 CRI | 1166 lm | 62 | 18.7 W | Open Single Wall Wash | |
Show All