LIFESHIELD
Vandal / Behavioral Downlights
Impact and ligature resistant downlights in 4" and 6" apertures help provide security in at-risk locations and deter self-harm or injury to others in behavioral spaces.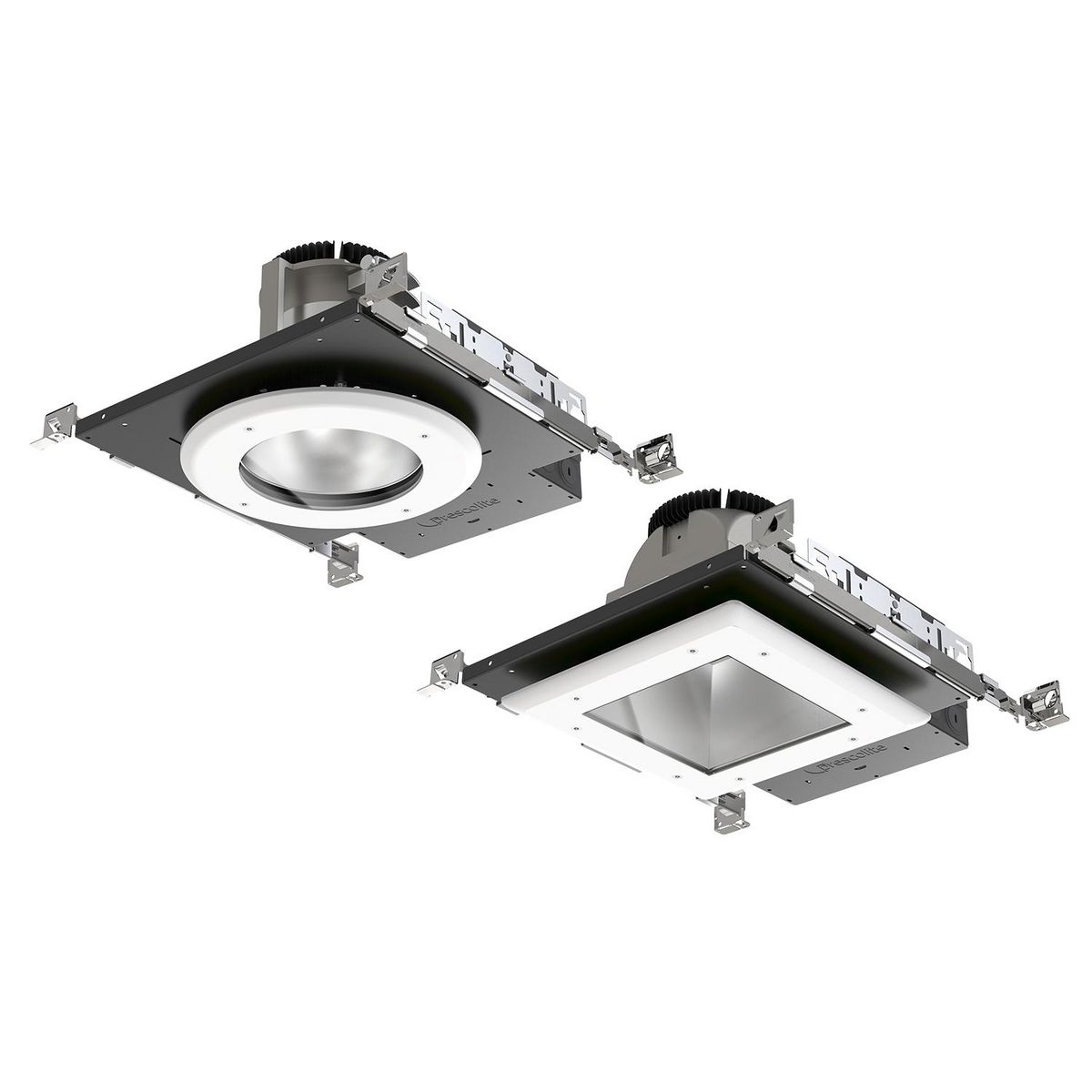 Features & Benefits
Durable, marine grade, die cast aluminum bezel trim (low-copper alloy) withstands impact, weathering and optional tamper resistant fasteners avoids unauthorized entry.
Flush, shatter resistant, .250" thick polycarbonate lens meets IK10 (per IEC 60068-2-75 impact testing) making it ideal for behavioral and vandal resistant applications.
Wet location and IP66/IP69K ingress protection ratings allow for use in wet environments, including exterior covered ceilings and canopies.
50° cutoff to source and source image reduces glare to facilitate a calming environment.
Provides security with a non-institutional appearance.
Five beam distributions and wall wash allow for controlled illumination.
Aluminum anodized reflectors in a wide array of colors and finishes creates a more architectural look in behavioral spaces.
Specifications
Aperture Shape
Round;Square
Product Technology
NX Lighting Controls
Dimming Protocol
0-10V Dimming, DALI, Lutron EcoSystem
Mounting Options
Recessed
Housing Options
New Construction
Optics & Distributions
Very Narrow, Medium, Wide, Extra Wide, Wall Wash
Certifications
cCSAus, NSF
Ratings
cCSAus, UL924, IP66, IP69K, IK10, ISO 3, Non-IC, IC, Chicago Plenum (CCEA), Damp, Wet, NSF2 Non-Food Zone
Lumen Maintenance Rating
L90 @ 55,000 hours
Specifications
Aperture
4, 6
Aperture Shape
Round;Square
Product Technology
NX Lighting Controls
Lumen Range
600-4,000
Dimming Protocol
0-10V Dimming, DALI, Lutron EcoSystem
CRI Offering
80, 90
Mounting Options
Recessed
Housing Options
New Construction
Wattage Range
8-52
Efficacy Range
62-89
Optics & Distributions
Very Narrow, Medium, Wide, Extra Wide, Wall Wash
Certifications
cCSAus, NSF
Ratings
cCSAus, UL924, IP66, IP69K, IK10, ISO 3, Non-IC, IC, Chicago Plenum (CCEA), Damp, Wet, NSF2 Non-Food Zone
Operating Temp
25
Lumen Maintenance Rating
L90 @ 55,000 hours
Photometry(
0

) Clear Filters
| Product Name | Color Temp | CRI | Lumens | LM/W | Watts | Dist. Type | Resources |
| --- | --- | --- | --- | --- | --- | --- | --- |
| LTR-6SQD-H-SL06L-DM1_LTR-6SQD-T-SL35K8MDSS_LTR-6SQD-CE-WT | 3500 K | 80 CRI | 587 lm | 75 | 7.8 W | Medium, 45° FWHM, (0.7 SC) | |
| LTR-6SQD-H-SL06L-DM1_LTR-6SQD-T-SL35K8NRSS_LTR-6SQD-CE-WT | 3500 K | 80 CRI | 611 lm | 78 | 7.8 W | Narrow, 37° FWHM, (0.6 SC) | |
| LTR-6SQD-H-SL06L-DM1_LTR-6SQD-T-SL35K8VNRSS_LTR-6SQD-CE-WT | 3500 K | 80 CRI | 599 lm | 77 | 7.8 W | Very Narrow, 26° FWHM, (0.4 SC) | |
| LTR-6SQD-H-SL06L-DM1_LTR-6SQD-T-SL35K8WDSS_LTR-6SQD-CE-WT | 3500 K | 80 CRI | 549 lm | 70 | 7.8 W | Wide, 57° FWHM, (0.9 SC) | |
| LTR-6SQD-H-SL06L-DM1_LTR-6SQD-T-SL35K8XWSS_LTR-6SQD-CE-WT | 3500 K | 80 CRI | 508 lm | 65 | 7.8 W | Extra Wide, 68° FWHM, (1.1 SC) | |
| LTR-6SQD-H-SL10L-DM1_LTR-6SQD-T-SL35K8MDSS_LTR-6SQD-CE-WT | 3500 K | 80 CRI | 938 lm | 78 | 12 W | Medium, 45° FWHM, (0.7 SC) | |
| LTR-6SQD-H-SL10L-DM1_LTR-6SQD-T-SL35K8NRSS_LTR-6SQD-CE-WT | 3500 K | 80 CRI | 976 lm | 81 | 12 W | Narrow, 37° FWHM, (0.6 SC) | |
| LTR-6SQD-H-SL10L-DM1_LTR-6SQD-T-SL35K8VNRSS_LTR-6SQD-CE-WT | 3500 K | 80 CRI | 958 lm | 80 | 12 W | Very Narrow, 26° FWHM, (0.4 SC) | |
| LTR-6SQD-H-SL10L-DM1_LTR-6SQD-T-SL35K8WDSS_LTR-6SQD-CE-WT | 3500 K | 80 CRI | 877 lm | 73 | 12 W | Wide, 57° FWHM, (0.9 SC) | |
| LTR-6SQD-H-SL10L-DM1_LTR-6SQD-T-SL35K8XWSS_LTR-6SQD-CE-WT | 3500 K | 80 CRI | 812 lm | 68 | 12 W | Extra Wide, 68° FWHM, (1.1 SC) | |
| LTR-6SQD-H-SL15L-DM1_LTR-6SQD-T-SL35K8MDSS_LTR-6SQD-CE-WT | 3500 K | 80 CRI | 1348 lm | 72 | 18.7 W | Medium, 45° FWHM, (0.7 SC) | |
| LTR-6SQD-H-SL15L-DM1_LTR-6SQD-T-SL35K8NRSS_LTR-6SQD-CE-WT | 3500 K | 80 CRI | 1402 lm | 75 | 18.7 W | Narrow, 37° FWHM, (0.6 SC) | |
| LTR-6SQD-H-SL15L-DM1_LTR-6SQD-T-SL35K8VNRSS_LTR-6SQD-CE-WT | 3500 K | 80 CRI | 1376 lm | 74 | 18.7 W | Very Narrow, 26° FWHM, (0.4 SC) | |
| LTR-6SQD-H-SL15L-DM1_LTR-6SQD-T-SL35K8WDSS_LTR-6SQD-CE-WT | 3500 K | 80 CRI | 1259 lm | 67 | 18.7 W | Wide, 57° FWHM, (0.9 SC) | |
| LTR-6SQD-H-SL15L-DM1_LTR-6SQD-T-SL35K8XWSS_LTR-6SQD-CE-WT | 3500 K | 80 CRI | 1166 lm | 62 | 18.7 W | Extra Wide, 68° FWHM, (1.1 SC) | |
| LTR-4RD-H-HL35L-DM1_LTR-4RD-T-HL35K8MDSS_LTR-4RD-CE-WT | 3500 K | 80 CRI | 2954 lm | 69 | 42.9 W | Medium, 43° FWHM, (0.7 SC) | |
| LTR-4RD-H-HL35L-DM1_LTR-4RD-T-HL35K8NRSS_LTR-4RD-CE-WT | 3500 K | 80 CRI | 3070 lm | 72 | 42.9 W | Narrow, 30° FWHM, (0..50 SC) | |
| LTR-4RD-H-HL35L-DM1_LTR-4RD-T-HL35K8WDSS_LTR-4RD-CE-WT | 3500 K | 80 CRI | 2637 lm | 61 | 42.9 W | Wide, 58° FWHM, (0.9 SC) | |
| LTR-4RD-H-HL35L-DM1_LTR-4RD-T-HL35K8XWSS_LTR-4RD-CE-WT | 3500 K | 80 CRI | 2734 lm | 64 | 42.9 W | Extra Wide, 74° FWHM, (1.1 SC) | |
| LTR-4RD-H-HL35L-DM1_LTR-4RW-T-HL35K8WWSS_LTR-4RD-CE-WT | 3500 K | 80 CRI | 2327 lm | 54 | 42.9 W | Open Single Wall Wash | |
| LTR-4RD-H-HL40L-DM1_LTR-4RD-T-HL35K8MDSS_LTR-4RD-CE-WT | 3500 K | 80 CRI | 3504 lm | 68 | 51.5 W | Medium, 43° FWHM, (0.7 SC) | |
| LTR-4RD-H-HL40L-DM1_LTR-4RD-T-HL35K8NRSS_LTR-4RD-CE-WT | 3500 K | 80 CRI | 3369 lm | 65 | 51.5 W | Narrow, 30° FWHM, (0..50 SC) | |
| LTR-4RD-H-HL40L-DM1_LTR-4RD-T-HL35K8WDSS_LTR-4RD-CE-WT | 3500 K | 80 CRI | 3371 lm | 65 | 51.5 W | Wide, 58° FWHM, (0.9 SC) | |
| LTR-4RD-H-HL40L-DM1_LTR-4RD-T-HL35K8XWSS_LTR-4RD-CE-WT | 3500 K | 80 CRI | 3010 lm | 58 | 51.5 W | Extra Wide, 74° FWHM, (1.1 SC) | |
| LTR-4RD-H-HL40L-DM1_LTR-4RW-T-HL35K8WWSS_LTR-4RD-CE-WT | 3500 K | 80 CRI | 2656 lm | 52 | 51.5 W | Open Single Wall Wash | |
| LTR-4RD-H-ML20L-DM1_LTR-4RD-T-ML35K8MDSS_LTR-4RD-CE-WT | 3500 K | 80 CRI | 1679 lm | 75 | 22.3 W | Medium, 43° FWHM, (0.7 SC) | |
| LTR-4RD-H-ML20L-DM1_LTR-4RD-T-ML35K8NRSS_LTR-4RD-CE-WT | 3500 K | 80 CRI | 1745 lm | 79 | 22 W | Narrow, 30° FWHM, (0..50 SC) | |
| LTR-4RD-H-ML20L-DM1_LTR-4RD-T-ML35K8VNRSS_LTR-4RD-CE-WT | 3500 K | 80 CRI | 1678 lm | 74 | 22.8 W | Very Narrow, 20° FWHM, (0.3 SC) | |
| LTR-4RD-H-ML20L-DM1_LTR-4RD-T-ML35K8WDSS_LTR-4RD-CE-WT | 3500 K | 80 CRI | 1499 lm | 68 | 22.2 W | Wide, 58° FWHM, (0.9 SC) | |
| LTR-4RD-H-ML20L-DM1_LTR-4RD-T-ML35K8XWSS_LTR-4RD-CE-WT | 3500 K | 80 CRI | 1554 lm | 70 | 22.2 W | Extra Wide, 74° FWHM, (1.1 SC) | |
| LTR-4RD-H-ML20L-DM1_LTR-4RW-T-ML35K8WWSS_LTR-4RD-CE-WT | 3500 K | 80 CRI | 1323 lm | 60 | 22 W | Open Single Wall Wash | |
| LTR-4RD-H-ML25L-DM1_LTR-4RD-T-ML35K8MDSS_LTR-4RD-CE-WT | 3500 K | 80 CRI | 2060 lm | 74 | 27.8 W | Medium, 43° FWHM, (0.7 SC) | |
| LTR-4RD-H-ML25L-DM1_LTR-4RD-T-ML35K8NRSS_LTR-4RD-CE-WT | 3500 K | 80 CRI | 2141 lm | 77 | 27.8 W | Narrow, 30° FWHM, (0..50 SC) | |
| LTR-4RD-H-ML25L-DM1_LTR-4RD-T-ML35K8VNRSS_LTR-4RD-CE-WT | 3500 K | 80 CRI | 2021 lm | 71 | 28.6 W | Very Narrow, 20° FWHM, (0.3 SC) | |
| LTR-4RD-H-ML25L-DM1_LTR-4RD-T-ML35K8WDSS_LTR-4RD-CE-WT | 3500 K | 80 CRI | 1839 lm | 66 | 27.8 W | Wide, 58° FWHM, (0.9 SC) | |
| LTR-4RD-H-ML25L-DM1_LTR-4RD-T-ML35K8XWSS_LTR-4RD-CE-WT | 3500 K | 80 CRI | 1906 lm | 69 | 27.8 W | Extra Wide, 74° FWHM, (1.1 SC) | |
| LTR-4RD-H-ML25L-DM1_LTR-4RW-T-ML35K8WWSS_LTR-4RD-CE-WT | 3500 K | 80 CRI | 1623 lm | 58 | 27.8 W | Open Single Wall Wash | |
| LTR-4RD-H-ML30L-DM1_LTR-4RD-T-ML35K8MDSS_LTR-4RD-CE-WT | 3500 K | 80 CRI | 2472 lm | 71 | 34.6 W | Medium, 43° FWHM, (0.7 SC) | |
| LTR-4RD-H-ML30L-DM1_LTR-4RD-T-ML35K8NRSS_LTR-4RD-CE-WT | 3500 K | 80 CRI | 2570 lm | 74 | 34.6 W | Narrow, 30° FWHM, (0..50 SC) | |
| LTR-4RD-H-ML30L-DM1_LTR-4RD-T-ML35K8VNRSS_LTR-4RD-CE-WT | 3500 K | 80 CRI | 2358 lm | 66 | 36 W | Very Narrow, 20° FWHM, (0.3 SC) | |
| LTR-4RD-H-ML30L-DM1_LTR-4RD-T-ML35K8WDSS_LTR-4RD-CE-WT | 3500 K | 80 CRI | 2207 lm | 64 | 34.6 W | Wide, 58° FWHM, (0.9 SC) | |
| LTR-4RD-H-ML30L-DM1_LTR-4RD-T-ML35K8XWSS_LTR-4RD-CE-WT | 3500 K | 80 CRI | 2288 lm | 66 | 34.6 W | Extra Wide, 74° FWHM, (1.1 SC) | |
| LTR-4RD-H-ML30L-DM1_LTR-4RW-T-ML35K8WWSS_LTR-4RD-CE-WT | 3500 K | 80 CRI | 1948 lm | 56 | 34.6 W | Open Single Wall Wash | |
| LTR-4RD-H-SL06L-DM1_LTR-4RD-T-SL35K8MDSS_LTR-4RD-CE-WT | 3500 K | 80 CRI | 541 lm | 69 | 7.8 W | Medium, 43° FWHM, (0.7 SC) | |
| LTR-4RD-H-SL06L-DM1_LTR-4RD-T-SL35K8NRSS_LTR-4RD-CE-WT | 3500 K | 80 CRI | 563 lm | 72 | 7.8 W | Narrow, 30° FWHM, (0..50 SC) | |
| LTR-4RD-H-SL06L-DM1_LTR-4RD-T-SL35K8VNRSS_LTR-4RD-CE-WT | 3500 K | 80 CRI | 571 lm | 75 | 7.6 W | Very Narrow, 20° FWHM, (0.3 SC) | |
| LTR-4RD-H-SL06L-DM1_LTR-4RD-T-SL35K8WDSS_LTR-4RD-CE-WT | 3500 K | 80 CRI | 483 lm | 62 | 7.8 W | Wide, 58° FWHM, (0.9 SC) | |
| LTR-4RD-H-SL06L-DM1_LTR-4RD-T-SL35K8XWSS_LTR-4RD-CE-WT | 3500 K | 80 CRI | 501 lm | 64 | 7.8 W | Extra Wide, 74° FWHM, (1.1 SC) | |
| LTR-4RD-H-SL06L-DM1_LTR-4RW-T-SL35K8WWSS_LTR-4RD-CE-WT | 3500 K | 80 CRI | 427 lm | 55 | 7.8 W | Open Single Wall Wash | |
| LTR-4RD-H-SL10L-DM1_LTR-4RD-T-SL35K8MDSS_LTR-4RD-CE-WT | 3500 K | 80 CRI | 866 lm | 72 | 12 W | Medium, 43° FWHM, (0.7 SC) | |
| LTR-4RD-H-SL10L-DM1_LTR-4RD-T-SL35K8NRSS_LTR-4RD-CE-WT | 3500 K | 80 CRI | 900 lm | 75 | 12 W | Narrow, 30° FWHM, (0..50 SC) | |
| LTR-4RD-H-SL10L-DM1_LTR-4RD-T-SL35K8VNRSS_LTR-4RD-CE-WT | 3500 K | 80 CRI | 935 lm | 83 | 11.3 W | Very Narrow, 20° FWHM, (0.3 SC) | |
| LTR-4RD-H-SL10L-DM1_LTR-4RD-T-SL35K8WDSS_LTR-4RD-CE-WT | 3500 K | 80 CRI | 773 lm | 64 | 12 W | Wide, 58° FWHM, (0.9 SC) | |
| LTR-4RD-H-SL10L-DM1_LTR-4RD-T-SL35K8XWSS_LTR-4RD-CE-WT | 3500 K | 80 CRI | 802 lm | 67 | 12 W | Extra Wide, 74° FWHM, (1.1 SC) | |
| LTR-4RD-H-SL10L-DM1_LTR-4RW-T-SL35K8WWSS_LTR-4RD-CE-WT | 3500 K | 80 CRI | 682 lm | 57 | 12 W | Open Single Wall Wash | |
| LTR-4RD-H-SL15L-DM1_LTR-4RD-T-SL35K8MDSS_LTR-4RD-CE-WT | 3500 K | 80 CRI | 1239 lm | 67 | 18.6 W | Medium, 43° FWHM, (0.7 SC) | |
| LTR-4RD-H-SL15L-DM1_LTR-4RD-T-SL35K8NRSS_LTR-4RD-CE-WT | 3500 K | 80 CRI | 1287 lm | 69 | 18.6 W | Narrow, 30° FWHM, (0..50 SC) | |
| LTR-4RD-H-SL15L-DM1_LTR-4RD-T-SL35K8VNRSS_LTR-4RD-CE-WT | 3500 K | 80 CRI | 1340 lm | 77 | 17.3 W | Very Narrow, 20° FWHM, (0.3 SC) | |
| LTR-4RD-H-SL15L-DM1_LTR-4RD-T-SL35K8WDSS_LTR-4RD-CE-WT | 3500 K | 80 CRI | 1106 lm | 59 | 18.6 W | Wide, 58° FWHM, (0.9 SC) | |
| LTR-4RD-H-SL15L-DM1_LTR-4RD-T-SL35K8XWSS_LTR-4RD-CE-WT | 3500 K | 80 CRI | 1146 lm | 62 | 18.6 W | Extra Wide, 74° FWHM, (1.1 SC) | |
| LTR-4RD-H-SL15L-DM1_LTR-4RW-T-SL35K8WWSS_LTR-4RD-CE-WT | 3500 K | 80 CRI | 976 lm | 52 | 18.6 W | Open Single Wall Wash | |
| LTR-4SQD-H-HL35L-DM1_LTR-4SQD-T-HL35K8MDSS_LTR-4SQD-CE-WT | 3500 K | 80 CRI | 3068 lm | 72 | 42.9 W | Medium, 46° FWHM, (0.7 SC) | |
| LTR-4SQD-H-HL35L-DM1_LTR-4SQD-T-HL35K8NRSS_LTR-4SQD-CE-WT | 3500 K | 80 CRI | 3156 lm | 74 | 42.9 W | Narrow, 36° FWHM, (0.6 SC) | |
| LTR-4SQD-H-HL35L-DM1_LTR-4SQD-T-HL35K8WDSS_LTR-4SQD-CE-WT | 3500 K | 80 CRI | 2716 lm | 63 | 42.9 W | Wide, 58° FWHM, (1.0 SC) | |
| LTR-4SQD-H-HL35L-DM1_LTR-4SQD-T-HL35K8XWSS_LTR-4SQD-CE-WT | 3500 K | 80 CRI | 2711 lm | 63 | 42.9 W | Extra Wide, 67° FWHM, (1.1 SC) | |
| LTR-4SQD-H-HL40L-DM1_LTR-4SQD-T-HL35K8MDSS_LTR-4SQD-CE-WT | 3500 K | 80 CRI | 3502 lm | 68 | 51.5 W | Medium, 46° FWHM, (0.7 SC) | |
| LTR-4SQD-H-HL40L-DM1_LTR-4SQD-T-HL35K8NRSS_LTR-4SQD-CE-WT | 3500 K | 80 CRI | 3602 lm | 70 | 51.5 W | Narrow, 36° FWHM, (0.6 SC) | |
| LTR-4SQD-H-HL40L-DM1_LTR-4SQD-T-HL35K8WDSS_LTR-4SQD-CE-WT | 3500 K | 80 CRI | 3100 lm | 60 | 51.5 W | Wide, 58° FWHM, (1.0 SC) | |
| LTR-4SQD-H-HL40L-DM1_LTR-4SQD-T-HL35K8XWSS_LTR-4SQD-CE-WT | 3500 K | 80 CRI | 3094 lm | 60 | 51.5 W | Extra Wide, 67° FWHM, (1.1 SC) | |
| LTR-4SQD-H-ML20L-DM1_LTR-4SQD-T-ML35K8MDSS_LTR-4SQD-CE-WT | 3500 K | 80 CRI | 1744 lm | 79 | 22.1 W | Medium, 46° FWHM, (0.7 SC) | |
| LTR-4SQD-H-ML20L-DM1_LTR-4SQD-T-ML35K8NRSS_LTR-4SQD-CE-WT | 3500 K | 80 CRI | 1794 lm | 81 | 22.1 W | Narrow, 36° FWHM, (0.6 SC) | |
| LTR-4SQD-H-ML20L-DM1_LTR-4SQD-T-ML35K8VNRSS_LTR-4SQD-CE-WT | 3500 K | 80 CRI | 1771 lm | 77 | 22.8 W | Very Narrow, 23° FWHM, (0.4 SC) | |
| LTR-4SQD-H-ML20L-DM1_LTR-4SQD-T-ML35K8WDSS_LTR-4SQD-CE-WT | 3500 K | 80 CRI | 1544 lm | 70 | 22.1 W | Wide, 58° FWHM, (1.0 SC) | |
| LTR-4SQD-H-ML20L-DM1_LTR-4SQD-T-ML35K8XWSS_LTR-4SQD-CE-WT | 3500 K | 80 CRI | 1541 lm | 70 | 22.1 W | Extra Wide, 67° FWHM, (1.1 SC) | |
| LTR-4SQD-H-ML25L-DM1_LTR-4SQD-T-ML35K8MDSS_LTR-4SQD-CE-WT | 3500 K | 80 CRI | 2140 lm | 77 | 27.8 W | Medium, 46° FWHM, (0.7 SC) | |
| LTR-4SQD-H-ML25L-DM1_LTR-4SQD-T-ML35K8NRSS_LTR-4SQD-CE-WT | 3500 K | 80 CRI | 2201 lm | 79 | 27.8 W | Narrow, 36° FWHM, (0.6 SC) | |
| LTR-4SQD-H-ML25L-DM1_LTR-4SQD-T-ML35K8VNRSS_LTR-4SQD-CE-WT | 3500 K | 80 CRI | 2135 lm | 72 | 29.6 W | Very Narrow, 23° FWHM, (0.4 SC) | |
| LTR-4SQD-H-ML25L-DM1_LTR-4SQD-T-ML35K8WDSS_LTR-4SQD-CE-WT | 3500 K | 80 CRI | 1894 lm | 68 | 27.8 W | Wide, 58° FWHM, (1.0 SC) | |
| LTR-4SQD-H-ML25L-DM1_LTR-4SQD-T-ML35K8XWSS_LTR-4SQD-CE-WT | 3500 K | 80 CRI | 1891 lm | 68 | 27.8 W | Extra Wide, 67° FWHM, (1.1 SC) | |
| LTR-4SQD-H-ML30L-DM1_LTR-4SQD-T-ML35K8MDSS_LTR-4SQD-CE-WT | 3500 K | 80 CRI | 2568 lm | 74 | 34.6 W | Medium, 46° FWHM, (0.7 SC) | |
| LTR-4SQD-H-ML30L-DM1_LTR-4SQD-T-ML35K8NRSS_LTR-4SQD-CE-WT | 3500 K | 80 CRI | 2642 lm | 76 | 34.6 W | Narrow, 36° FWHM, (0.6 SC) | |
| LTR-4SQD-H-ML30L-DM1_LTR-4SQD-T-ML35K8VNRSS_LTR-4SQD-CE-WT | 3500 K | 80 CRI | 2495 lm | 67 | 37 W | Very Narrow, 23° FWHM, (0.4 SC) | |
| LTR-4SQD-H-ML30L-DM1_LTR-4SQD-T-ML35K8WDSS_LTR-4SQD-CE-WT | 3500 K | 80 CRI | 2274 lm | 66 | 34.6 W | Wide, 58° FWHM, (1.0 SC) | |
| LTR-4SQD-H-ML30L-DM1_LTR-4SQD-T-ML35K8XWSS_LTR-4SQD-CE-WT | 3500 K | 80 CRI | 2269 lm | 66 | 34.6 W | Extra Wide, 67° FWHM, (1.1 SC) | |
| LTR-4SQD-H-SL06L-DM1_LTR-4SQD-T-SL35K8MDSS_LTR-4SQD-CE-WT | 3500 K | 80 CRI | 562 lm | 72 | 7.8 W | Medium, 46° FWHM, (0.7 SC) | |
| LTR-4SQD-H-SL06L-DM1_LTR-4SQD-T-SL35K8NRSS_LTR-4SQD-CE-WT | 3500 K | 80 CRI | 579 lm | 74 | 7.8 W | Narrow, 36° FWHM, (0.6 SC) | |
| LTR-4SQD-H-SL06L-DM1_LTR-4SQD-T-SL35K8VNRSS_LTR-4SQD-CE-WT | 3500 K | 80 CRI | 597 lm | 73 | 8.2 W | Very Narrow, 23° FWHM, (0.4 SC) | |
| LTR-4SQD-H-SL06L-DM1_LTR-4SQD-T-SL35K8WDSS_LTR-4SQD-CE-WT | 3500 K | 80 CRI | 498 lm | 64 | 7.8 W | Wide, 58° FWHM, (1.0 SC) | |
| LTR-4SQD-H-SL06L-DM1_LTR-4SQD-T-SL35K8XWSS_LTR-4SQD-CE-WT | 3500 K | 80 CRI | 497 lm | 64 | 7.8 W | Extra Wide, 67° FWHM, (1.1 SC) | |
| LTR-4SQD-H-SL10L-DM1_LTR-4SQD-T-SL35K8MDSS_LTR-4SQD-CE-WT | 3500 K | 80 CRI | 900 lm | 75 | 12 W | Medium, 46° FWHM, (0.7 SC) | |
| LTR-4SQD-H-SL10L-DM1_LTR-4SQD-T-SL35K8NRSS_LTR-4SQD-CE-WT | 3500 K | 80 CRI | 925 lm | 77 | 12 W | Narrow, 36° FWHM, (0.6 SC) | |
| LTR-4SQD-H-SL10L-DM1_LTR-4SQD-T-SL35K8VNRSS_LTR-4SQD-CE-WT | 3500 K | 80 CRI | 981 lm | 78 | 12.5 W | Very Narrow, 23° FWHM, (0.4 SC) | |
| LTR-4SQD-H-SL10L-DM1_LTR-4SQD-T-SL35K8WDSS_LTR-4SQD-CE-WT | 3500 K | 80 CRI | 796 lm | 66 | 12 W | Wide, 58° FWHM, (1.0 SC) | |
| LTR-4SQD-H-SL10L-DM1_LTR-4SQD-T-SL35K8XWSS_LTR-4SQD-CE-WT | 3500 K | 80 CRI | 795 lm | 66 | 12 W | Extra Wide, 67° FWHM, (1.1 SC) | |
| LTR-4SQD-H-SL15L-DM1_LTR-4SQD-T-SL35K8MDSS_LTR-4SQD-CE-WT | 3500 K | 80 CRI | 1287 lm | 69 | 18.6 W | Medium, 46° FWHM, (0.7 SC) | |
| LTR-4SQD-H-SL15L-DM1_LTR-4SQD-T-SL35K8NRSS_LTR-4SQD-CE-WT | 3500 K | 80 CRI | 1323 lm | 71 | 18.6 W | Narrow, 36° FWHM, (0.6 SC) | |
| LTR-4SQD-H-SL15L-DM1_LTR-4SQD-T-SL35K8VNRSS_LTR-4SQD-CE-WT | 3500 K | 80 CRI | 1409 lm | 78 | 18 W | Very Narrow, 23° FWHM, (0.4 SC) | |
| LTR-4SQD-H-SL15L-DM1_LTR-4SQD-T-SL35K8WDSS_LTR-4SQD-CE-WT | 3500 K | 80 CRI | 1139 lm | 61 | 18.6 W | Wide, 58° FWHM, (1.0 SC) | |
| LTR-4SQD-H-SL15L-DM1_LTR-4SQD-T-SL35K8XWSS_LTR-4SQD-CE-WT | 3500 K | 80 CRI | 1137 lm | 61 | 18.6 W | Extra Wide, 67° FWHM, (1.1 SC) | |
| LTR-6RD-H-HL35L-DM1_LTR-6RD-T-HL35K8MDSS_LTR-6RD-CE-WT | 3500 K | 80 CRI | 3465 lm | 81 | 43 W | Medium, 40° FWHM, (0.7 SC) | |
| LTR-6RD-H-HL35L-DM1_LTR-6RD-T-HL35K8NRSS_LTR-6RD-CE-WT | 3500 K | 80 CRI | 3361 lm | 78 | 43 W | Narrow, 30° FWHM, (0..50 SC) | |
| LTR-6RD-H-HL35L-DM1_LTR-6RD-T-HL35K8VNRSS_LTR-6RD-CE-WT | 3500 K | 80 CRI | 3472 lm | 81 | 43 W | Very Narrow, 20° FWHM, (0.3 SC) | |
| LTR-6RD-H-HL35L-DM1_LTR-6RD-T-HL35K8WDSS_LTR-6RD-CE-WT | 3500 K | 80 CRI | 3027 lm | 70 | 43 W | Wide, 59° FWHM, (0.9 SC) | |
| LTR-6RD-H-HL35L-DM1_LTR-6RD-T-HL35K8XWSS_LTR-6RD-CE-WT | 3500 K | 80 CRI | 3275 lm | 76 | 43 W | Extra Wide, 74° FWHM, (1.1 SC) | |
| LTR-6RD-H-HL35L-DM1_LTR-6RW-T-HL35K8WWSS_LTR-6RD-CE-WT | 3500 K | 80 CRI | 2821 lm | 66 | 43 W | Open Single Wall Wash | |
| LTR-6RD-H-HL40L-DM1_LTR-6RD-T-HL35K8MDSS_LTR-6RD-CE-WT | 3500 K | 80 CRI | 3961 lm | 77 | 51.6 W | Medium, 40° FWHM, (0.7 SC) | |
| LTR-6RD-H-HL40L-DM1_LTR-6RD-T-HL35K8NRSS_LTR-6RD-CE-WT | 3500 K | 80 CRI | 3842 lm | 74 | 51.6 W | Narrow, 30° FWHM, (0..50 SC) | |
| LTR-6RD-H-HL40L-DM1_LTR-6RD-T-HL35K8VNRSS_LTR-6RD-CE-WT | 3500 K | 80 CRI | 3969 lm | 77 | 51.6 W | Very Narrow, 20° FWHM, (0.3 SC) | |
| LTR-6RD-H-HL40L-DM1_LTR-6RD-T-HL35K8WDSS_LTR-6RD-CE-WT | 3500 K | 80 CRI | 3460 lm | 67 | 51.6 W | Wide, 59° FWHM, (0.9 SC) | |
| LTR-6RD-H-HL40L-DM1_LTR-6RD-T-HL35K8XWSS_LTR-6RD-CE-WT | 3500 K | 80 CRI | 3743 lm | 73 | 51.6 W | Extra Wide, 74° FWHM, (1.1 SC) | |
| LTR-6RD-H-HL40L-DM1_LTR-6RW-T-HL35K8WWSS_LTR-6RD-CE-WT | 3500 K | 80 CRI | 3224 lm | 62 | 51.6 W | Open Single Wall Wash | |
| LTR-6RD-H-ML20L-DM1_LTR-6RD-T-ML35K8MDSS_LTR-6RD-CE-WT | 3500 K | 80 CRI | 1969 lm | 89 | 22.2 W | Medium, 40° FWHM, (0.7 SC) | |
| LTR-6RD-H-ML20L-DM1_LTR-6RD-T-ML35K8NRSS_LTR-6RD-CE-WT | 3500 K | 80 CRI | 1910 lm | 86 | 22.2 W | Narrow, 30° FWHM, (0..50 SC) | |
| LTR-6RD-H-ML20L-DM1_LTR-6RD-T-ML35K8VNRSS_LTR-6RD-CE-WT | 3500 K | 80 CRI | 1973 lm | 89 | 22.2 W | Very Narrow, 20° FWHM, (0.3 SC) | |
| LTR-6RD-H-ML20L-DM1_LTR-6RD-T-ML35K8WDSS_LTR-6RD-CE-WT | 3500 K | 80 CRI | 1720 lm | 77 | 22.2 W | Wide, 59° FWHM, (0.9 SC) | |
| LTR-6RD-H-ML20L-DM1_LTR-6RD-T-ML35K8XWSS_LTR-6RD-CE-WT | 3500 K | 80 CRI | 1861 lm | 84 | 22.2 W | Extra Wide, 74° FWHM, (1.1 SC) | |
| LTR-6RD-H-ML20L-DM1_LTR-6RW-T-ML35K8WWSS_LTR-6RD-CE-WT | 3500 K | 80 CRI | 1603 lm | 72 | 22.2 W | Open Single Wall Wash | |
| LTR-6RD-H-ML25L-DM1_LTR-6RD-T-ML35K8MDSS_LTR-6RD-CE-WT | 3500 K | 80 CRI | 2394 lm | 86 | 27.7 W | Medium, 40° FWHM, (0.7 SC) | |
| LTR-6RD-H-ML25L-DM1_LTR-6RD-T-ML35K8NRSS_LTR-6RD-CE-WT | 3500 K | 80 CRI | 2322 lm | 84 | 27.7 W | Narrow, 30° FWHM, (0..50 SC) | |
| LTR-6RD-H-ML25L-DM1_LTR-6RD-T-ML35K8VNRSS_LTR-6RD-CE-WT | 3500 K | 80 CRI | 2398 lm | 87 | 27.7 W | Very Narrow, 20° FWHM, (0.3 SC) | |
| LTR-6RD-H-ML25L-DM1_LTR-6RD-T-ML35K8WDSS_LTR-6RD-CE-WT | 3500 K | 80 CRI | 2091 lm | 75 | 27.7 W | Wide, 59° FWHM, (0.9 SC) | |
| LTR-6RD-H-ML25L-DM1_LTR-6RD-T-ML35K8XWSS_LTR-6RD-CE-WT | 3500 K | 80 CRI | 2262 lm | 82 | 27.7 W | Extra Wide, 74° FWHM, (1.1 SC) | |
| LTR-6RD-H-ML25L-DM1_LTR-6RW-T-ML35K8WWSS_LTR-6RD-CE-WT | 3500 K | 80 CRI | 1949 lm | 70 | 27.7 W | Open Single Wall Wash | |
| LTR-6RD-H-ML30L-DM1_LTR-6RD-T-ML35K8MDSS_LTR-6RD-CE-WT | 3500 K | 80 CRI | 2852 lm | 83 | 34.3 W | Medium, 40° FWHM, (0.7 SC) | |
| LTR-6RD-H-ML30L-DM1_LTR-6RD-T-ML35K8NRSS_LTR-6RD-CE-WT | 3500 K | 80 CRI | 2767 lm | 81 | 34.3 W | Narrow, 30° FWHM, (0..50 SC) | |
| LTR-6RD-H-ML30L-DM1_LTR-6RD-T-ML35K8VNRSS_LTR-6RD-CE-WT | 3500 K | 80 CRI | 2858 lm | 83 | 34.3 W | Very Narrow, 20° FWHM, (0.3 SC) | |
| LTR-6RD-H-ML30L-DM1_LTR-6RD-T-ML35K8WDSS_LTR-6RD-CE-WT | 3500 K | 80 CRI | 2492 lm | 73 | 34.3 W | Wide, 59° FWHM, (0.9 SC) | |
| LTR-6RD-H-ML30L-DM1_LTR-6RD-T-ML35K8XWSS_LTR-6RD-CE-WT | 3500 K | 80 CRI | 2696 lm | 79 | 34.3 W | Extra Wide, 74° FWHM, (1.1 SC) | |
| LTR-6RD-H-ML30L-DM1_LTR-6RW-T-ML35K8WWSS_LTR-6RD-CE-WT | 3500 K | 80 CRI | 2322 lm | 68 | 34.3 W | Open Single Wall Wash | |
| LTR-6RD-H-SL06L-DM1_LTR-6RD-T-SL35K8MDSS_LTR-6RD-CE-WT | 3500 K | 80 CRI | 624 lm | 80 | 7.8 W | Medium, 40° FWHM, (0.7 SC) | |
| LTR-6RD-H-SL06L-DM1_LTR-6RD-T-SL35K8NRSS_LTR-6RD-CE-WT | 3500 K | 80 CRI | 605 lm | 78 | 7.8 W | Narrow, 30° FWHM, (0..50 SC) | |
| LTR-6RD-H-SL06L-DM1_LTR-6RD-T-SL35K8VNRSS_LTR-6RD-CE-WT | 3500 K | 80 CRI | 625 lm | 80 | 7.8 W | Very Narrow, 20° FWHM, (0.3 SC) | |
| LTR-6RD-H-SL06L-DM1_LTR-6RD-T-SL35K8WDSS_LTR-6RD-CE-WT | 3500 K | 80 CRI | 545 lm | 70 | 7.8 W | Wide, 59° FWHM, (0.9 SC) | |
| LTR-6RD-H-SL06L-DM1_LTR-6RD-T-SL35K8XWSS_LTR-6RD-CE-WT | 3500 K | 80 CRI | 590 lm | 76 | 7.8 W | Extra Wide, 74° FWHM, (1.1 SC) | |
| LTR-6RD-H-SL06L-DM1_LTR-6RW-T-SL35K8WWSS_LTR-6RD-CE-WT | 3500 K | 80 CRI | 508 lm | 65 | 7.8 W | Open Single Wall Wash | |
| LTR-6RD-H-SL10L-DM1_LTR-6RD-T-SL35K8MDSS_LTR-6RD-CE-WT | 3500 K | 80 CRI | 997 lm | 83 | 12 W | Medium, 40° FWHM, (0.7 SC) | |
| LTR-6RD-H-SL10L-DM1_LTR-6RD-T-SL35K8NRSS_LTR-6RD-CE-WT | 3500 K | 80 CRI | 967 lm | 81 | 12 W | Narrow, 30° FWHM, (0..50 SC) | |
| LTR-6RD-H-SL10L-DM1_LTR-6RD-T-SL35K8VNRSS_LTR-6RD-CE-WT | 3500 K | 80 CRI | 999 lm | 83 | 12 W | Very Narrow, 20° FWHM, (0.3 SC) | |
| LTR-6RD-H-SL10L-DM1_LTR-6RD-T-SL35K8WDSS_LTR-6RD-CE-WT | 3500 K | 80 CRI | 871 lm | 73 | 12 W | Wide, 59° FWHM, (0.9 SC) | |
| LTR-6RD-H-SL10L-DM1_LTR-6RD-T-SL35K8XWSS_LTR-6RD-CE-WT | 3500 K | 80 CRI | 942 lm | 79 | 12 W | Extra Wide, 74° FWHM, (1.1 SC) | |
| LTR-6RD-H-SL10L-DM1_LTR-6RW-T-SL35K8WWSS_LTR-6RD-CE-WT | 3500 K | 80 CRI | 812 lm | 68 | 12 W | Open Single Wall Wash | |
| LTR-6RD-H-SL15L-DM1_LTR-6RD-T-SL35K8MDSS_LTR-6RD-CE-WT | 3500 K | 80 CRI | 1432 lm | 77 | 18.7 W | Medium, 40° FWHM, (0.7 SC) | |
| LTR-6RD-H-SL15L-DM1_LTR-6RD-T-SL35K8NRSS_LTR-6RD-CE-WT | 3500 K | 80 CRI | 1390 lm | 74 | 18.7 W | Narrow, 30° FWHM, (0..50 SC) | |
| LTR-6RD-H-SL15L-DM1_LTR-6RD-T-SL35K8VNRSS_LTR-6RD-CE-WT | 3500 K | 80 CRI | 1435 lm | 77 | 18.7 W | Very Narrow, 20° FWHM, (0.3 SC) | |
| LTR-6RD-H-SL15L-DM1_LTR-6RD-T-SL35K8WDSS_LTR-6RD-CE-WT | 3500 K | 80 CRI | 1251 lm | 67 | 18.7 W | Wide, 59° FWHM, (0.9 SC) | |
| LTR-6RD-H-SL15L-DM1_LTR-6RD-T-SL35K8XWSS_LTR-6RD-CE-WT | 3500 K | 80 CRI | 1354 lm | 72 | 18.7 W | Extra Wide, 74° FWHM, (1.1 SC) | |
| LTR-6RD-H-SL15L-DM1_LTR-6RW-T-SL35K8WWSS_LTR-6RD-CE-WT | 3500 K | 80 CRI | 1166 lm | 62 | 18.7 W | Open Single Wall Wash | |
| LTR-6SQD-H-HL35L-DM1_LTR-6SQD-T-HL35K8MDSS_LTR-6SQD-CE-WT | 3500 K | 80 CRI | 3261 lm | 76 | 43 W | Medium, 45° FWHM, (0.7 SC) | |
| LTR-6SQD-H-HL35L-DM1_LTR-6SQD-T-HL35K8NRSS_LTR-6SQD-CE-WT | 3500 K | 80 CRI | 3391 lm | 79 | 43 W | Narrow, 37° FWHM, (0.6 SC) | |
| LTR-6SQD-H-HL35L-DM1_LTR-6SQD-T-HL35K8VNRSS_LTR-6SQD-CE-WT | 3500 K | 80 CRI | 3327 lm | 77 | 43 W | Very Narrow, 26° FWHM, (0.4 SC) | |
| LTR-6SQD-H-HL35L-DM1_LTR-6SQD-T-HL35K8WDSS_LTR-6SQD-CE-WT | 3500 K | 80 CRI | 3046 lm | 71 | 43 W | Wide, 57° FWHM, (0.9 SC) | |
| LTR-6SQD-H-HL35L-DM1_LTR-6SQD-T-HL35K8XWSS_LTR-6SQD-CE-WT | 3500 K | 80 CRI | 2821 lm | 66 | 43 W | Extra Wide, 68° FWHM, (1.1 SC) | |
| LTR-6SQD-H-HL40L-DM1_LTR-6SQD-T-HL35K8MDSS_LTR-6SQD-CE-WT | 3500 K | 80 CRI | 3727 lm | 72 | 51.6 W | Medium, 45° FWHM, (0.7 SC) | |
| LTR-6SQD-H-HL40L-DM1_LTR-6SQD-T-HL35K8NRSS_LTR-6SQD-CE-WT | 3500 K | 80 CRI | 3876 lm | 75 | 51.6 W | Narrow, 37° FWHM, (0.6 SC) | |
| LTR-6SQD-H-HL40L-DM1_LTR-6SQD-T-HL35K8VNRSS_LTR-6SQD-CE-WT | 3500 K | 80 CRI | 3804 lm | 74 | 51.6 W | Very Narrow, 26° FWHM, (0.4 SC) | |
| LTR-6SQD-H-HL40L-DM1_LTR-6SQD-T-HL35K8WDSS_LTR-6SQD-CE-WT | 3500 K | 80 CRI | 3482 lm | 67 | 51.6 W | Wide, 57° FWHM, (0.9 SC) | |
| LTR-6SQD-H-HL40L-DM1_LTR-6SQD-T-HL35K8XWSS_LTR-6SQD-CE-WT | 3500 K | 80 CRI | 3224 lm | 62 | 51.6 W | Extra Wide, 68° FWHM, (1.1 SC) | |
| LTR-6SQD-H-ML20L-DM1_LTR-6SQD-T-ML35K8MDSS_LTR-6SQD-CE-WT | 3500 K | 80 CRI | 1853 lm | 84 | 22.2 W | Medium, 45° FWHM, (0.7 SC) | |
| LTR-6SQD-H-ML20L-DM1_LTR-6SQD-T-ML35K8NRSS_LTR-6SQD-CE-WT | 3500 K | 80 CRI | 1927 lm | 87 | 22.2 W | Narrow, 37° FWHM, (0.6 SC) | |
| LTR-6SQD-H-ML20L-DM1_LTR-6SQD-T-ML35K8VNRSS_LTR-6SQD-CE-WT | 3500 K | 80 CRI | 1891 lm | 85 | 22.2 W | Very Narrow, 26° FWHM, (0.4 SC) | |
| LTR-6SQD-H-ML20L-DM1_LTR-6SQD-T-ML35K8WDSS_LTR-6SQD-CE-WT | 3500 K | 80 CRI | 1731 lm | 78 | 22.2 W | Wide, 57° FWHM, (0.9 SC) | |
| LTR-6SQD-H-ML20L-DM1_LTR-6SQD-T-ML35K8XWSS_LTR-6SQD-CE-WT | 3500 K | 80 CRI | 1603 lm | 73 | 22.1 W | Extra Wide, 68° FWHM, (1.1 SC) | |
| LTR-6SQD-H-ML25L-DM1_LTR-6SQD-T-ML35K8MDSS_LTR-6SQD-CE-WT | 3500 K | 80 CRI | 2253 lm | 81 | 27.7 W | Medium, 45° FWHM, (0.7 SC) | |
| LTR-6SQD-H-ML25L-DM1_LTR-6SQD-T-ML35K8NRSS_LTR-6SQD-CE-WT | 3500 K | 80 CRI | 2342 lm | 85 | 27.7 W | Narrow, 37° FWHM, (0.6 SC) | |
| LTR-6SQD-H-ML25L-DM1_LTR-6SQD-T-ML35K8VNRSS_LTR-6SQD-CE-WT | 3500 K | 80 CRI | 2299 lm | 83 | 27.7 W | Very Narrow, 26° FWHM, (0.4 SC) | |
| LTR-6SQD-H-ML25L-DM1_LTR-6SQD-T-ML35K8WDSS_LTR-6SQD-CE-WT | 3500 K | 80 CRI | 2104 lm | 76 | 27.7 W | Wide, 57° FWHM, (0.9 SC) | |
| LTR-6SQD-H-ML25L-DM1_LTR-6SQD-T-ML35K8XWSS_LTR-6SQD-CE-WT | 3500 K | 80 CRI | 1949 lm | 70 | 27.7 W | Extra Wide, 68° FWHM, (1.1 SC) | |
| LTR-6SQD-H-ML30L-DM1_LTR-6SQD-T-ML35K8MDSS_LTR-6SQD-CE-WT | 3500 K | 80 CRI | 2684 lm | 78 | 34.3 W | Medium, 45° FWHM, (0.7 SC) | |
| LTR-6SQD-H-ML30L-DM1_LTR-6SQD-T-ML35K8NRSS_LTR-6SQD-CE-WT | 3500 K | 80 CRI | 2791 lm | 81 | 34.3 W | Narrow, 37° FWHM, (0.6 SC) | |
| LTR-6SQD-H-ML30L-DM1_LTR-6SQD-T-ML35K8VNRSS_LTR-6SQD-CE-WT | 3500 K | 80 CRI | 2739 lm | 80 | 34.3 W | Very Narrow, 26° FWHM, (0.4 SC) | |
| LTR-6SQD-H-ML30L-DM1_LTR-6SQD-T-ML35K8WDSS_LTR-6SQD-CE-WT | 3500 K | 80 CRI | 2508 lm | 73 | 34.3 W | Wide, 57° FWHM, (0.9 SC) | |
| LTR-6SQD-H-ML30L-DM1_LTR-6SQD-T-ML35K8XWSS_LTR-6SQD-CE-WT | 3500 K | 80 CRI | 2322 lm | 68 | 34.3 W | Extra Wide, 68° FWHM, (1.1 SC) | |
Show All