The One Advantage for the Convenience Store Marketplace
By Craig Allen, Retail Petroleum / C-Stores Vertical Manager
In the retail petroleum/convenience store market, efficiencies are the key to profitability. Time is money and every dollar spent on time dealing with additional vendors, wasting electricity on inefficient lighting, or the hassles of incompatible equipment means dollars are taken off the bottom line.
The efficiencies of a broad array of solutions is what gives us a strategic advantage to serve this market better than any other organization.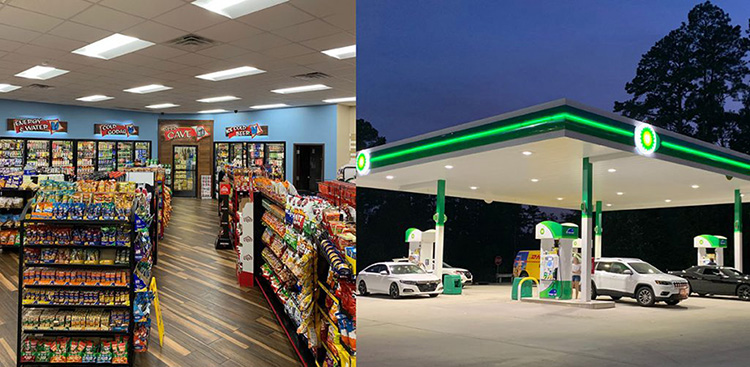 We manufacturer a line of products that address all the lighting, cabling and electrical needs of convenience store. It's called the "One" approach and it offers reliable, interoperable, and efficient power, lighting, and control equipment for retrofit and new convenience store construction projects.
It starts on the wall, in the canopies and ceilings and on the poles around the store. The entire portfolio of lighting brands that support these projects begins with WHITEWAY, a legacy brand ubiquitous in convenience stores that feature efficient LED technologies that save power and reduce maintenance overhead. The suite of outdoor solutions include canopy lighting over fuel dispensers, area lighting for parking and drive lanes, wallpacks to illuminate perimeters for safety and security and vaportite luminaires for carwash lighting.
Well-lit spaces through Current's wide range of fixture types means customers will have peace of mind seeing there is less opportunity for illicit activity around the facility.
In the facility our portfolio of brands cover lighting needs for general store spaces, decorative lighting for profit centers and efficient troffer and downlighting for back office and storerooms.
Where there's a need for lighting there's a need to control it. Controls bring ease of use as well as increase energy efficiency by supporting technologies such as daylight harvesting and occupancy sensing to utilize lighting only when needed.
Life safety and security? We have you covered there as well.
SpectraSafe™ lighting with integrated security cameras, and exit/emergency lighting, are additional solutions that help to create a safe environment for customers.
SpectraClean™ anti-microbial lighting can continuously disinfect a store from harmful microorganisms, adding anther layer of protection for those in the store.
We can also provide wiring infrastructure as well. Whether it be AC power items such as wiring, outlets, surge protection, and more; or video & computer networking cable, connectors, and patch bays, Current has solutions to meet those needs.
We also understand that all equipment, no matter how reliable, eventually needs maintenance. The organization is constantly improving its products ease of maintenance, because easier maintenance means greater uptime and a lower overall cost of ownership. In fact, there's more to come on this topic regarding canopy lighting in the future.
No matter what is planned for new construction or renovations, we are the complete provider for lighting and electrical products, saving time by being one comprehensive vendor, and eliminating frustration by providing products that are designed to work together seamlessly.
---
Craig Allen is the Retail Petroleum / C-Store Vertical Manager, with over 30 years' experience in the Petroleum Industry—nine of them in Petroleum lighting. With an accounting background, he and his wife have owned multiple successful businesses. He enjoys hunting, scuba diving and being a dad.
Page Category
Inspiration Page