Nelo Commercial Indoor Pendant Lighting

NELO is the culmination of Litecontrol's five decades of architectural slot experience and superior optical capabilities coupled with a modern, open design architecture.
---
two sizes

NELO 70L
2.5" x 3" nominal profile with 1.8" aperture

NELO+ 75L
4" x 4" nominal profile with 2.8" aperture

two distributions

Direct
Lambertian downlight distribution

Indirect/Direct
Lambertian (STD) or extruded acrylic indirect low peak angle (LPA) uplight distribution

two endcaps

Open (ECO) and Solid (ECC) designs available
---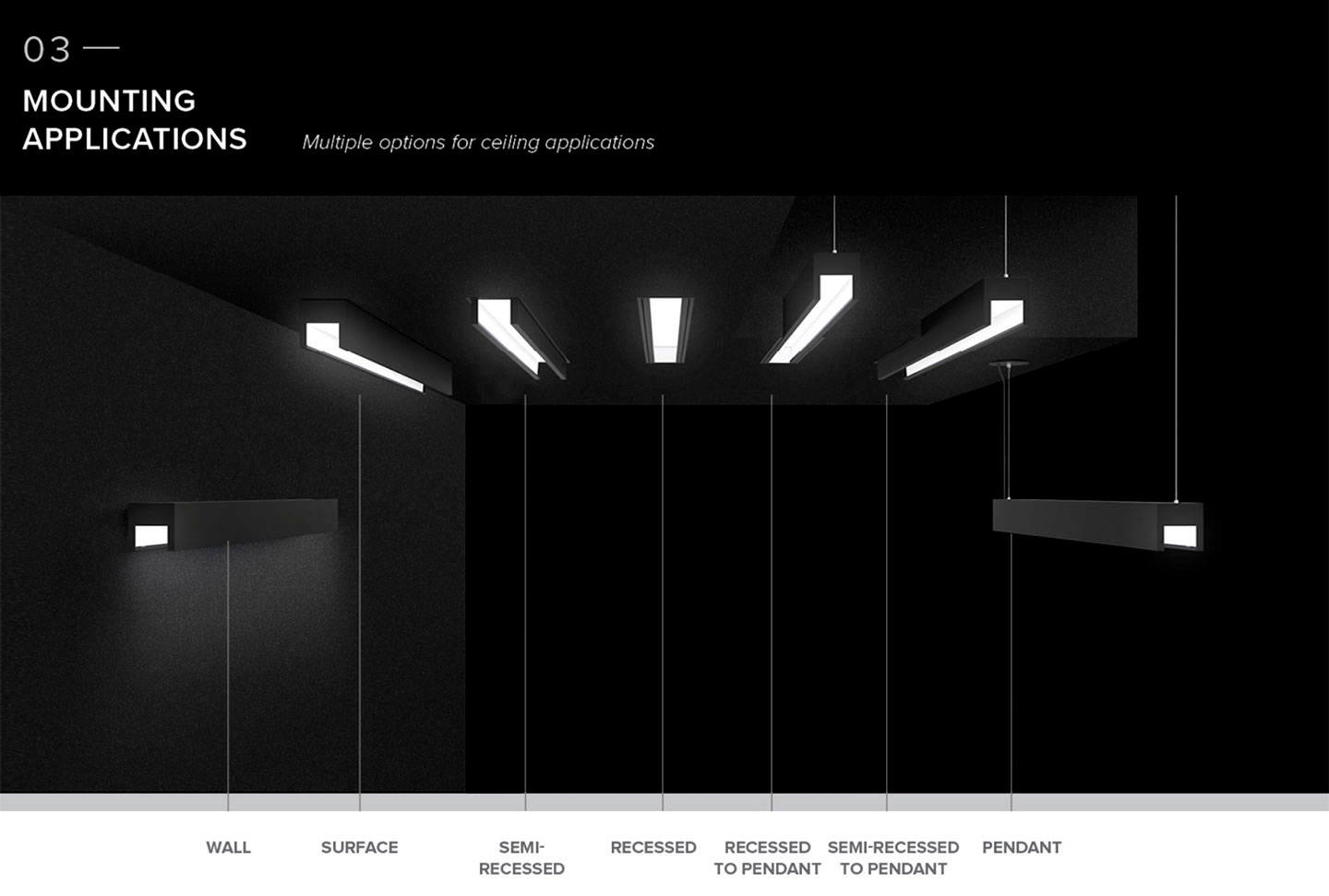 ---
 

row joining

Patent pending Con-Join (conical joiner) system ensures both vertical & horizontal alignment of mating fixture lengths. Litecontrol's Nelo fixture interlocking-tab design provides a reliable barrier to ensure any potential light leak is blocked.

remote enclosure

Nelo's 70L features a remote driver and battery enclosure to maintain a miniature cross section.
 

optic

High-reflectance matte white reflector insert provides excellent optical efficiency and unsurpassed uniformity.
---




SpectraSync™ is an easy and intuitive white tuning solution offered in two modes to accommodate a variety of applications.
DIM TO WARM
Dim to Warm mimics the familiar warming effect that occurs with traditional incandescent sources as they are dimmed. (Available with 2200K-3000K)
TUNABLE WHITE
Tunable White offers users the ability to tailor CCT to their personal preference, enhancing task visibility, material and colors, or the aesthetics of the space. (Available with 2700K-5000K or 2700K-6500K)
Resources and Downloads
Brochures
Installation/Instruction Manual (IOM)
BIM
| Product Name | Color Temp | CRI | Lumens | Lm/W | Watts | Dist. Type | Resources |
| --- | --- | --- | --- | --- | --- | --- | --- |
| 70L-X-D-4-CX-35K-D030-ECC | 3500 K | 80 CRI | 1200 lm | 109.1 | 11 W | Direct: Lambertian | |
| 70L-X-D-4-CX-35K-D035-ECC | 3500 K | 80 CRI | 1400 lm | 107.7 | 13 W | Direct: Lambertian | |
| 70L-X-D-4-CX-35K-D040-ECC | 3500 K | 80 CRI | 1600 lm | 114.3 | 14 W | Direct: Lambertian | |
| 70L-X-D-4-CX-35K-D045-ECC | 3500 K | 80 CRI | 1800 lm | 120.0 | 15 W | Direct: Lambertian | |
| 70L-X-D-4-CX-35K-D050-ECC | 3500 K | 80 CRI | 2000 lm | 117.6 | 17 W | Direct: Lambertian | |
| 70L-X-D-4-CX-35K-D055-ECC | 3500 K | 80 CRI | 2200 lm | 115.8 | 19 W | Direct: Lambertian | |
| 70L-X-D-4-CX-35K-D060-ECC | 3500 K | 80 CRI | 2400 lm | 120.0 | 20 W | Direct: Lambertian | |
| 70L-X-D-4-CX-35K-D065-ECC | 3500 K | 80 CRI | 2600 lm | 118.2 | 22 W | Direct: Lambertian | |
| 70L-X-D-4-CX-35K-D070-ECC | 3500 K | 80 CRI | 2800 lm | 121.7 | 23 W | Direct: Lambertian | |
| 70L-X-D-4-CX-35K-D075-ECC | 3500 K | 80 CRI | 3000 lm | 120.0 | 25 W | Direct: Lambertian | |
| 70L-X-D-4-CX-35K-D080-ECC | 3500 K | 80 CRI | 3200 lm | 118.5 | 27 W | Direct: Lambertian | |
| 70L-X-D-4-CX-35K-D085-ECC | 3500 K | 80 CRI | 3400 lm | 117.2 | 29 W | Direct: Lambertian | |
| 70L-X-D-4-CX-35K-D090-ECC | 3500 K | 80 CRI | 3600 lm | 116.1 | 31 W | Direct: Lambertian | |
| 70L-X-D-4-CX-35K-D095-ECC | 3500 K | 80 CRI | 3800 lm | 115.2 | 33 W | Direct: Lambertian | |
| 70L-X-D-4-CX-35K-D100-ECC | 3500 K | 80 CRI | 4000 lm | 114.3 | 35 W | Direct: Lambertian | |
| 70L-X-D-4-CX-35K-D105-ECC | 3500 K | 80 CRI | 4200 lm | 116.7 | 36 W | Direct: Lambertian | |
| 70L-X-D-4-CX-35K-D110-ECC | 3500 K | 80 CRI | 4400 lm | 115.8 | 38 W | Direct: Lambertian | |
| 70L-X-D-4-CX-35K-D115-ECC | 3500 K | 80 CRI | 4600 lm | 115.0 | 40 W | Direct: Lambertian | |
| 70L-X-D-4-CX-35K-D120-ECC | 3500 K | 80 CRI | 4800 lm | 114.3 | 42 W | Direct: Lambertian | |
Show More