COLUMBIA LIGHTING
Echelăn - ECH
The ECH is an industry-leading specification high bay providing superior performance and reliability. Available with integral NX Lighting Controls.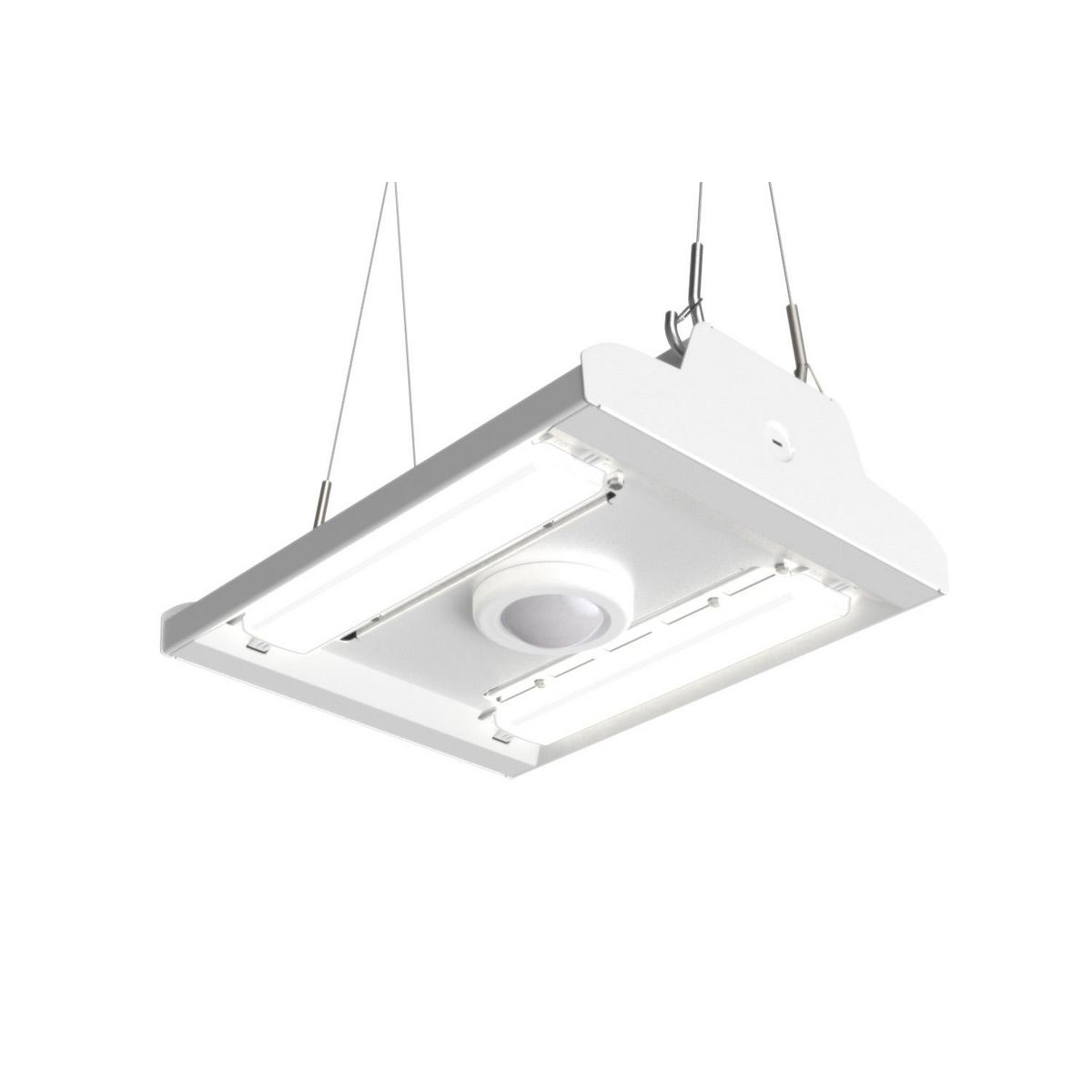 Features & Benefits
Industrial design delivers a small, lightweight fixture for ease of installation
Electrical architecture delivers industry leading efficiencies (up to 201 LPW) that translate into lowest life cycle cost
Designed for unconditioned spaces through a 55 °C ambient temperature rating and a -30°C rating for refrigerated spaces
Wide lumen range (up to 60K) to accommodates various ceiling heights, fixture spacings, and Fc specifications
Optical distribution choices deliver the right light to the right spot (horizontal, vertical, max/min) for your designs
Integrated sensor options for code compliance, increased energy savings, and connection to NX Lighting Controls systems
Optimized bulk packaging minimizes job site space requirements and eases waste removal
Uplight options available to illuminate ceiling and eliminate potential cave effect.
Specifications
Product Technology
NX Lighting Controls
Lumen Range
9,000 - 60,000
Dimming Protocol
0-10V Dimming
CCT Offering
3000, 3500, 4000, 5000
Mounting Options
Ceiling, Surface, Suspended, Pendant
Optics & Distributions
Narrow, Wide, Aisle, Diffuse
Certifications
UL, DLC 5.1 Standard, FCC, NOM
Ratings
IP20, Damp, TAA (Buy American 52.225-11), IK10
Specifications
Product Technology
NX Lighting Controls
Lumen Range
9,000 - 60,000
Dimming Protocol
0-10V Dimming
CCT Offering
3000, 3500, 4000, 5000
CRI Offering
70, 80, 90
Mounting Options
Ceiling, Surface, Suspended, Pendant
Wattage Range
49 - 380
Efficacy Range
135 - 201
Color Offering
White
Optics & Distributions
Narrow, Wide, Aisle, Diffuse
Certifications
UL, DLC 5.1 Standard, FCC, NOM
Ratings
IP20, Damp, TAA (Buy American 52.225-11), IK10
Photometry(
0

) Clear Filters
| Product Name | Color Temp | CRI | Lumens | LM/W | Watts | Dist. Type | Resources |
| --- | --- | --- | --- | --- | --- | --- | --- |
| ECH1-740-L09-CW-xxx_120-277V | 4000 K | 70 CRI | 9828 lm | 201 | 49 W | Wide | |
| ECH1-740-L09-CW-xxx_347-480V | 4000 K | 70 CRI | 9828 lm | 193 | 51 W | Wide | |
| ECH1-740-L09-DA-xxx_120-277V | 4000 K | 70 CRI | 9282 lm | 189 | 49 W | Aisle | |
| ECH1-740-L09-DA-xxx_347-480V | 4000 K | 70 CRI | 9282 lm | 182 | 51 W | Aisle | |
| ECH1-740-L09-DN-xxx_120-277V | 4000 K | 70 CRI | 9191 lm | 188 | 49 W | Narrow | |
| ECH1-740-L09-DN-xxx_347-480V | 4000 K | 70 CRI | 9191 lm | 180 | 51 W | Narrow | |
| ECH1-740-L09-DW-xxx_120-277V | 4000 K | 70 CRI | 9100 lm | 186 | 49 W | Wide | |
| ECH1-740-L09-DW-xxx_347-480V | 4000 K | 70 CRI | 9100 lm | 178 | 51 W | Wide | |
| ECH1-740-L12-CW-xxx_120-277V | 4000 K | 70 CRI | 13068 lm | 198 | 66 W | Wide | |
| ECH1-740-L12-CW-xxx_347-480V | 4000 K | 70 CRI | 13068 lm | 192 | 68 W | Wide | |
| ECH1-740-L12-DA-xxx_120-277V | 4000 K | 70 CRI | 12342 lm | 187 | 66 W | Aisle | |
| ECH1-740-L12-DA-xxx_347-480V | 4000 K | 70 CRI | 12342 lm | 182 | 68 W | Aisle | |
| ECH1-740-L12-DN-xxx_120-277V | 4000 K | 70 CRI | 12221 lm | 185 | 66 W | Narrow | |
| ECH1-740-L12-DN-xxx_347-480V | 4000 K | 70 CRI | 12221 lm | 180 | 68 W | Narrow | |
| ECH1-740-L12-DW-xxx_120-277V | 4000 K | 70 CRI | 12100 lm | 183 | 66 W | Wide | |
| ECH1-740-L12-DW-xxx_347-480V | 4000 K | 70 CRI | 12100 lm | 178 | 68 W | Wide | |
| ECH1-740-L15-CW-xxx_120-277V | 4000 K | 70 CRI | 16308 lm | 192 | 85 W | Wide | |
| ECH1-740-L15-CW-xxx_347-480V | 4000 K | 70 CRI | 16308 lm | 190 | 86 W | Wide | |
| ECH1-740-L15-DA-xxx_120-277V | 4000 K | 70 CRI | 15402 lm | 181 | 85 W | Aisle | |
| ECH1-740-L15-DA-xxx_347-480V | 4000 K | 70 CRI | 15402 lm | 179 | 86 W | Aisle | |
| ECH1-740-L15-DN-xxx_120-277V | 4000 K | 70 CRI | 15251 lm | 179 | 85 W | Narrow | |
| ECH1-740-L15-DN-xxx_347-480V | 4000 K | 70 CRI | 15251 lm | 177 | 86 W | Narrow | |
| ECH1-740-L15-DW-xxx_120-277V | 4000 K | 70 CRI | 15100 lm | 178 | 85 W | Wide | |
| ECH1-740-L15-DW-xxx_347-480V | 4000 K | 70 CRI | 15100 lm | 176 | 86 W | Wide | |
| ECH1-740-L18-CW-xxx_120-277V | 4000 K | 70 CRI | 19656 lm | 185 | 106 W | Wide | |
| ECH1-740-L18-CW-xxx_347-480V | 4000 K | 70 CRI | 19656 lm | 189 | 104 W | Wide | |
| ECH1-740-L18-DA-xxx_120-277V | 4000 K | 70 CRI | 18564 lm | 175 | 106 W | Aisle | |
| ECH1-740-L18-DA-xxx_347-480V | 4000 K | 70 CRI | 18564 lm | 179 | 104 W | Aisle | |
| ECH1-740-L18-DN-xxx_120-277V | 4000 K | 70 CRI | 18382 lm | 173 | 106 W | Narrow | |
| ECH1-740-L18-DN-xxx_347-480V | 4000 K | 70 CRI | 18382 lm | 177 | 104 W | Narrow | |
| ECH1-740-L18-DW-xxx_120-277V | 4000 K | 70 CRI | 18200 lm | 172 | 106 W | Wide | |
| ECH1-740-L18-DW-xxx_347-480V | 4000 K | 70 CRI | 18200 lm | 175 | 104 W | Wide | |
| ECH1-740-L24-CW-xxx_120-277V | 4000 K | 70 CRI | 25920 lm | 176 | 147 W | Wide | |
| ECH1-740-L24-CW-xxx_347-480V | 4000 K | 70 CRI | 25920 lm | 180 | 144 W | Wide | |
| ECH1-740-L24-DA-xxx_120-277V | 4000 K | 70 CRI | 24480 lm | 167 | 147 W | Aisle | |
| ECH1-740-L24-DA-xxx_347-480V | 4000 K | 70 CRI | 24480 lm | 170 | 144 W | Aisle | |
| ECH1-740-L24-DN-xxx_120-277V | 4000 K | 70 CRI | 24240 lm | 165 | 147 W | Narrow | |
| ECH1-740-L24-DN-xxx_347-480V | 4000 K | 70 CRI | 24240 lm | 168 | 144 W | Narrow | |
| ECH1-740-L24-DW-xxx_120-277V | 4000 K | 70 CRI | 24000 lm | 163 | 147 W | Wide | |
| ECH1-740-L24-DW-xxx_347-480V | 4000 K | 70 CRI | 24000 lm | 167 | 144 W | Wide | |
| ECH1-740-L30-CW-xxx_120-277V | 4000 K | 70 CRI | 32400 lm | 193 | 168 W | Wide | |
| ECH1-740-L30-CW-xxx_347-480V | 4000 K | 70 CRI | 32400 lm | 191 | 170 W | Wide | |
| ECH1-740-L30-DA-xxx_120-277V | 4000 K | 70 CRI | 30600 lm | 182 | 168 W | Aisle | |
| ECH1-740-L30-DA-xxx_347-480V | 4000 K | 70 CRI | 30600 lm | 180 | 170 W | Aisle | |
| ECH1-740-L30-DN-xxx_120-277V | 4000 K | 70 CRI | 30300 lm | 180 | 168 W | Narrow | |
| ECH1-740-L30-DN-xxx_347-480V | 4000 K | 70 CRI | 30300 lm | 178 | 170 W | Narrow | |
| ECH1-740-L30-DW-xxx_120-277V | 4000 K | 70 CRI | 30000 lm | 179 | 168 W | Wide | |
| ECH1-740-L30-DW-xxx_347-480V | 4000 K | 70 CRI | 30000 lm | 176 | 170 W | Wide | |
| ECH1-740-L36-CW-xxx_120-277V | 4000 K | 70 CRI | 39312 lm | 185 | 212 W | Wide | |
| ECH1-740-L36-CW-xxx_347-480V | 4000 K | 70 CRI | 39312 lm | 188 | 209 W | Wide | |
| ECH1-740-L36-DA-xxx_120-277V | 4000 K | 70 CRI | 37128 lm | 175 | 212 W | Aisle | |
| ECH1-740-L36-DA-xxx_347-480V | 4000 K | 70 CRI | 37128 lm | 178 | 209 W | Aisle | |
| ECH1-740-L36-DN-xxx_120-277V | 4000 K | 70 CRI | 36764 lm | 173 | 212 W | Narrow | |
| ECH1-740-L36-DN-xxx_347-480V | 4000 K | 70 CRI | 36764 lm | 176 | 209 W | Narrow | |
| ECH1-740-L36-DW-xxx_120-277V | 4000 K | 70 CRI | 36400 lm | 172 | 212 W | Wide | |
| ECH1-740-L36-DW-xxx_347-480V | 4000 K | 70 CRI | 36400 lm | 174 | 209 W | Wide | |
| ECH1-740-L48-CW-xxx_120-277V | 4000 K | 70 CRI | 51840 lm | 176 | 294 W | Wide | |
| ECH1-740-L48-CW-xxx_347-480V | 4000 K | 70 CRI | 51840 lm | 179 | 289 W | Wide | |
| ECH1-740-L48-DA-xxx_120-277V | 4000 K | 70 CRI | 48960 lm | 167 | 294 W | Aisle | |
| ECH1-740-L48-DA-xxx_347-480V | 4000 K | 70 CRI | 48960 lm | 169 | 289 W | Aisle | |
| ECH1-740-L48-DN-xxx_120-277V | 4000 K | 70 CRI | 48480 lm | 165 | 294 W | Narrow | |
| ECH1-740-L48-DN-xxx_347-480V | 4000 K | 70 CRI | 48480 lm | 168 | 289 W | Narrow | |
| ECH1-740-L48-DW-xxx_120-277V | 4000 K | 70 CRI | 48000 lm | 163 | 294 W | Wide | |
| ECH1-740-L48-DW-xxx_347-480V | 4000 K | 70 CRI | 48000 lm | 166 | 289 W | Wide | |
| ECH1-740-L60-CW-xxx_120-277V | 4000 K | 70 CRI | 65124 lm | 190 | 343 W | Wide | |
| ECH1-740-L60-CW-xxx_347-480V | 4000 K | 70 CRI | 65124 lm | 194 | 336 W | Wide | |
| ECH1-740-L60-DA-xxx_120-277V | 4000 K | 70 CRI | 61506 lm | 179 | 343 W | Aisle | |
| ECH1-740-L60-DA-xxx_347-480V | 4000 K | 70 CRI | 61506 lm | 183 | 336 W | Aisle | |
| ECH1-740-L60-DN-xxx_120-277V | 4000 K | 70 CRI | 60903 lm | 178 | 343 W | Narrow | |
| ECH1-740-L60-DN-xxx_347-480V | 4000 K | 70 CRI | 60903 lm | 181 | 336 W | Narrow | |
| ECH1-740-L60-DW-xxx_120-277V | 4000 K | 70 CRI | 60300 lm | 176 | 343 W | Wide | |
| ECH1-740-L60-DW-xxx_347-480V | 4000 K | 70 CRI | 60300 lm | 179 | 336 W | Wide | |
| ECH1-750-L09-CW-xxx_120-277V | 5000 K | 70 CRI | 9828 lm | 201 | 49 W | Wide | |
| ECH1-750-L09-CW-xxx_347-480V | 5000 K | 70 CRI | 9828 lm | 193 | 51 W | Wide | |
| ECH1-750-L09-DA-xxx_120-277V | 5000 K | 70 CRI | 9282 lm | 189 | 49 W | Aisle | |
| ECH1-750-L09-DA-xxx_347-480V | 5000 K | 70 CRI | 9282 lm | 182 | 51 W | Aisle | |
| ECH1-750-L09-DN-xxx_120-277V | 5000 K | 70 CRI | 9191 lm | 188 | 49 W | Narrow | |
| ECH1-750-L09-DN-xxx_347-480V | 5000 K | 70 CRI | 9191 lm | 180 | 51 W | Narrow | |
| ECH1-750-L09-DW-xxx_120-277V | 5000 K | 70 CRI | 9100 lm | 186 | 49 W | Wide | |
| ECH1-750-L09-DW-xxx_347-480V | 5000 K | 70 CRI | 9100 lm | 178 | 51 W | Wide | |
| ECH1-750-L12-CW-xxx_120-277V | 5000 K | 70 CRI | 13068 lm | 198 | 66 W | Wide | |
| ECH1-750-L12-CW-xxx_347-480V | 5000 K | 70 CRI | 13068 lm | 192 | 68 W | Wide | |
| ECH1-750-L12-DA-xxx_120-277V | 5000 K | 70 CRI | 12342 lm | 187 | 66 W | Aisle | |
| ECH1-750-L12-DA-xxx_347-480V | 5000 K | 70 CRI | 12342 lm | 182 | 68 W | Aisle | |
| ECH1-750-L12-DN-xxx_120-277V | 5000 K | 70 CRI | 12221 lm | 185 | 66 W | Narrow | |
| ECH1-750-L12-DN-xxx_347-480V | 5000 K | 70 CRI | 12221 lm | 180 | 68 W | Narrow | |
| ECH1-750-L12-DW-xxx_120-277V | 5000 K | 70 CRI | 12100 lm | 183 | 66 W | Wide | |
| ECH1-750-L12-DW-xxx_347-480V | 5000 K | 70 CRI | 12100 lm | 178 | 68 W | Wide | |
| ECH1-750-L15-CW-xxx_120-277V | 5000 K | 70 CRI | 16308 lm | 192 | 85 W | Wide | |
| ECH1-750-L15-CW-xxx_347-480V | 5000 K | 70 CRI | 16308 lm | 190 | 86 W | Wide | |
| ECH1-750-L15-DA-xxx_120-277V | 5000 K | 70 CRI | 15402 lm | 181 | 85 W | Aisle | |
| ECH1-750-L15-DA-xxx_347-480V | 5000 K | 70 CRI | 15402 lm | 179 | 86 W | Aisle | |
| ECH1-750-L15-DN-xxx_120-277V | 5000 K | 70 CRI | 15251 lm | 179 | 85 W | Narrow | |
| ECH1-750-L15-DN-xxx_347-480V | 5000 K | 70 CRI | 15251 lm | 177 | 86 W | Narrow | |
| ECH1-750-L15-DW-xxx_120-277V | 5000 K | 70 CRI | 15100 lm | 178 | 85 W | Wide | |
| ECH1-750-L15-DW-xxx_347-480V | 5000 K | 70 CRI | 15100 lm | 176 | 86 W | Wide | |
| ECH1-750-L18-CW-xxx_120-277V | 5000 K | 70 CRI | 19656 lm | 185 | 106 W | Wide | |
| ECH1-750-L18-CW-xxx_347-480V | 5000 K | 70 CRI | 19656 lm | 189 | 104 W | Wide | |
| ECH1-750-L18-DA-xxx_120-277V | 5000 K | 70 CRI | 18564 lm | 175 | 106 W | Aisle | |
| ECH1-750-L18-DA-xxx_347-480V | 5000 K | 70 CRI | 18564 lm | 179 | 104 W | Aisle | |
| ECH1-750-L18-DN-xxx_120-277V | 5000 K | 70 CRI | 18382 lm | 173 | 106 W | Narrow | |
| ECH1-750-L18-DN-xxx_347-480V | 5000 K | 70 CRI | 18382 lm | 177 | 104 W | Narrow | |
| ECH1-750-L18-DW-xxx_120-277V | 5000 K | 70 CRI | 18200 lm | 172 | 106 W | Wide | |
| ECH1-750-L18-DW-xxx_347-480V | 5000 K | 70 CRI | 18200 lm | 175 | 104 W | Wide | |
| ECH1-750-L24-CW-xxx_120-277V | 5000 K | 70 CRI | 25920 lm | 176 | 147 W | Wide | |
| ECH1-750-L24-CW-xxx_347-480V | 5000 K | 70 CRI | 25920 lm | 180 | 144 W | Wide | |
| ECH1-750-L24-DA-xxx_120-277V | 5000 K | 70 CRI | 24480 lm | 167 | 147 W | Aisle | |
| ECH1-750-L24-DA-xxx_347-480V | 5000 K | 70 CRI | 24480 lm | 170 | 144 W | Aisle | |
| ECH1-750-L24-DN-xxx_120-277V | 5000 K | 70 CRI | 24240 lm | 165 | 147 W | Narrow | |
| ECH1-750-L24-DN-xxx_347-480V | 5000 K | 70 CRI | 24240 lm | 168 | 144 W | Narrow | |
| ECH1-750-L24-DW-xxx_120-277V | 5000 K | 70 CRI | 24000 lm | 163 | 147 W | Wide | |
| ECH1-750-L24-DW-xxx_347-480V | 5000 K | 70 CRI | 24000 lm | 167 | 144 W | Wide | |
| ECH1-750-L30-CW-xxx_120-277V | 5000 K | 70 CRI | 32400 lm | 193 | 168 W | Wide | |
| ECH1-750-L30-CW-xxx_347-480V | 5000 K | 70 CRI | 32400 lm | 191 | 170 W | Wide | |
| ECH1-750-L30-DA-xxx_120-277V | 5000 K | 70 CRI | 30600 lm | 182 | 168 W | Aisle | |
| ECH1-750-L30-DA-xxx_347-480V | 5000 K | 70 CRI | 30600 lm | 180 | 170 W | Aisle | |
| ECH1-750-L30-DN-xxx_120-277V | 5000 K | 70 CRI | 30300 lm | 180 | 168 W | Narrow | |
| ECH1-750-L30-DN-xxx_347-480V | 5000 K | 70 CRI | 30300 lm | 178 | 170 W | Narrow | |
| ECH1-750-L30-DW-xxx_120-277V | 5000 K | 70 CRI | 30000 lm | 179 | 168 W | Wide | |
| ECH1-750-L30-DW-xxx_347-480V | 5000 K | 70 CRI | 30000 lm | 176 | 170 W | Wide | |
| ECH1-750-L36-DW-xxx_120-277V | 5000 K | 70 CRI | 36400 lm | 172 | 212 W | Wide | |
| ECH1-750-L36-DW-xxx_347-480V | 5000 K | 70 CRI | 36400 lm | 174 | 209 W | Wide | |
| ECH1-750-L48-CW-xxx_120-277V | 5000 K | 70 CRI | 51840 lm | 176 | 294 W | Wide | |
| ECH1-750-L48-CW-xxx_347-480V | 5000 K | 70 CRI | 51840 lm | 179 | 289 W | Wide | |
| ECH1-750-L48-DA-xxx_120-277V | 5000 K | 70 CRI | 48960 lm | 167 | 294 W | Aisle | |
| ECH1-750-L48-DA-xxx_347-480V | 5000 K | 70 CRI | 48960 lm | 169 | 289 W | Aisle | |
| ECH1-750-L48-DN-xxx_120-277V | 5000 K | 70 CRI | 48480 lm | 165 | 294 W | Narrow | |
| ECH1-750-L48-DN-xxx_347-480V | 5000 K | 70 CRI | 48480 lm | 168 | 289 W | Narrow | |
| ECH1-750-L48-DW-xxx_120-277V | 5000 K | 70 CRI | 48000 lm | 163 | 294 W | Wide | |
| ECH1-750-L48-DW-xxx_347-480V | 5000 K | 70 CRI | 48000 lm | 166 | 289 W | Wide | |
| ECH1-750-L60-CW-xxx_120-277V | 5000 K | 70 CRI | 65124 lm | 190 | 343 W | Wide | |
| ECH1-750-L60-CW-xxx_347-480V | 5000 K | 70 CRI | 65124 lm | 194 | 336 W | Wide | |
| ECH1-750-L60-DA-xxx_120-277V | 5000 K | 70 CRI | 61506 lm | 179 | 343 W | Aisle | |
| ECH1-750-L60-DA-xxx_347-480V | 5000 K | 70 CRI | 61506 lm | 183 | 336 W | Aisle | |
| ECH1-750-L60-DN-xxx_120-277V | 5000 K | 70 CRI | 60903 lm | 178 | 343 W | Narrow | |
| ECH1-750-L60-DN-xxx_347-480V | 5000 K | 70 CRI | 60903 lm | 181 | 336 W | Narrow | |
| ECH1-750-L60-DW-xxx_120-277V | 5000 K | 70 CRI | 60300 lm | 176 | 343 W | Wide | |
| ECH1-750-L60-DW-xxx_347-480V | 5000 K | 70 CRI | 60300 lm | 179 | 336 W | Wide | |
| ECH1-830-L09-CW-xxx_120-277V | 3000 K | 80 CRI | 9180 lm | 173 | 53 W | Wide | |
| ECH1-830-L09-CW-xxx_347-480V | 3000 K | 80 CRI | 9180 lm | 164 | 56 W | Wide | |
| ECH1-830-L09-DA-xxx_120-277V | 3000 K | 80 CRI | 8670 lm | 164 | 53 W | Aisle | |
| ECH1-830-L09-DA-xxx_347-480V | 3000 K | 80 CRI | 8670 lm | 155 | 56 W | Aisle | |
| ECH1-830-L09-DN-xxx_120-277V | 3000 K | 80 CRI | 8585 lm | 162 | 53 W | Narrow | |
| ECH1-830-L09-DN-xxx_347-480V | 3000 K | 80 CRI | 8585 lm | 153 | 56 W | Narrow | |
| ECH1-830-L09-DW-xxx_120-277V | 3000 K | 80 CRI | 8500 lm | 160 | 53 W | Wide | |
| ECH1-830-L09-DW-xxx_347-480V | 3000 K | 80 CRI | 8500 lm | 152 | 56 W | Wide | |
| ECH1-830-L12-CW-xxx_120-277V | 3000 K | 80 CRI | 12312 lm | 171 | 72 W | Wide | |
| ECH1-830-L12-CW-xxx_347-480V | 3000 K | 80 CRI | 12312 lm | 166 | 74 W | Wide | |
| ECH1-830-L12-DA-xxx_120-277V | 3000 K | 80 CRI | 11628 lm | 162 | 72 W | Aisle | |
| ECH1-830-L12-DA-xxx_347-480V | 3000 K | 80 CRI | 11628 lm | 157 | 74 W | Aisle | |
| ECH1-830-L12-DN-xxx_120-277V | 3000 K | 80 CRI | 11514 lm | 160 | 72 W | Narrow | |
| ECH1-830-L12-DN-xxx_347-480V | 3000 K | 80 CRI | 11514 lm | 156 | 74 W | Narrow | |
| ECH1-830-L12-DW-xxx_120-277V | 3000 K | 80 CRI | 11400 lm | 158 | 72 W | Wide | |
| ECH1-830-L12-DW-xxx_347-480V | 3000 K | 80 CRI | 11400 lm | 154 | 74 W | Wide | |
| ECH1-830-L15-CW-xxx_120-277V | 3000 K | 80 CRI | 15444 lm | 164 | 94 W | Wide | |
| ECH1-830-L15-CW-xxx_347-480V | 3000 K | 80 CRI | 15444 lm | 166 | 93 W | Wide | |
| ECH1-830-L15-DA-xxx_120-277V | 3000 K | 80 CRI | 14586 lm | 155 | 94 W | Aisle | |
| ECH1-830-L15-DA-xxx_347-480V | 3000 K | 80 CRI | 14586 lm | 157 | 93 W | Aisle | |
| ECH1-830-L15-DN-xxx_120-277V | 3000 K | 80 CRI | 14443 lm | 154 | 94 W | Narrow | |
| ECH1-830-L15-DN-xxx_347-480V | 3000 K | 80 CRI | 14443 lm | 155 | 93 W | Narrow | |
| ECH1-830-L15-DW-xxx_120-277V | 3000 K | 80 CRI | 14300 lm | 152 | 94 W | Wide | |
| ECH1-830-L15-DW-xxx_347-480V | 3000 K | 80 CRI | 14300 lm | 154 | 93 W | Wide | |
| ECH1-830-L18-CW-xxx_120-277V | 3000 K | 80 CRI | 18576 lm | 160 | 116 W | Wide | |
| ECH1-830-L18-CW-xxx_347-480V | 3000 K | 80 CRI | 18576 lm | 163 | 114 W | Wide | |
| ECH1-830-L18-DA-xxx_120-277V | 3000 K | 80 CRI | 17544 lm | 151 | 116 W | Aisle | |
| ECH1-830-L18-DA-xxx_347-480V | 3000 K | 80 CRI | 17544 lm | 154 | 114 W | Aisle | |
| ECH1-830-L18-DN-xxx_120-277V | 3000 K | 80 CRI | 17372 lm | 150 | 116 W | Narrow | |
| ECH1-830-L18-DN-xxx_347-480V | 3000 K | 80 CRI | 17372 lm | 152 | 114 W | Narrow | |
| ECH1-830-L18-DW-xxx_120-277V | 3000 K | 80 CRI | 17200 lm | 148 | 116 W | Wide | |
| ECH1-830-L18-DW-xxx_347-480V | 3000 K | 80 CRI | 17200 lm | 151 | 114 W | Wide | |
| ECH1-830-L24-CW-xxx_120-277V | 3000 K | 80 CRI | 24408 lm | 149 | 164 W | Wide | |
| ECH1-830-L24-CW-xxx_347-480V | 3000 K | 80 CRI | 24408 lm | 152 | 161 W | Wide | |
| ECH1-830-L24-DA-xxx_120-277V | 3000 K | 80 CRI | 23052 lm | 141 | 164 W | Aisle | |
| ECH1-830-L24-DA-xxx_347-480V | 3000 K | 80 CRI | 23052 lm | 143 | 161 W | Aisle | |
| ECH1-830-L24-DN-xxx_120-277V | 3000 K | 80 CRI | 22826 lm | 139 | 164 W | Narrow | |
| ECH1-830-L24-DN-xxx_347-480V | 3000 K | 80 CRI | 22826 lm | 142 | 161 W | Narrow | |
| ECH1-830-L24-DW-xxx_120-277V | 3000 K | 80 CRI | 22600 lm | 138 | 164 W | Wide | |
| ECH1-830-L24-DW-xxx_347-480V | 3000 K | 80 CRI | 22600 lm | 140 | 161 W | Wide | |
| ECH1-830-L30-CW-xxx_120-277V | 3000 K | 80 CRI | 30564 lm | 164 | 186 W | Wide | |
| ECH1-830-L30-CW-xxx_347-480V | 3000 K | 80 CRI | 30564 lm | 165 | 185 W | Wide | |
| ECH1-830-L30-DA-xxx_120-277V | 3000 K | 80 CRI | 28866 lm | 155 | 186 W | Aisle | |
| ECH1-830-L30-DA-xxx_347-480V | 3000 K | 80 CRI | 28866 lm | 156 | 185 W | Aisle | |
| ECH1-830-L30-DN-xxx_120-277V | 3000 K | 80 CRI | 28583 lm | 154 | 186 W | Narrow | |
| ECH1-830-L30-DN-xxx_347-480V | 3000 K | 80 CRI | 28583 lm | 155 | 185 W | Narrow | |
| ECH1-830-L30-DW-xxx_120-277V | 3000 K | 80 CRI | 28300 lm | 152 | 186 W | Wide | |
| ECH1-830-L30-DW-xxx_347-480V | 3000 K | 80 CRI | 28300 lm | 153 | 185 W | Wide | |
| ECH1-830-L36-CW-xxx_120-277V | 3000 K | 80 CRI | 37044 lm | 160 | 232 W | Wide | |
| ECH1-830-L36-CW-xxx_347-480V | 3000 K | 80 CRI | 37044 lm | 162 | 229 W | Wide | |
| ECH1-830-L36-DA-xxx_120-277V | 3000 K | 80 CRI | 34986 lm | 151 | 232 W | Aisle | |
| ECH1-830-L36-DA-xxx_347-480V | 3000 K | 80 CRI | 34986 lm | 153 | 229 W | Aisle | |
| ECH1-830-L36-DN-xxx_120-277V | 3000 K | 80 CRI | 34643 lm | 149 | 232 W | Narrow | |
| ECH1-830-L36-DN-xxx_347-480V | 3000 K | 80 CRI | 34643 lm | 151 | 229 W | Narrow | |
| ECH1-830-L36-DW-xxx_120-277V | 3000 K | 80 CRI | 34300 lm | 148 | 232 W | Wide | |
| ECH1-830-L36-DW-xxx_347-480V | 3000 K | 80 CRI | 34300 lm | 150 | 229 W | Wide | |
| ECH1-830-L48-CW-xxx_120-277V | 3000 K | 80 CRI | 48816 lm | 149 | 328 W | Wide | |
| ECH1-830-L48-CW-xxx_347-480V | 3000 K | 80 CRI | 48816 lm | 152 | 322 W | Wide | |
| ECH1-830-L48-DA-xxx_120-277V | 3000 K | 80 CRI | 46104 lm | 141 | 328 W | Aisle | |
| ECH1-830-L48-DA-xxx_347-480V | 3000 K | 80 CRI | 46104 lm | 143 | 322 W | Aisle | |
| ECH1-830-L48-DN-xxx_120-277V | 3000 K | 80 CRI | 45652 lm | 139 | 328 W | Narrow | |
| ECH1-830-L48-DN-xxx_347-480V | 3000 K | 80 CRI | 45652 lm | 142 | 322 W | Narrow | |
| ECH1-830-L48-DW-xxx_120-277V | 3000 K | 80 CRI | 45200 lm | 138 | 328 W | Wide | |
| ECH1-830-L48-DW-xxx_347-480V | 3000 K | 80 CRI | 45200 lm | 140 | 322 W | Wide | |
| ECH1-830-L60-CW-xxx_120-277V | 3000 K | 80 CRI | 61236 lm | 161 | 380 W | Wide | |
| ECH1-830-L60-CW-xxx_347-480V | 3000 K | 80 CRI | 61236 lm | 165 | 372 W | Wide | |
| ECH1-830-L60-DA-xxx_120-277V | 3000 K | 80 CRI | 57834 lm | 152 | 380 W | Aisle | |
| ECH1-830-L60-DA-xxx_347-480V | 3000 K | 80 CRI | 57834 lm | 155 | 372 W | Aisle | |
| ECH1-830-L60-DN-xxx_120-277V | 3000 K | 80 CRI | 57267 lm | 151 | 380 W | Narrow | |
| ECH1-830-L60-DN-xxx_347-480V | 3000 K | 80 CRI | 57267 lm | 154 | 372 W | Narrow | |
| ECH1-830-L60-DW-xxx_120-277V | 3000 K | 80 CRI | 56700 lm | 149 | 380 W | Wide | |
| ECH1-830-L60-DW-xxx_347-480V | 3000 K | 80 CRI | 56700 lm | 152 | 372 W | Wide | |
| ECH1-835-L09-CW-xxx_120-277V | 3500 K | 80 CRI | 9504 lm | 179 | 53 W | Wide | |
| ECH1-835-L09-CW-xxx_347-480V | 3500 K | 80 CRI | 9504 lm | 170 | 56 W | Wide | |
| ECH1-835-L09-DA-xxx_120-277V | 3500 K | 80 CRI | 8976 lm | 169 | 53 W | Aisle | |
| ECH1-835-L09-DA-xxx_347-480V | 3500 K | 80 CRI | 8976 lm | 160 | 56 W | Aisle | |
| ECH1-835-L09-DN-xxx_120-277V | 3500 K | 80 CRI | 8888 lm | 168 | 53 W | Narrow | |
| ECH1-835-L09-DN-xxx_347-480V | 3500 K | 80 CRI | 8888 lm | 159 | 56 W | Narrow | |
| ECH1-835-L09-DW-xxx_120-277V | 3500 K | 80 CRI | 8800 lm | 166 | 53 W | Wide | |
| ECH1-835-L09-DW-xxx_347-480V | 3500 K | 80 CRI | 8800 lm | 157 | 56 W | Wide | |
| ECH1-835-L12-CW-xxx_120-277V | 3500 K | 80 CRI | 12852 lm | 179 | 72 W | Wide | |
| ECH1-835-L12-CW-xxx_347-480V | 3500 K | 80 CRI | 12852 lm | 174 | 74 W | Wide | |
| ECH1-835-L12-DA-xxx_120-277V | 3500 K | 80 CRI | 12138 lm | 169 | 72 W | Aisle | |
| ECH1-835-L12-DA-xxx_347-480V | 3500 K | 80 CRI | 12138 lm | 164 | 74 W | Aisle | |
| ECH1-835-L12-DN-xxx_120-277V | 3500 K | 80 CRI | 12019 lm | 167 | 72 W | Narrow | |
| ECH1-835-L12-DN-xxx_347-480V | 3500 K | 80 CRI | 12019 lm | 162 | 74 W | Narrow | |
| ECH1-835-L12-DW-xxx_120-277V | 3500 K | 80 CRI | 11900 lm | 165 | 72 W | Wide | |
| ECH1-835-L12-DW-xxx_347-480V | 3500 K | 80 CRI | 11900 lm | 161 | 74 W | Wide | |
| ECH1-835-L15-CW-xxx_120-277V | 3500 K | 80 CRI | 15984 lm | 170 | 94 W | Wide | |
| ECH1-835-L15-CW-xxx_347-480V | 3500 K | 80 CRI | 15984 lm | 172 | 93 W | Wide | |
| ECH1-835-L15-DA-xxx_120-277V | 3500 K | 80 CRI | 15096 lm | 161 | 94 W | Aisle | |
| ECH1-835-L15-DA-xxx_347-480V | 3500 K | 80 CRI | 15096 lm | 162 | 93 W | Aisle | |
| ECH1-835-L15-DN-xxx_120-277V | 3500 K | 80 CRI | 14948 lm | 159 | 94 W | Narrow | |
| ECH1-835-L15-DN-xxx_347-480V | 3500 K | 80 CRI | 14948 lm | 161 | 93 W | Narrow | |
| ECH1-835-L15-DW-xxx_120-277V | 3500 K | 80 CRI | 14800 lm | 157 | 94 W | Wide | |
| ECH1-835-L15-DW-xxx_347-480V | 3500 K | 80 CRI | 14800 lm | 159 | 93 W | Wide | |
| ECH1-835-L18-CW-xxx_120-277V | 3500 K | 80 CRI | 19224 lm | 166 | 116 W | Wide | |
| ECH1-835-L18-CW-xxx_347-480V | 3500 K | 80 CRI | 19224 lm | 169 | 114 W | Wide | |
| ECH1-835-L18-DA-xxx_120-277V | 3500 K | 80 CRI | 18156 lm | 157 | 116 W | Aisle | |
| ECH1-835-L18-DA-xxx_347-480V | 3500 K | 80 CRI | 18156 lm | 159 | 114 W | Aisle | |
| ECH1-835-L18-DN-xxx_120-277V | 3500 K | 80 CRI | 17978 lm | 155 | 116 W | Narrow | |
| ECH1-835-L18-DN-xxx_347-480V | 3500 K | 80 CRI | 17978 lm | 158 | 114 W | Narrow | |
| ECH1-835-L18-DW-xxx_120-277V | 3500 K | 80 CRI | 17800 lm | 153 | 116 W | Wide | |
| ECH1-835-L18-DW-xxx_347-480V | 3500 K | 80 CRI | 17800 lm | 156 | 114 W | Wide | |
| ECH1-835-L24-CW-xxx_120-277V | 3500 K | 80 CRI | 25380 lm | 155 | 164 W | Wide | |
| ECH1-835-L24-CW-xxx_347-480V | 3500 K | 80 CRI | 25380 lm | 158 | 161 W | Wide | |
| ECH1-835-L24-DA-xxx_120-277V | 3500 K | 80 CRI | 23970 lm | 146 | 164 W | Aisle | |
| ECH1-835-L24-DA-xxx_347-480V | 3500 K | 80 CRI | 23970 lm | 149 | 161 W | Aisle | |
| ECH1-835-L24-DN-xxx_120-277V | 3500 K | 80 CRI | 23735 lm | 145 | 164 W | Narrow | |
| ECH1-835-L24-DN-xxx_347-480V | 3500 K | 80 CRI | 23735 lm | 147 | 161 W | Narrow | |
| ECH1-835-L24-DW-xxx_120-277V | 3500 K | 80 CRI | 23500 lm | 143 | 164 W | Wide | |
| ECH1-835-L24-DW-xxx_347-480V | 3500 K | 80 CRI | 23500 lm | 146 | 161 W | Wide | |
| ECH1-835-L30-CW-xxx_120-277V | 3500 K | 80 CRI | 31644 lm | 170 | 186 W | Wide | |
| ECH1-835-L30-CW-xxx_347-480V | 3500 K | 80 CRI | 31644 lm | 171 | 185 W | Wide | |
| ECH1-835-L30-DA-xxx_120-277V | 3500 K | 80 CRI | 29886 lm | 161 | 186 W | Aisle | |
| ECH1-835-L30-DA-xxx_347-480V | 3500 K | 80 CRI | 29886 lm | 162 | 185 W | Aisle | |
| ECH1-835-L30-DN-xxx_120-277V | 3500 K | 80 CRI | 29593 lm | 159 | 186 W | Narrow | |
| ECH1-835-L30-DN-xxx_347-480V | 3500 K | 80 CRI | 29593 lm | 160 | 185 W | Narrow | |
| ECH1-835-L30-DW-xxx_120-277V | 3500 K | 80 CRI | 29300 lm | 158 | 186 W | Wide | |
| ECH1-835-L30-DW-xxx_347-480V | 3500 K | 80 CRI | 29300 lm | 158 | 185 W | Wide | |
| ECH1-835-L36-CW-xxx_120-277V | 3500 K | 80 CRI | 38448 lm | 166 | 232 W | Wide | |
| ECH1-835-L36-CW-xxx_347-480V | 3500 K | 80 CRI | 38448 lm | 168 | 229 W | Wide | |
| ECH1-835-L36-DA-xxx_120-277V | 3500 K | 80 CRI | 36312 lm | 157 | 232 W | Aisle | |
| ECH1-835-L36-DA-xxx_347-480V | 3500 K | 80 CRI | 36312 lm | 159 | 229 W | Aisle | |
| ECH1-835-L36-DN-xxx_120-277V | 3500 K | 80 CRI | 35956 lm | 155 | 232 W | Narrow | |
| ECH1-835-L36-DN-xxx_347-480V | 3500 K | 80 CRI | 35956 lm | 157 | 229 W | Narrow | |
| ECH1-835-L36-DW-xxx_120-277V | 3500 K | 80 CRI | 35600 lm | 153 | 232 W | Wide | |
| ECH1-835-L36-DW-xxx_347-480V | 3500 K | 80 CRI | 35600 lm | 155 | 229 W | Wide | |
| ECH1-835-L48-CW-xxx_120-277V | 3500 K | 80 CRI | 50652 lm | 154 | 328 W | Wide | |
| ECH1-835-L48-CW-xxx_347-480V | 3500 K | 80 CRI | 50652 lm | 157 | 322 W | Wide | |
| ECH1-835-L48-DA-xxx_120-277V | 3500 K | 80 CRI | 47838 lm | 146 | 328 W | Aisle | |
| ECH1-835-L48-DA-xxx_347-480V | 3500 K | 80 CRI | 47838 lm | 149 | 322 W | Aisle | |
| ECH1-835-L48-DN-xxx_120-277V | 3500 K | 80 CRI | 47369 lm | 144 | 328 W | Narrow | |
| ECH1-835-L48-DN-xxx_347-480V | 3500 K | 80 CRI | 47369 lm | 147 | 322 W | Narrow | |
| ECH1-835-L48-DW-xxx_120-277V | 3500 K | 80 CRI | 46900 lm | 143 | 328 W | Wide | |
| ECH1-835-L48-DW-xxx_347-480V | 3500 K | 80 CRI | 46900 lm | 146 | 322 W | Wide | |
| ECH1-835-L60-CW-xxx_120-277V | 3500 K | 80 CRI | 63504 lm | 167 | 380 W | Wide | |
| ECH1-835-L60-CW-xxx_347-480V | 3500 K | 80 CRI | 63504 lm | 171 | 372 W | Wide | |
| ECH1-835-L60-DA-xxx_120-277V | 3500 K | 80 CRI | 59976 lm | 158 | 380 W | Aisle | |
| ECH1-835-L60-DA-xxx_347-480V | 3500 K | 80 CRI | 59976 lm | 161 | 372 W | Aisle | |
| ECH1-835-L60-DN-xxx_120-277V | 3500 K | 80 CRI | 59388 lm | 156 | 380 W | Narrow | |
| ECH1-835-L60-DN-xxx_347-480V | 3500 K | 80 CRI | 59388 lm | 160 | 372 W | Narrow | |
| ECH1-835-L60-DW-xxx_120-277V | 3500 K | 80 CRI | 58800 lm | 155 | 380 W | Wide | |
| ECH1-835-L60-DW-xxx_347-480V | 3500 K | 80 CRI | 58800 lm | 158 | 372 W | Wide | |
| ECH1-840-L09-CW-xxx_120-277V | 4000 K | 80 CRI | 9828 lm | 185 | 53 W | Wide | |
| ECH1-840-L09-CW-xxx_347-480V | 4000 K | 80 CRI | 9828 lm | 176 | 56 W | Wide | |
| ECH1-840-L09-DA-xxx_120-277V | 4000 K | 80 CRI | 9282 lm | 175 | 53 W | Aisle | |
| ECH1-840-L09-DA-xxx_347-480V | 4000 K | 80 CRI | 9282 lm | 166 | 56 W | Aisle | |
| ECH1-840-L09-DN-xxx_120-277V | 4000 K | 80 CRI | 9191 lm | 173 | 53 W | Narrow | |
| ECH1-840-L09-DN-xxx_347-480V | 4000 K | 80 CRI | 9191 lm | 164 | 56 W | Narrow | |
| ECH1-840-L09-DW-xxx_120-277V | 4000 K | 80 CRI | 9100 lm | 172 | 53 W | Wide | |
| ECH1-840-L09-DW-xxx_347-480V | 4000 K | 80 CRI | 9100 lm | 163 | 56 W | Wide | |
| ECH1-840-L12-CW-xxx_120-277V | 4000 K | 80 CRI | 13068 lm | 182 | 72 W | Wide | |
| ECH1-840-L12-CW-xxx_347-480V | 4000 K | 80 CRI | 13068 lm | 177 | 74 W | Wide | |
| ECH1-840-L12-DA-xxx_120-277V | 4000 K | 80 CRI | 12342 lm | 171 | 72 W | Aisle | |
| ECH1-840-L12-DA-xxx_347-480V | 4000 K | 80 CRI | 12342 lm | 167 | 74 W | Aisle | |
| ECH1-840-L12-DN-xxx_120-277V | 4000 K | 80 CRI | 12221 lm | 170 | 72 W | Narrow | |
| ECH1-840-L12-DN-xxx_347-480V | 4000 K | 80 CRI | 12221 lm | 165 | 74 W | Narrow | |
| ECH1-840-L12-DW-xxx_120-277V | 4000 K | 80 CRI | 12100 lm | 168 | 72 W | Wide | |
| ECH1-840-L12-DW-xxx_347-480V | 4000 K | 80 CRI | 12100 lm | 164 | 74 W | Wide | |
| ECH1-840-L15-CW-xxx_120-277V | 4000 K | 80 CRI | 16308 lm | 173 | 94 W | Wide | |
| ECH1-840-L15-CW-xxx_347-480V | 4000 K | 80 CRI | 16308 lm | 175 | 93 W | Wide | |
| ECH1-840-L15-DA-xxx_120-277V | 4000 K | 80 CRI | 15402 lm | 164 | 94 W | Aisle | |
| ECH1-840-L15-DA-xxx_347-480V | 4000 K | 80 CRI | 15402 lm | 166 | 93 W | Aisle | |
| ECH1-840-L15-DN-xxx_120-277V | 4000 K | 80 CRI | 15251 lm | 162 | 94 W | Narrow | |
| ECH1-840-L15-DN-xxx_347-480V | 4000 K | 80 CRI | 15251 lm | 164 | 93 W | Narrow | |
| ECH1-840-L15-DW-xxx_120-277V | 4000 K | 80 CRI | 15100 lm | 161 | 94 W | Wide | |
| ECH1-840-L15-DW-xxx_347-480V | 4000 K | 80 CRI | 15100 lm | 162 | 93 W | Wide | |
| ECH1-840-L18-CW-xxx_120-277V | 4000 K | 80 CRI | 19656 lm | 169 | 116 W | Wide | |
| ECH1-840-L18-CW-xxx_347-480V | 4000 K | 80 CRI | 19656 lm | 172 | 114 W | Wide | |
| ECH1-840-L18-DA-xxx_120-277V | 4000 K | 80 CRI | 18564 lm | 160 | 116 W | Aisle | |
| ECH1-840-L18-DA-xxx_347-480V | 4000 K | 80 CRI | 18564 lm | 163 | 114 W | Aisle | |
| ECH1-840-L18-DN-xxx_120-277V | 4000 K | 80 CRI | 18382 lm | 158 | 116 W | Narrow | |
| ECH1-840-L18-DN-xxx_347-480V | 4000 K | 80 CRI | 18382 lm | 161 | 114 W | Narrow | |
| ECH1-840-L18-DW-xxx_120-277V | 4000 K | 80 CRI | 18200 lm | 157 | 116 W | Wide | |
| ECH1-840-L18-DW-xxx_347-480V | 4000 K | 80 CRI | 18200 lm | 160 | 114 W | Wide | |
| ECH1-840-L24-CW-xxx_120-277V | 4000 K | 80 CRI | 25920 lm | 158 | 164 W | Wide | |
| ECH1-840-L24-CW-xxx_347-480V | 4000 K | 80 CRI | 25920 lm | 161 | 161 W | Wide | |
| ECH1-840-L24-DA-xxx_120-277V | 4000 K | 80 CRI | 24480 lm | 149 | 164 W | Aisle | |
| ECH1-840-L24-DA-xxx_347-480V | 4000 K | 80 CRI | 24480 lm | 152 | 161 W | Aisle | |
| ECH1-840-L24-DN-xxx_120-277V | 4000 K | 80 CRI | 24240 lm | 148 | 164 W | Narrow | |
| ECH1-840-L24-DN-xxx_347-480V | 4000 K | 80 CRI | 24240 lm | 151 | 161 W | Narrow | |
| ECH1-840-L24-DW-xxx_120-277V | 4000 K | 80 CRI | 24000 lm | 146 | 164 W | Wide | |
| ECH1-840-L24-DW-xxx_347-480V | 4000 K | 80 CRI | 24000 lm | 149 | 161 W | Wide | |
| ECH1-840-L30-CW-xxx_120-277V | 4000 K | 80 CRI | 32400 lm | 174 | 186 W | Wide | |
| ECH1-840-L30-CW-xxx_347-480V | 4000 K | 80 CRI | 32400 lm | 175 | 185 W | Wide | |
| ECH1-840-L30-DA-xxx_120-277V | 4000 K | 80 CRI | 30600 lm | 165 | 186 W | Aisle | |
| ECH1-840-L30-DA-xxx_347-480V | 4000 K | 80 CRI | 30600 lm | 165 | 185 W | Aisle | |
| ECH1-840-L30-DN-xxx_120-277V | 4000 K | 80 CRI | 30300 lm | 163 | 186 W | Narrow | |
| ECH1-840-L30-DN-xxx_347-480V | 4000 K | 80 CRI | 30300 lm | 164 | 185 W | Narrow | |
| ECH1-840-L30-DW-xxx_120-277V | 4000 K | 80 CRI | 30000 lm | 161 | 186 W | Wide | |
| ECH1-840-L30-DW-xxx_347-480V | 4000 K | 80 CRI | 30000 lm | 162 | 185 W | Wide | |
| ECH1-840-L36-CW-xxx_120-277V | 4000 K | 80 CRI | 39312 lm | 169 | 232 W | Wide | |
| ECH1-840-L36-CW-xxx_347-480V | 4000 K | 80 CRI | 39312 lm | 172 | 229 W | Wide | |
| ECH1-840-L36-DA-xxx_120-277V | 4000 K | 80 CRI | 37128 lm | 160 | 232 W | Aisle | |
| ECH1-840-L36-DA-xxx_347-480V | 4000 K | 80 CRI | 37128 lm | 162 | 229 W | Aisle | |
| ECH1-840-L36-DN-xxx_120-277V | 4000 K | 80 CRI | 36764 lm | 158 | 232 W | Narrow | |
| ECH1-840-L36-DN-xxx_347-480V | 4000 K | 80 CRI | 36764 lm | 161 | 229 W | Narrow | |
| ECH1-840-L36-DW-xxx_120-277V | 4000 K | 80 CRI | 36400 lm | 157 | 232 W | Wide | |
| ECH1-840-L36-DW-xxx_347-480V | 4000 K | 80 CRI | 36400 lm | 159 | 229 W | Wide | |
| ECH1-840-L48-CW-xxx_120-277V | 4000 K | 80 CRI | 51840 lm | 158 | 328 W | Wide | |
| ECH1-840-L48-CW-xxx_347-480V | 4000 K | 80 CRI | 51840 lm | 161 | 322 W | Wide | |
| ECH1-840-L48-DA-xxx_120-277V | 4000 K | 80 CRI | 48960 lm | 149 | 328 W | Aisle | |
| ECH1-840-L48-DA-xxx_347-480V | 4000 K | 80 CRI | 48960 lm | 152 | 322 W | Aisle | |
| ECH1-840-L48-DN-xxx_120-277V | 4000 K | 80 CRI | 48480 lm | 148 | 328 W | Narrow | |
| ECH1-840-L48-DN-xxx_347-480V | 4000 K | 80 CRI | 48480 lm | 151 | 322 W | Narrow | |
| ECH1-840-L48-DW-xxx_120-277V | 4000 K | 80 CRI | 48000 lm | 146 | 328 W | Wide | |
| ECH1-840-L48-DW-xxx_347-480V | 4000 K | 80 CRI | 48000 lm | 149 | 322 W | Wide | |
| ECH1-840-L60-CW-xxx_120-277V | 4000 K | 80 CRI | 65124 lm | 171 | 380 W | Wide | |
| ECH1-840-L60-CW-xxx_347-480V | 4000 K | 80 CRI | 65124 lm | 175 | 372 W | Wide | |
| ECH1-840-L60-DA-xxx_120-277V | 4000 K | 80 CRI | 61506 lm | 162 | 380 W | Aisle | |
| ECH1-840-L60-DA-xxx_347-480V | 4000 K | 80 CRI | 61506 lm | 165 | 372 W | Aisle | |
| ECH1-840-L60-DN-xxx_120-277V | 4000 K | 80 CRI | 60903 lm | 160 | 380 W | Narrow | |
| ECH1-840-L60-DN-xxx_347-480V | 4000 K | 80 CRI | 60903 lm | 164 | 372 W | Narrow | |
| ECH1-840-L60-DW-xxx_120-277V | 4000 K | 80 CRI | 60300 lm | 159 | 380 W | Wide | |
| ECH1-840-L60-DW-xxx_347-480V | 4000 K | 80 CRI | 60300 lm | 162 | 372 W | Wide | |
| ECH1-850-L09-CW-xxx_120-277V | 5000 K | 80 CRI | 9828 lm | 185 | 53 W | Wide | |
| ECH1-850-L09-CW-xxx_347-480V | 5000 K | 80 CRI | 9828 lm | 176 | 56 W | Wide | |
| ECH1-850-L09-DA-xxx_120-277V | 5000 K | 80 CRI | 9282 lm | 175 | 53 W | Aisle | |
| ECH1-850-L09-DA-xxx_347-480V | 5000 K | 80 CRI | 9282 lm | 166 | 56 W | Aisle | |
| ECH1-850-L09-DN-xxx_120-277V | 5000 K | 80 CRI | 9191 lm | 173 | 53 W | Narrow | |
| ECH1-850-L09-DN-xxx_347-480V | 5000 K | 80 CRI | 9191 lm | 164 | 56 W | Narrow | |
| ECH1-850-L09-DW-xxx_120-277V | 5000 K | 80 CRI | 9100 lm | 172 | 53 W | Wide | |
| ECH1-850-L09-DW-xxx_347-480V | 5000 K | 80 CRI | 9100 lm | 163 | 56 W | Wide | |
| ECH1-850-L12-CW-xxx_120-277V | 5000 K | 80 CRI | 13068 lm | 182 | 72 W | Wide | |
| ECH1-850-L12-CW-xxx_347-480V | 5000 K | 80 CRI | 13068 lm | 177 | 74 W | Wide | |
| ECH1-850-L12-DA-xxx_120-277V | 5000 K | 80 CRI | 12342 lm | 171 | 72 W | Aisle | |
| ECH1-850-L12-DA-xxx_347-480V | 5000 K | 80 CRI | 12342 lm | 167 | 74 W | Aisle | |
| ECH1-850-L12-DN-xxx_120-277V | 5000 K | 80 CRI | 12221 lm | 170 | 72 W | Narrow | |
| ECH1-850-L12-DN-xxx_347-480V | 5000 K | 80 CRI | 12221 lm | 165 | 74 W | Narrow | |
| ECH1-850-L12-DW-xxx_120-277V | 5000 K | 80 CRI | 12100 lm | 168 | 72 W | Wide | |
| ECH1-850-L12-DW-xxx_347-480V | 5000 K | 80 CRI | 12100 lm | 164 | 74 W | Wide | |
| ECH1-850-L15-CW-xxx_120-277V | 5000 K | 80 CRI | 16308 lm | 173 | 94 W | Wide | |
| ECH1-850-L15-CW-xxx_347-480V | 5000 K | 80 CRI | 16308 lm | 175 | 93 W | Wide | |
| ECH1-850-L15-DA-xxx_120-277V | 5000 K | 80 CRI | 15402 lm | 164 | 94 W | Aisle | |
| ECH1-850-L15-DA-xxx_347-480V | 5000 K | 80 CRI | 15402 lm | 166 | 93 W | Aisle | |
| ECH1-850-L15-DN-xxx_120-277V | 5000 K | 80 CRI | 15251 lm | 162 | 94 W | Narrow | |
| ECH1-850-L15-DN-xxx_347-480V | 5000 K | 80 CRI | 15251 lm | 164 | 93 W | Narrow | |
| ECH1-850-L15-DW-xxx_120-277V | 5000 K | 80 CRI | 15100 lm | 161 | 94 W | Wide | |
| ECH1-850-L15-DW-xxx_347-480V | 5000 K | 80 CRI | 15100 lm | 162 | 93 W | Wide | |
| ECH1-850-L18-CW-xxx_120-277V | 5000 K | 80 CRI | 19656 lm | 169 | 116 W | Wide | |
| ECH1-850-L18-CW-xxx_347-480V | 5000 K | 80 CRI | 19656 lm | 172 | 114 W | Wide | |
| ECH1-850-L18-DA-xxx_120-277V | 5000 K | 80 CRI | 18564 lm | 160 | 116 W | Aisle | |
| ECH1-850-L18-DA-xxx_347-480V | 5000 K | 80 CRI | 18564 lm | 163 | 114 W | Aisle | |
| ECH1-850-L18-DN-xxx_120-277V | 5000 K | 80 CRI | 18382 lm | 158 | 116 W | Narrow | |
| ECH1-850-L18-DN-xxx_347-480V | 5000 K | 80 CRI | 18382 lm | 161 | 114 W | Narrow | |
| ECH1-850-L18-DW-xxx_120-277V | 5000 K | 80 CRI | 18200 lm | 157 | 116 W | Wide | |
| ECH1-850-L18-DW-xxx_347-480V | 5000 K | 80 CRI | 18200 lm | 160 | 114 W | Wide | |
| ECH1-850-L24-CW-xxx_120-277V | 5000 K | 80 CRI | 25920 lm | 158 | 164 W | Wide | |
| ECH1-850-L24-CW-xxx_347-480V | 5000 K | 80 CRI | 25920 lm | 161 | 161 W | Wide | |
| ECH1-850-L24-DA-xxx_120-277V | 5000 K | 80 CRI | 24480 lm | 149 | 164 W | Aisle | |
| ECH1-850-L24-DA-xxx_347-480V | 5000 K | 80 CRI | 24480 lm | 152 | 161 W | Aisle | |