New Construction & Retrofit Considerations for the Convenience Store Marketplace
By Craig Allen, Retail Petroleum / C-Stores Vertical Manager
Whether you are doing a new construction project or retrofitting an existing store, modern lighting technologies play a significant role in managing the long-term cost of operations for petroleum/convenience store marketers.
Within existing convenience store facilities, HID and legacy LED lighting is still prevalent in canopy and area lighting. While being good technology at the time the facility was built, these are not efficient light sources, and the benefits of replacing them with modern LED lighting are significant.
When replacing HID fixtures with LED, up to a 90 percent savings in energy consumption is possible, which provides a significant return on investment. LED fixtures also have lower maintenance requirements, and improvements in maintenance accessibility serve to increase that ROI. Hubbell Lighting's Whiteway brand is designing fixtures exclusively for petroleum/convenience stores that address specific pain points. For example, the new Galasy II provides easy access to the LED driver component below the canopy deck, making it easier for maintenance teams to access the part of the LED fixture that is most likely to require any maintenance.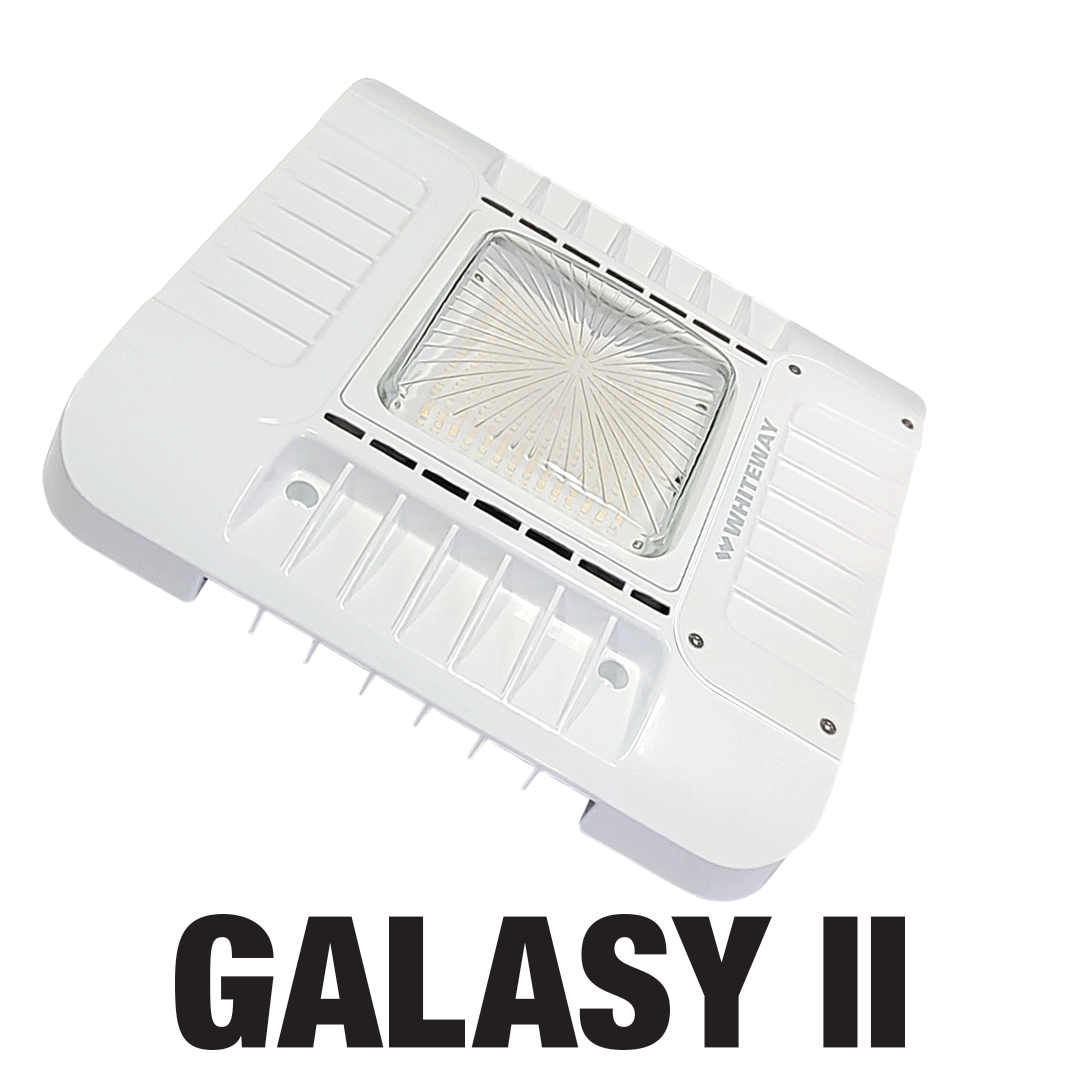 Modern fixtures also often have better optics, directing more of the light output of the LEDs to the target area, increasing target efficacy. The more light that can be directed to a targeted area, the more efficient the fixture will be, and less overall power needed to light that area.
When you reduce your canopy energy consumption up to 90 percent, the ROI doesn't stop with just your electric bill. Less power going to the canopy means more power available inside the store for food preparation equipment and decorative lighting to highlight profit centers. Additionally, many utility companies offer rebates for retrofitting older, inefficient fixtures with power-saving LED fixtures. Even if a rebate program isn't in place, the marketer can often approach their utility provider and negotiate a rebate or reduced rate as a result of their retrofit plans.
Similar savings can be found inside the store as well. Replacing fluorescent lighting with LED fixtures brings additional power savings, reducing the electric bill, and making more even more power available for other uses.
New construction benefits from the same energy-savings features, with additional advantages. Planning on LED fixtures from the start means that fewer circuits need to be run from the electrical panel to the canopy, area lighting, and interior of the store. Fewer circuits means less cable, less conduit, and less installation time—all leading to less cost for the marketer.
New construction may benefit from not needing as large as an electrical service, potentially bringing additional cost savings. And new construction can be more easily designed with advanced control systems and sensors such as those provided in Current's NX line of control products in place, enabling advanced features such as daylight harvesting.
When increased security or sanitation is part of the retrofit or new construction strategy, Hubbell Lighting can increase the ROI through its SpectraSAFE™ and SpectraClean™ product lines. These integrate security cameras and UV antimicrobial light wavelengths into the fixtures, requiring fewer separate components to be purchased.
Through Hubbell's extensive catalog of canopy, area, interior, and decorative lighting; sophisticated control systems; security and sanitization options; and electrical infrastructure products; retrofits and new construction alike realize significant ROI through the Hubbell One advantage.
---
Craig Allen is the Retail Petroleum / C-Store Vertical Manager, with over 30 years' experience in the Petroleum Industry—nine of them in Petroleum lighting. With an accounting background, he and his wife have owned multiple successful businesses. He enjoys hunting, scuba diving and being a dad.
Page Category
Inspiration Page